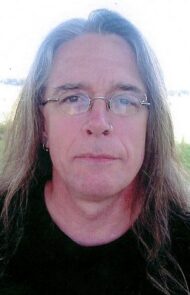 Rodman "Rodi" Rodgers
December 16, 2021
Rodman "Rodi" Rodgers passed away peacefully in his home in New Holland on December 16, 2021 with his family around him. He was born in Pottsville, PA and lived in Hamburg during his youth.
Rodi graduated from Hamburg High School and eventually moved to the Lititz area. Rodi was the president of Rodi's Garage in Lititz and also the owner of The Wild Goose Gallery in Intercourse, PA. He had many hobbies and interests, including racing dirt bikes and riding his Harley. He has a cabin in Orbisonia that he spent many weekends with his sons. Rodi was a hard worker and never took a break from work or life.
Rodi is survived by his three children, Tansy Rodgers and Lou Ferrari; Brandon Rodgers and wife Tammy (Nolt); and Jared Rodgers and Nikki Newcomer plus the children's mother/ex-wife Debra Rodgers. He is also survived by two brothers, Robert Rodgers and Matthew Rodgers; his parents, Richard and Alma Rodgers of Lititz; his nieces, Claudia, Samantha, and Chelsea; nephew, Quentin; grand-niece, Octavia; and grand-nephew Shoshen. His oldest brother Jeffry Rodgers preceded him in death in 2008.
A viewing will be held at Charles F. Snyder Funeral Home at 3110 Lititz Pike, Lititz, PA 17543 on Monday, December 20, 2021 from 6:00-8:00 PM. In lieu of flowers, donations can be made to The Humane League of Lancaster County at humanepa.org or 2195 Lincoln Highway E, Lancaster, PA 17602.
Watch the tribute video
Leave a condolence on this Memorial Page
Condolences to the Family
December 21, 2021
Our condolences upon the loss of Rodi. I got to know him through the trailer repair shop and always enjoyed working with him. He was a facinating individual and will be missed.
December 20, 2021
Bob, Sorry to here you lost your brother. May the GOD of the bible comfort you. jim bollinger
December 20, 2021
I was only in the Wild Goose Gallery once on my visit to Lancaster county yet I vividly remembered the inspiration he provided with amazing creations sold there the moment I read your Dad's beautifully written obituary. Sorry for your loss. Love the picture of him with the eagle's wings on his WG website. You are held in prayer for peace, comfort and joy during this Christmas week as you say your earthly goodbye to honor him. One day you will say a heavenly Hello. A inspired customer from 2 hours away
December 19, 2021
Sorry for your loss. Rodi you will be truly missed. It was a great pleasure getting to know you. R.I.P. my friend.
Visitation

Monday, December 20, 2021
6:00 PM - 8:00 PM
Charles F. Snyder Funeral Home & Crematory
3110 Lititz Pike
Lititz, PA 17543

Map and Directions