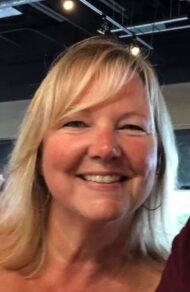 Robin Lynn Quiggle, 53
March 06, 2023
It is with great sadness and tears that we announce that our beloved Robin has gone to Heaven. Robin Lynn Quiggle, 53, of New Holland, passed away unexpectedly on Monday, March 6, 2023. Robin continues to share her life by organ donation so others may have the gift of having a more fruitful and productive life. Born in Lancaster, she was the daughter of Jackolyn (Antes) Brinkman. She is survived by her beloved fiancé, Jeffery Heinbach.
Robin was a graduate of Manheim Township High School. Soon after, she completed beauty school and worked as a beautician for over 15 years. More recently, she had a growing career in Human Resources. Robin was known for her infectious laugh and smile. She could make conversation with anybody and loved taking pictures of every moment in her life. She also enjoyed spending time in the yard, going out to dinner, and being anywhere near the water. Robin was an avid Greenbay Packers and Phillies fan. She also spent time playing cards and other games, and cherished her time spent with family. Robin also loved her two mini-Bernadoodles, Milo and Haily.
In addition to her mother Jackie (Raymond A. Bures) and fiancé Jeff, she is survived by her 2 sons: Kyle J. Quiggle (Sarah), and Brett R. Quiggle (Bryanna); 5 grandchildren: Parker, Colton, Makenna, Robert III, and Deacon Quiggle; her best friend and sister Michelle Mayo (fiancé Carl Wardell), brother Michael P. Brinkman (Stacey), nieces and nephews, Logan and Zoee White, Whitney Knosp (Jeffrey), and Alexander Mayo; 2 half-sisters Monique Termin (Mickey), and Maria Beck (Dan).
Friends and family are invited to celebrate Robin's life on Tuesday, March 14, 2023 at Charles F. Snyder Funeral Home & Crematory, 3110 Lititz Pike, Lititz, PA. Guests will be received from 4-6 PM and services will begin at 6 PM. In lieu of flowers, memorial donations in Robin's name can be made to Wounded Warrior Project, P.O. Box 758516, Topeka, Kansas 6667
Watch the tribute video
Leave a condolence on this Memorial Page
Condolences to the Family
March 19, 2023
So Sorry for your loss! Only had the chance to meet Robin one time. Very personable and very sincere! Being a donor is proof of her willingness to help people.
March 15, 2023
Dear Jackie,
I was so saddened to read of Robin's passing and want to express my sincerest condolences to you and the entire family. God bless!
March 15, 2023
Thoughts and prayers to the whole family. So sorry for your loss.
March 14, 2023
My deepest condolences. I am just heartbroken for you all. Robin loved her family so much. She was proud of her children and her grand babies were the center of her life. She will be missed. I will miss her smile and bubbly personality. Rest in peace Robin
Michelle Ashworth
March 14, 2023
I went to High school with Robin, and skated at Overlook with her, as well. She was a great person, always with a smile, and very friendly! I am so sad to hear of her untimely, sudden passing 😢 My deepest sympathies and condolences to her family and loved ones. She will be missed. 🙏💗RIP, Robin. Heaven gained another angel.
March 14, 2023
MAY PEACE BE WITH YOU ROBIN
March 13, 2023
Our condolences to Robin's family and her fiance Jeff. Her smile and laughter could always brighten your day. She will live on forever in our heart & memories. Rob – I miss your face ❤
Love Forever Kevin & Patty Hooley
March 13, 2023
I am so sorry to hear about Robin. Robin was a friend that I got to know over the years from Scooters. She will be deeply missed. Sending Prayers and condolences to Kyle, and Brett and the family during this difficult time.
Steve Weisbrod

March 13, 2023
My deepest condolences to Robin's family, friends and Jeff. Robin's smile and laugh would always light up a room. She will be deeply missed.
Debbie
March 13, 2023
Sending prayers and peace to Robin's family. Her smile and friendship will be greatly missed.
Tia (Bradley) Green
March 13, 2023
Just letting you know our thoughts and prayers are with all of you, and praying for God's comfort in the days and years ahead. We are grateful to know Robin and always appreciated her smile, conversation, and laughter. Having the blessing to know Robin and her family in Lititz and New Holland, we are thankful for the memories. May God bless you all.
the Galway's
March 12, 2023
From the MTHS Class of 1987, our condolences. She was a personal friend to many of us including myself, and we are shocked to hear she has passed. Robin will be missed by many of us whose lives she touched.
Pat Cloonan and Missy Werner on behalf of MTHS Class of 1987
March 12, 2023
My most sincere condolences. Ill keep such a great memory of Robin, always so joyfull and caring
Loïc Pottier
March 12, 2023
Our thoughts and prayers are with you and your family 🙏🙏🙏. I have not seen Robin for some time, but remember her as a friendly neighbor when she lived our Laurie Lane.
Chris Raubenstine
March 12, 2023
Our deepest sympathy to Brett, Kyle and families.
Carol and Geoff McCall
March 11, 2023
It is with great sadness I will miss Robin. Such a joy to have known and worked with! My thoughts and prayers all with you all at this time!
Ronda
March 11, 2023
Robin's bright smile and contagious laugh, are her signature!… and will be missed dearly by many. Your family are in my thoughts and prayers…
Kate Young Cox
March 11, 2023
So Sorry to hear about Robin, she was a good friend to my daughter during high school.. God Bless Her.
Jaye Grochowski
March 11, 2023
So sorry for the loss of Robin. I knew her and my sister is friends with her sister. God bless the family.
Jill Fussenegger
March 11, 2023
Robin such a beautiful. Soul. Her beauty lit up a room her contagious smile. Will b greatly. Missed. But it's not goodbye it's we'll see you later. RIP Darlin. 💜my sincere. Sympathies to everyone
Brenda Hughes
March 11, 2023
Robin was a bright shining soul who will be missed by many. I went to middle and high school with her and kept in touch via Facebook. I loved seeing how happy her family and grandkids made her. I'm sending my love and prayers to all of you as you navigate this incredibly difficult time. Robin, you will be missed dearly.
Janice Monger
March 11, 2023
Such a huge loss to my family, especially my Uncle Jeff who lost the love of his life. Robin's legacy will live on in the people that she loved so fiercely; her children, grandchildren and step grandchildren. I'll never forget the fun that we had together too. Robin you are missed and loved.
Morgan Heinbach
March 10, 2023
Robin was a bright light in this world and brought joy and laughter to so many. She was always loving, kind, and made you feel special, and in conversation made it all about you! She will be sorely missed. My deepest and sincere sympathies to the entire family and friends. RIP dear Robin! 🌱🌹
Julie Diener
March 10, 2023
Our sincerest condolences for the loss of Robin. I know she loved you all very much of what little I knew of her. Take peace in knowing that through this tragedy she is helping others. Thoughts and prayers for you all as you grieve and heal.
Terri & Jimmy Clevenstine
Visitation

Tuesday, March 14, 2023
4:00 PM - 6:00 PM
Charles F. Snyder Funeral Home & Crematory
3110 Lititz Pike
Lititz, PA 17543

Map and Directions

Services

Tuesday, March 14, 2023
6:00 PM
Charles F. Snyder Funeral Home & Crematory
3110 Lititz Pike
Lititz, PA 17543

Map and Directions