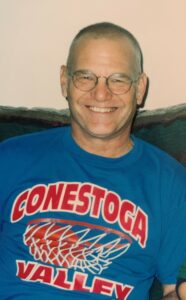 Robert S. Swavely, 73
October 15, 1948 - August 03, 2022
Robert "Bob" Swavely of Lancaster, 73, passed away on August 3, 2022, after a courageous battle with cancer. Growing up in Lancaster, Bob loved and demonstrated great skill in all things sports-related, though his life was particularly defined by his passion for basketball. Bob was a graduate of Conestoga Valley High School '66 where he was a vital member of the school's extremely successful basketball team. After graduation, Bob entered the Air Force, stationed in Alaska, before returning to Lancaster and working for Armstrong World Industries until his retirement in 2005. During these years, Bob began coaching 9th grade basketball at his alma mater compiling an incredible winning record over 12 years while establishing relationships with young men that continue today. Coach "Swaves" then moved to the high school program as the JV/ Varsity assistant coach where his invaluable knowledge of the game and especially his incorporating the offensive and defensive schemes of his beloved North Carolina Tar Heels, helped in the success of both the JV and Varsity teams. Bob's coaching career for Conestoga Valley spanned 30 years. It was a role he loved, and which filled him with pride.
In 1984, Bob became a family man when he married Carolyn Whitmer. Bob first met Carolyn, unknowingly, many years earlier when, as a lifeguard at Skyline pool, Bob "benched" Carolyn for pushing a fellow pool-goer into the water. Bob also became a stepfather to Carolyn's two sons, Charles "Chuck" Braught III and John Braught. Bob was sensitive and kind. He almost always had dogs and he loved them all deeply.
In his 50's, when ball sports became too painful for his joints, Bob became active in road cycling. He enjoyed exploring the various back roads of Lancaster County, meeting a great many fantastic people, and ultimately stopping at the roadside stand for the reward soft pretzel. Bob loved being part of the biking community and continued to cheer on other riders even when his cancer diagnosis made it too difficult to ride. His most cherished rides were the two at Lake Tahoe in 2008 and 2010 as part of a Pennsylvania contingent riding for charity.
After he hung up his whistle, Coach Swaves stayed engaged with Conestoga Valley Athletics. Bob continued to attend basketball games, though his particular interest now centered around his grandkids sporting activities. As a Grandpa, Bob rarely, if ever, missed a hockey or lacrosse game.
Bob was preceded in death by his father and mother Guy and Irene Swavely and brother James Swavely. He is survived by his wife, Carolyn Swavely, his stepsons Charles Braught III married to Jennifer Braught and John Braught married to Hannah Braught, his grand-children Charles Braught IV and Grace Braught, his sister-in-law Carol Swavely, his nephews Andrew Swavely and James Swavely, and his nieces Karen Troxell and Kateri Swavely.
The Celebration of Life will take place on Sunday, October 9th between 2 PM and 4 PM in the Parish Hall at St. John's Episcopal Church, 321 West Chestnut Street, Lancaster, PA 17603. Light refreshments will be served. Guests are welcome to wear a cycling jersey, Conestoga Valley apparel, or Penn State gear to honor Bob.
Bob's final resting place will be at Indiantown Gap National Cemetery.
As Bob loved dogs, in lieu of flowers. the family requests donations be made to Humane Pennsylvania, Humane Pennsylvania
Leave a condolence on this Memorial Page
Condolences to the Family
September 25, 2022
Coach Swavely was a positive influence in the lives of our three sons during their years playing basketball at CV in the late 1990-'s and early 2000's. He encouraged them to be their best both on and off the court! A couple years ago I had the pleasure of bumping into Coach out and about in the community a few times. He always asked about my sons and seemed genuinely interested in what/how they were doing. The last time I saw him was at the grocery store shortly after he was diagnosed with cancer. I was amazed at his positive attitude and courage – and his determination to fight like heck! My sympathies to his family and friends. I pray that your memories of Bob will be a source of comfort and strength. Rest in Peace, Coach, and thank you for being an important part of the lives of so many young people! Fran Cannon and family
September 25, 2022
Saves was an integral part of the CV basketball coaching staff during all 3 years that our Class of 78 team played. He brought enthusiasm and hard work to the team.
His dedication to the basketball program spanned decades. I respected swaves fearless way he lived life and ultimately faced death.
RIP Coach Swaves
August 10, 2022
I live next to Bob and his family went I grew up. He was a good guy
August 08, 2022
I was one of the lucky people who got to know Bob, not only as a coach but also on a personal level. I covered him many years at the various papers I worked for and I never met anyone as intense as him or with such knowledge of the game. But that being said, he always had that "killer" smile and as intense as he was, he was also one of the most caring and compassionate people that I knew. And knowing many of the people he coached, they all said the same thing in that they had the utmost respect for him and that he taught them much more than basketball. He was the backbone of the CV basketball program and nurtured and built the talent that the varsity reaped. Bob gave me some great memories that I will keep forever. My heart goes out to his family. We all lost a great man and God gained one heckuva coach.
August 07, 2022
I worked with Bob for years at Armstrong. He had a passion for basketball and helping kids. He was kind and always smiling and treated others with respect. Will cherish the memories at work and our discussions on just about anything. My heart goes out to Carolyn and the entire family. God be with you all at this difficult time.
Tom Stipe
August 07, 2022
Swavely was a good man. My condolences to his family and friends. He was a positive influence on me and my fellow basketball teammates at CV. Great sense of humor, knew how to challenge you. Bob Borden and Bob Swavely taught life skills through basketball. Now that I have my own family, I cannot thank them enough. I have vivid memories of laughing with Swavely at the foul line with his Jayhawks shorts on, he was always a better shooter than I. Halftimes on JV watching him carefully choose his words for what messaging we needed. It's been 10 years since I've seen him but I remember him vividly. Rest In Peace Coach. Thanks for touching my life with yours. I am grateful. I'll pass it on.
August 07, 2022
In reading today's obituary of Bob, I was reminded of our class of 1966 at Conestoga Valley so many years ago! Bob was a critical basketball team member for our class and so much more. He was always smiling. My heartfelt condolences to his dear family. Kristina Launags Carlisle
August 05, 2022
I have warm memories of covering the teams Bob coached at Conestoga Valley, with Bob Borden, for the Lancaster Intell. Their teams were competitive more often than not, and always well-organized and cohesive — testament to the good work they did behind the scenes. But more than that, I enjoyed their company. Swaves was fiercely competitive when the clock was ticking; there was certain to be some "conversation" with the officials, lol. He was also knowledgeable, passionate and (outside the competitive environment) warm. We had some wonderful interactions, not only then but in the years following, and he passed some kind thoughts my way that I will always appreciate. RIP.
Services

Sunday, October 09, 2022
2:00 PM - 4:00 PM
St. John's Episcopal Church Parish Hall
321 West Chestnut Street
Lancaster, PA 17603

Map and Directions