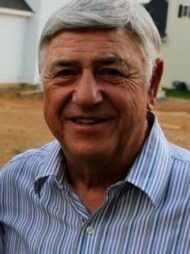 Robert S. Costello, 90
January 06, 2022
Robert S. Costello (Pop), age 90, husband of Eleanor (Whalen) Costello for 61 years, passed away peacefully Thursday morning January 6, 2022, in his home surrounded by all of his loved ones. Pop was born in Philadelphia August 24, 1931, a son of Rose Rimm.
Pop is survived by his 5 children, Robert (Lisa), Joseph (Dana), Dave (Sara), Linda Erb (Craig Erb), and Thomas (Michelle). His 14 grandchildren Andrew, Alex, Gerik, Evan, Kalina, Corinne, Noah, Miranda, Carli, Ryan, Annie, Christopher, Gaby, and Eric. His 3 great grandchildren, Ashley, Ashtin, and Lillie James. He is also survived by his brother John Rimm of Stroudsburg. And preceded in death by His brother Joseph Rimm and sister Rita Wister.
Pop grew up in Coledale, PA and worked for Acme Markets for 32 years as a meat manager. He served in the US Army Korean War Era and was a member of the American Legion Lancaster Post #34. Bob was a member of the Knights of Columbus Lancaster Council #867 and was a 3rd degree Knight.
Pop was a member of St. James Catholic Church in Lititz, PA.
Pop's favorite hobby was spending time with family especially his many grandkids and great grandkids. Pop's nuggets of wisdom were known as "Popism's" with a few of them being: "don't take the wooden nickels," "you'll get better before you get married," "see you in the funnies," everybody gets a turn," "don't jump out the basement window," "swish the bush," and "bubaloo." Affectionately known to the community as "Mr. C," he was able to spread his cheerful happy go lucky attitude.
Family and friends are invited to Charles F. Snyder Jr. Funeral Home & Crematory 3110 Lititz Pike Lititz PA 17543. for a viewing from 6 to 8pm on Monday, January 10, 2022, and again Tuesday morning, January 11 from 9:30 to 10:30am. Mass will be held at St. James Catholic Church in Lititz, PA at 11:00am with Msgr. Edward Domin as Celebrant and Rev. James O'Blaney C.Ss.R. as con-celebrant. Interment to follow at St Anthony's cemetery in Lancaster PA. In lieu of flowers, the family requests donations be made to Hospice and Community Care 685 Good Dr. Lancaster PA 17604 or St James Catholic Church Lititz PA. 505 Woodcrest Ave. Lititz PA 17543.
Watch the tribute video
Leave a condolence on this Memorial Page
Condolences to the Family
January 19, 2022
Dear Eleanor and family…our prayers are with you during this time. We were so fortunate to meet you and Bob through the Domin family. I can recall a trip to the outlet malls in Lancaster with Loretta Domin guiding us from the Lehigh Valley to you. We have great memories of times spent with wonderful people. Again, our prayers are with you and your family. Warmly, Richard, Joan and Lisa Pudliner.
January 11, 2022
Dear Costello family – my mom told me your sad news. thinking of you all – Huge Hugs – Chrissy Horn Carrigan
January 10, 2022
Dear Eleanor, Bob, Lisa, Alex, Gerik, Kalina, Noah, Miranda and Annie,
We were so sorry to read of your husband, father and grandfather passing away. What wonderful memories you must have of him. May they sustain you as you miss him. God be with you all. Sincerely, Susan and Mark Lutter
January 10, 2022
Dear Eleanor and family,
So very sorry for your loss. Prayers and love sent your way.
Eleanor please know your are in my thoughts and prayers. God bless you and the family. Love Schuey
January 10, 2022
I would like to extent my condolences. He was a wonderful man and a wonderful legacy within the community.
January 10, 2022
Sending our deepest sympathy to the entire Costello family. He will be missed by everyone who had the opportunity to meet him. May you find comfort in memories.
January 10, 2022
Please know you are all in my thoughts and prayers! Mr. C was one of the best and will be dearly missed! Remembering many trips to Allegheny and fun neighborhood times! God bless you all!
Visitation

Monday, January 10, 2022
6:00 PM - 8:00 PM
Charles F. Snyder Funeral Home & Crematory
3110 Lititz Pike
Lititz, PA 17543

Map and Directions

Visitation

Tuesday, January 11, 2022
9:30 AM - 10:30 AM
Charles F. Snyder Funeral Home & Crematory
3110 Lititz Pike
Lititz, PA 17543

Map and Directions

Services

Tuesday, January 11, 2022
11:00 AM
St. James Catholic Church
505 Woodcrest Ave.
Lititz, PA 17543

Map and Directions