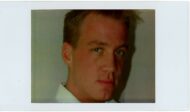 Robert "Rob" Wetherill Trainer, III, 45
November 23, 1976 - June 29, 2022
It is with unbearable sadness that we share that Robert "Rob" Wetherill Trainer, III, 45, of Lancaster, passed away unexpectedly on Wednesday, June 29, 2022, at the Lancaster General Hospital. Born on November 23, 1976, in Lancaster, Rob was the son of Robert Wetherill Trainer, II and Kristiann (Oreszko) Trainer of Mountville.
Rob attended Manheim Central schools, Penn State University, and graduated from Millersville University in 2002 with a bachelor's degree in Marketing. A born salesman, Rob worked in sales and marketing in Florida and Virginia, and later in automobile sales in Pennsylvania.
Rob had a passion for anything aeronautical and was working towards getting his pilot's license. He had a soft heart for any animal that crossed his path, especially his chocolate lab, Karma. Rob enjoyed spending time at White Point Farm, the family farm in North East, MD, traveling, boating, riding motorcycles, and anything that involved "go-fast".
Along with his parents, Rob is survived by his brother, Kristopher Price Trainer of Columbia, PA, aunts, uncles, and numerous cousins. He was preceded in death by his paternal grandparents, Thomas Woodward and Helen (Price) Trainer, and his maternal grandparents, Peter and Dorothy (Snader) Oreszko.
A Memorial Service for Rob will be held at 7:00 PM on Thursday, July 7, 2022, at the Charles F. Snyder Jr. Funeral Home & Crematory, 3110 Lititz Pike, Lititz, PA, 17543, where the family will receive guests from 5:00 – 7:00 PM. Interment will be private at the convenience of the family at St. Mary Anne's Cemetery in North East, MD. In lieu of flowers, contributions in Rob's memory can be made to the PA SPCA Lancaster Center, 848 S. Prince Street, Lancaster, PA 17603, or to a charity of one's choice.
Watch the tribute video
Leave a condolence on this Memorial Page
Condolences to the Family
July 06, 2022
Kris,
I am so very sorry for your loss. There are no words to ease this pain you are experiencing but please know that many friends are praying for you so that peace will come in the days ahead. Keep those beautiful memories in your heart always!
Sharon Drevna
July 05, 2022
Kris, Bob and Critter: Robbie was a kind and gentle soul. He will be missed by all, but especially by you. Peace, prayers and beautiful memories. Love, Pete
July 05, 2022
Kris, Sorry to hear about your son. My sister B.J. broke the news to me. Now he is with his Grandparents and looking down.. Joey DeMora
July 04, 2022
Kris, Bob and Kritter,
My heart aches for you. I can't imagine. Many prayers for peace for you and all those who were close to Robbie.
So sorry for your loss,
Donna Peters
July 04, 2022
Dearest Kris & family,
My most sincere condolences re young Bob's death. Beyond anything words can express. Love to the family – especially Mom & Dad.
July 04, 2022
Kris and family ,
I am so sorry for your lost. Prayers and love
July 03, 2022
Extending my hugs and prayers to all of you in the loss of your dear Robbie. I have such wonderful memories of him as a young child when I was blessed to be his teacher. In the days to come, may you find peace and comfort as you reflect and remember the gift of loving Robbie.
July 03, 2022
Our condolences to the parents, brother, family and friends of Rob. Gone too soon. RIP Rob.
July 03, 2022
My deepest heartfelt sympathy in the death of your beloved son Rob. I am heartbroken for you and your family. May the Lord God comfort you forever. Your friend always . BJ Parmer
July 03, 2022
There are no words that I can say at this time. I want you all to know that you will me in my thoughts and prayers . Kris, no one can take your mother's love for Rob out of your heart and I know that Rob loved you to the moon and back! I am here for you❤️ Carole
July 03, 2022
There are no words that I can say at this time. I want you all to know that you will me in my thoughts and prayers💕 Kris keep Rob's love and memories in your heart. Please know that I am here for you♥️ Carole
July 03, 2022
So sorry for your loss. Beverly J Troupe
July 03, 2022
Man, I sure was sorry to hear that you're gone. We sure did have some good times. Unfortunately to know that your the fifth death from the West Group, suck a small tight firm. Hope you find your peace. Peace out my old friend ✊ Darren Barnes
July 02, 2022
My friend, I will always remember you as the sweetest soul. Until we meet again, much love, Steph
July 02, 2022
Bob,Kris My Condolences to your family over the loss of such a beautiful boy.💙🙏 Patricia Dougherty
July 02, 2022
My thoughts and prayers for his family at this most difficult time Wesley Rineer

July 02, 2022
We are so sorry for your loss, he was a good friend to my son Jason an spend fun times with our family. He will be sadly missed. Our thou& prayers.🙏🏻🙏🏻🙏🏻🙏🏻🙏🏻 Al Redcay
Visitation

Thursday, July 07, 2022
5:00 PM - 7:00 PM
Charles F. Snyder Funeral Home & Crematory
3110 Lititz Pike
Lititz, PA 17543

Map and Directions

Services

Thursday, July 07, 2022
7:00 PM
Charles F. Snyder Funeral Home & Crematory
3110 Lititz Pike
Lititz, PA 17543

Map and Directions