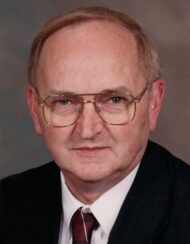 Robert Paul Manning, 81
February 22, 2023
Robert Paul Manning went home to be with his Lord and Savior on February 22, 2023, at LGH, surrounded by his loving family.
Bob was born July 10, 1941, at his parents' home in Marticville, PA in Lancaster County. He grew up in that same home and developed life-long friendships there with the neighborhood boys. He was the child of the late Oliver C. and Mary Sickman Manning.
He graduated from PMHS in 1959 and worked for RR Donnelly in various positions for 47 years. He retired in 2006 as an IT manager. He also served in the 103rd Medical Battalion, PA National Guard for six years.
Bob met the love of his life, Peggy Fae Sheets, in 1961. They were married Oct. 10, 1964, and shared 58 years of a beautiful life together. They were greatly blessed by their two sons, Robert Earl and Jeffrey Scott and their families.
Bob was a kind, compassionate, loving man who loved to serve his Lord, his church, and his community throughout his life. He had a large capacity to love and bring peace and comfort to those in need. He loved being part of "The Seekers", a small faith group. He also served his communities for 14 years as an EMT and the Chairman of the Board of Hempfield Community Ambulance and then Susquehanna Valley EMS. (40 years total)
Bob loved his family and treasured the time he spent with them. He loved attending his sons', grandchildren's and great-grandchildren's sports and other activities. He was so very proud of all of them and their accomplishments.
He is survived by his wife Peggy Sheets Manning, their son, Robert (Kimberley Pindell) Manning and their children, Kayla A DeVault (Aaron DeVault), their children, Carter, Elias, and Everly DeVault, and Jessica R Manning, and Carolyn G Corkery (Landon Corkery) and their son Jeffrey (Wendi Martin) Manning and their children Evan J, Elise R, and Nathan J Manning. Many nieces and nephews also survive. He is pre-deceased by his sisters Pauline Charles, Helen Denlinger, and Verna Hess, and his brothers Howard, Harry, and Martin Manning.
Bob and Peggy loved to travel with her sister and brother-in-law, Hettie and Ronald Courtney. They traveled throughout the Caribbean, Europe, the Mediterranean, Scandinavia, Russia, Israel, and Turkey. Their trip to the Holy Lands was especially meaningful.
Funeral Services for Bob will be held at 10:30AM, Friday, March 3 at Millersville Community Church – Grace Campus, 163 W Frederick St., Millersville, PA 17551. A viewing will be held at the church from 9AM to 10:30AM. Interment will follow at Conestoga Memorial Park.
Leave a condolence on this Memorial Page
Condolences to the Family
March 11, 2023
Bob Manning was the person everyone should aspire to become, kind, dedicated to family and community. Our condolences to you Peggy and your family.
Donnie Kreider & Connie Rutherford
March 08, 2023
Peggy and Family,
Sorry to hear, we knew he was having some issues as we discussed vacationing together in the DR at the last reunion, but didnt expect this.
Les and Ruth Adams
March 04, 2023
Peggy and Family
Sorry for your loss. Barrie remembers the good times with the horses in Marticville. Been a long time since we saw your family in Holtwood. Thinking about your family and Hi to Hettie Take care.

Barrie & Jean Edwards
March 03, 2023
Dear Peggy, Jeff and Bobby, I'm so sorry I am unable to be at Bob's funeral. You have been on my mind and in my heart. Take good care and use memories as comfort. With Love, Sandy Heller
March 03, 2023
Peggy and family, may the Lord comfort you, knowing that victory is Bobs!, He was great to see every sunday when I attended MCC, his fist bumps! Im glad we crossed paths in life. Due to work I will not be able to attend his celebrations. God Bless and peace to you.
Paul Commero
March 03, 2023
To the Manning family I am sorry to hear about the death of Mr. Manning. I have memories of the days during our EMS years and meeting up for conversation and a meal . Bob was always genuine and I also enjoyed crossing paths at church. I am out town and unable to attend. Please accept my condolences.
Kent (Brad) Weinoldt
March 03, 2023
My condolences to the family. Thank you, Bob, for everything you did for your community. We are better because of it. God bless.
Bill Kanoff
March 02, 2023
Jeff, so very sorry for your loss. My thoughts and prayers to you and your family.
Joanne (Moser) Bender
March 02, 2023
My deepest condolences to the family. A entire community lost a great man. May his memory live on in everything he loved.
Richard Van Fossen Jr
March 02, 2023
Peggy, so sorry to read of Bob's passing. Jim and I send our heartfelt prayers and condolences to you and your family. Bob meant a great deal to Mae, and I am thankful to have known him through her. Peace and love to you as you navigate this difficult time. God Bess.
Kathy Hess
March 02, 2023
Dear Peggy and family. My heart felt condolences to receive word on Bob's passing, a great Penn Manor school mate. God's Blessings. Ron Sipe, San Antonio, Texas
March 01, 2023
Dear Peggy and family, The Hermann Family, your neighbors and good friends, have been blessed by having you next door !! We both have beautiful memories of our years together! What a lovely time for all your family to be here in Lancaster !! The Holy Spirit is Alive and Well !!! We continue to pray for you and your family as you process this loss .
March 01, 2023
Sorry for your lost. I knew Bob from RRD . He was a very nice man . RIP my friend.
Louis T. Zangari
February 28, 2023
Bob hired me to work as a Lab Tech for RRD / LAC back in 1980. I worked for him for many years. He was a fair and compassionate man, always treated me and others very well as he was "Looking out for his guys". Very sorry to hear of his passing, condolences.
Kevin Flory
February 28, 2023
We are so sorry for your family's loss. He was such a wonderful caring man. We enjoyed talking with you at the SVEMS dinners about our shared love of Williamsburg. Our thoughts and prayers continue to be with you.
Jere and Joyce Baker
February 28, 2023
Your father was a big part of our lives and family, always a warm welcoming smile-
Continued prayers to you and your family for peace and comfort
love to all,
Beth ( Hermann) Duffy

February 28, 2023
So sorry Peggy. So shocked to read this. I
Know he had some medical issues, but nothing
Major. Please if you or the boys need anything
Please let us know. Iam going to call Tony ,
He probably wouldnt know. Take care, Steve
And I will see you Friday call. Me if u need
Anything. Love ya !
Nancy Drager
February 28, 2023
My deepest sympathies and condolences to you as the Manning family! May your memories be eternal. Grace and Peace of Christ be with you! 🙏❤️
John Denlinger. Coach D
Visitation

Friday, March 03, 2023
9:00 AM - 10:30 AM
Millersville Community Church - Grace Campus
163 W. Frederick St.
Millersville, PA 17551

Map and Directions

Services

Friday, March 03, 2023
10:30 AM - 11:30 AM
Millersville Community Church - Grace Campus
163 W. Frederick St.
Millersville, PA 17551

Map and Directions