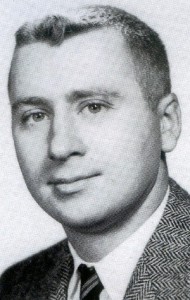 Robert Lewis Allen, Sr., 82
July 24, 2014
Robert Lewis Allen, Sr., 82, of Lititz, PA, passed away on Thursday, July 24, 2014 at his residence. Born in Bryn Mawr, PA, he was the son of the late William and Emma Louise (Cobb) Allen. He was the husband of Joy (Gill) Allen.
Bob graduated with a Bachelor of Science from Temple University. Founder of Lancaster Toyota-Mazda in 1973, Bob considered his employees his extended family. He and Joy were married for 58 years, and spent very happy times together at their vacation homes in England, Naples, FL, Beach Haven, NJ and Nantucket. He enjoyed car hill-climbing, collecting old cars, sailing and motor boating.
Bob's favorite song was "My Way", which was how he lived his life, and very successfully.
Surviving in addition to his wife, Joy, is a son, Robert L. Allen, Jr., husband of Christina; two grandsons: Thomas Shireman and Bradford Allen; two granddaughters: Keara (Allen) Dagen, wife of Robert, and Morgan Allen; step-granddaughter, Jennifer Leppo; great-grandson, Diggory Dagen; step-great-grandson, Cullen Leppo; great-granddaughter, Catherine Dagen; and a sister, Elizabeth Featherman.
Bob was preceded in death by a daughter, Patricia Shireman, and two brothers, William and Bruce Allen.
A Memorial Service will be held at 4 PM on Sunday, August 3, 2014 at Highland Presbyterian Church, 500 E. Roseville Road, Lancaster, PA 17601 with Rev. Ann Osborne and Rev. Dr. Jim Hanna officiating. Family and friends will be received from 2-4 PM at the church. Please OMIT flowers. Contributions may be made in Bob's memory to Hospice & Community Care, 685 Good Drive, Box 4125, Lancaster, PA 17604.
Leave a condolence on this Memorial Page
Condolences to the Family
August 30, 2014
Dear Joy and Rob,
We are both very sorry to hear about Bob. We have a lost a real car guy. My day was always brighter when I saw him at the auctions.
May god bless and care for him.
Joe and Mary Giladi
August 29, 2014
Joy,
Bob was a long time friend through OYRSCC. We will miss him!
Bob tried to convince me to buy a BMW 2002 back in 1968 and trade in my 64 MGB. I decided to buy a new 68 MGB-GT from Harry Dager instead. Wish I had the BMW 2002 now.
May God bless him.
Pete Choate
July 31, 2014
There are not many people in the world that deserve the respect that Bob Allen earned during his earthly life. He is a man that we will always hold in high esteem, not only for his drive and determination when no one wanted a "Japanese" car, but for his quiet generosity and the love he had for his family, including his Toyota Family. The world will miss his wisdom, his work ethic, his sense of humor, his joy for life. I admire and hold dear this man, Bob Allen. Until we meet again Bob……………Fondly, Jan and Renee Jurell
July 31, 2014
The Automotive Industry as well as all of Lancaster County & its neighbors has lost a true leader & visionary.
What Mr. Allen has left behind for all who he has touched is immeasurable!

With many thanks,
Bob Smith
July 30, 2014
Dear Allen Family,
Our prayers are with you at this difficult time. Bob was a wonderful man and will be miss by all who knew him.
Our Sincerely Sympathy,
Lancaster County Motors, Inc.
July 29, 2014
Dear Allen Family,
Our prayers are with all of you at this time. Mr. Allen was one of my most favorite people. I always appreciated what he did for me and the many times Pat and I got away from Etown to come and have a quick dinner with him. I remember all the boat rides and the fun times we had at LBI. He will be greatly missed.
With Love,
Kathy McCambridge Pilon
July 29, 2014
To the Allen Family,
Our thoughts, and prayers go out to you.
Sincerely,
Joe and Melanie Gargano
July 29, 2014
Dear Joy and family,
So sorry to hear about Bob"s death. May your memories of your life together comfort you at this time and continue to bring you peace in the years ahead. Out thoughts and prayers are with you and your family.
Blessings, Greg & Peggy at Wolgemuth Lawn & Landscaping
July 28, 2014
Dear Allen Family,
My thoughts, and Prayers go out to you in the loss of your Loved One. Mr. Allen will be greatly missed, and not be forgotten. May God remain with you, and comfort you in the days ahead.
Very respectfully,
Mr. Brian S. Melsom
July 28, 2014
My sympathy to your family on your loss of a great man that accomplished so much in his lifetime.
Stephen E. Olkowski
Red Lion Salvage, LLC
July 27, 2014
Dear Joy and family,
We are sorry to learn about the death of your husband (and father). May it be a comfort to know that others care. May God's love and peace fill your heart at this difficult time.
Sincerely,
The Stephen Ministers of Highland Presbyterian Church.
July 27, 2014
To The Allen Family,
We want to extend our deepest sympathy to your family in the loss of your loved one. My wife has a fond memory of sitting next to Mr. Allen at one of the Toyota Christmas Parties. It is difficut at this time but know that he is now in the arms of his Heavenly Father. Keeping you in our thoughts and prayers!
The Dean Rhine Family
July 27, 2014
Dear Joy & Rob, our hearts go out to you and to the rest of your family. Bob was a gentleman and a gentle man and that is a winning combination. He will be missed by you and by us and by his many other friends. Please know we are holding you in The Light at this difficult time. Love, Bob and Sylvia Evans
Visitation

Sunday, August 03, 2014
2:00 PM - 4:00 PM
Highland Presbyterian Church
500 E. Roseville Road
Lancaster, PA 17601

Map and Directions

Services

Sunday, August 03, 2014
4:00 PM
Highland Presbyterian Church
500 E. Roseville Road
Lancaster, PA 17601

Map and Directions