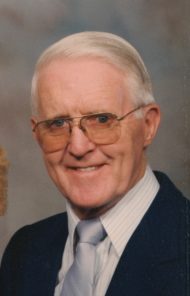 Robert Joseph Garvey, 90
January 4, 1930 - October 06, 2020
Robert Joseph Garvey, 90, of Lititz, passed away October 6, 2020 at Hospice & Community Care. He was born in Scranton to the late Michael T. and Nora C. (Gerrity) Garvey. Bob celebrated 60 years of marriage with his wife Ruth Elizabeth (Ford) Garvey last February 13th.
A graduate of Drexel University, Bob worked for Warner-Lambert from 1957 to 1985, retiring as comptroller. He served stateside in the Air Force during the Korean War.
Bob worshipped at Lititz United Methodist Church. Family oriented, he enjoyed attending his kids' and grandchildren's events and going on the yearly family vacation to Rehoboth Beach. In his retirement years, he and Ruth enjoyed travelling the United States. His most memorable trip was in 1995 when they traveled to California and got to attend the Rose Bowl Parade and see Penn State defeat Oregon in the Rose Bowl.
An avid reader with a sharp mind, Bob was a great believer in learning new things. Able to talk to anyone about any subject, he loved long conversations, and helped many people with advice throughout the years. He will be remembered for his kind spirit, dry wit, and sweet smile. For all who loved him, he will be missed.
In addition to his loving wife Ruth, Bob is survived by three children, Susan D. Weiser, wife of Eric, Karen Garvey, wife of Duncan Clark, and Robert Garvey, Jr., all of Lititz; four grandchildren, Dylan Garvey and Brogan Garvey, both of Philadelphia, Skylar Garvey of Honolulu, HI, and Zach Weiser of Lititz; as well as his niece Mary Ellen Campbell of Scranton. Bob was preceded in death by his brother Frank Garvey and seven other siblings.
A casual viewing will take place 1:30 to 2:30 PM, followed by the funeral service at 2:30 PM with The Rev. Steven W. Rodgers officiating, on Monday, October 12, 2020, under the tent on the South lawn of the Charles F. Snyder Jr. Funeral Home & Crematory, 3110 Lititz Pike, Lititz, PA 17543. Private interment will be in Moravian Cemetery. In lieu of flowers, kindly consider a memorial contribution to the Lititz Public Library, 651 Kissel Hill Road, Lititz, PA 17543.
Watch the tribute video
Leave a condolence on this Memorial Page
Condolences to the Family
October 15, 2020
Mr. Garvey was a wonderful man. He was a father figure, a teacher, and a very good friend. The love that Ruth and Bob had for each other was so wonderful to see. I was friends with Sue, Karen, & Bob growing up.
His service was fabulous. Everyone at the home was so caring and nurturing to all those that were there. I do believe that the service reflected his life and his family's life. Everyone just wanted to stay and share.
Valerie Roberts
October 12, 2020
Dear Sue and Karen,
We are so sorry for your loss. You and your families are in our thoguhts and prayers.
Anne and Jim Montgomery
October 12, 2020
Dear Sue,
I'm very sorry fir your loss. Stand on Gods word especially Matthew 5:4.
Love, Tammy
October 12, 2020
Dear Aunt Ruth and family. My heartfelt condolences are with you all. When we get to this age, all we have are many wonderful memories of times we've shared through the years. Uncle Bob came into our family and won all our hearts, not just yours Aunt Ruth. Of course, the "famous" whip cream all over the dining room story has to be a favorite memory, but shared times during many summer vacations at Rehoboth Beach, attending church and Sunday dinner, Thanksgiving and Christmas holidays as a little girl in East Petersburg, and fire works at Lititz Springs Park. Uncle Bob and I had a few great financial conversations our last visit to the beach when our families blended for two summers in a row. Uncle Bob's heart was huge for everyone, caring and loving and he was a wonderful husband, father, grandfather and uncle. Praying for you during this time and trusting the Lord to strengthen you and console your hearts! I love you ALL! Jeanne Xoxo
October 12, 2020
I was so sorry to hear that Uncle Bob passed away this last week. I know he was a rock in your family, as was my Dad. He was always fun to be around and kept us girls out of trouble when babysitting for our parents, Frank and Flo Ford, when they went on Florida vacations – even on his honeymoon with Aunt Ruth! One of my fondest memories is of us finishing up dinner in our smallish dining room at our home in East Petersburg. I must have been about 8 years old. Uncle Bob was helping Aunt Ruth prepare some dessert with whipping cream. The whipping cream sprayed all over the walls! It was great fun for us kids. My husband, Jim, and I visited Lititz in 1982. While we thought we were pretty good ping pong players, Uncle Bob and Aunt Ruth, beat us every time. We were amazed at how they could bring the ball back up from below the table! I am sure others remember playing ping pong with them as well. We always enjoyed our family vacations as Rhehoboth Beach – whether we were all staying in the same large rental house, or later in life, when our 2 extended families rented homes on the same street. Having lost my dad in 1995, I have had a chance to think back on the contributions a father makes to the family. Uncle Bob was one of the best. Our sincere condolences to you, Aunt Ruth, Susan, Bob and Karen, and all your family. He will be remembered with Love!
Joyce Ford and James Riddle
October 12, 2020
To Ruth, Sue, Karen and Bob Jr. my condolences to all of you for your loss. Bob was such a kind and generous man. He always had time to listen to me and offer his advice. He helped me several times on tax questions and investments. Bob, Ruth and I over the years had lots of fun going to the movies and then dinner . I enjoyed his sense of humor and wit. We had lots of laughs playing different games upstairs around the dining room table, and in the warmer months an occasional volleyball game. I always enjoyed helping you with different projects in and around your house. Bob and Ruth you were always there for me and I wanted to always be there for you when you needed help with something. I will miss you Bob but some day we will meet again when we are in heaven.
May the loving arms of Jesus be wrapped around you Ruth and your children and fill you with His perfect peace and love and strengthen all of you through this difficult time.
Love Tim Lehmier
October 10, 2020
To Aunt Ruth and all the family, There are so many wonderful family memories with all of us together sharing special holidays and beach vacations at Rehoboth, times at Lititz Springs Park, card games around the kitchen table, and so many more. Uncle Bob alwasy had a warm wonderful smile, was kind to everyone, and above all, loved his family. We pray for strength and for peace and for the loving kindness of our heavenly Father be with you during this difficult time. All our love, JoAnn and Michael (Raleigh, NC)


October 09, 2020
Rest in peace Mr. Garvey…and thank you for your kindness and friendship. It's been quite a while, but I've never forgotten what a fine man you were, and what a wonderful family you led. My condolences to your family and all who knew you and loved you.
Steve Kurtz
October 09, 2020
Karen, so sorry about the loss of your Father. You are in my thoughts and prayers!!
Wendy (Landis) Johnson

October 08, 2020
He was a lovely man, and I am better for having known him. Heartfelt condolences to Karen and her family.
Michele Greatti
Visitation

Monday, October 12, 2020
1:30 PM - 2:30 PM
Charles F. Snyder Funeral Home & Crematory
3110 Lititz Pike
Lititz, PA 17543

Map and Directions

Services

Monday, October 12, 2020
2:30 PM
Charles F. Snyder Funeral Home & Crematory
3110 Lititz Pike
Lititz, PA 17543

Map and Directions