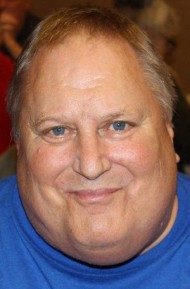 Robert J. "Rob" Wagaman, 67
November 23, 2014
Robert J. "Rob" Wagaman, 67, of Faith Friendship Ministries Villa, Mountville, died Sunday, November 23, 2014, at Lancaster General Hospital. Rob was born in Lancaster to the late Robert R. and Annabelle K. (Rowell) Wagaman, both of whom passed away earlier this year.
Rob was known as "Calvin" the man who walked around carrying his radio and stick in Willow Street, where he previously lived. A gentle soul, he was fondly referred to as the "Mayor of Mountville" as well as the "Mayor of Willow Street". Rob loved his family, food, friends and dogs. He enjoyed eating at Shady Maple with his Faith Friendship Villa family and going to Barnstormers Baseball games with his Aunts. He loved family vacations at the shore. Rob attended Manor Brethren In Christ Church.
Surviving Rob are his brothers Jeffrey N. Wagaman and his wife Elayne of Lititz, and Stacy S. Wagaman and his wife Sue of Mountville, and his nieces, nephews, great niece and great nephews.
Funeral Services will be held 10:30 AM Friday, November 28, 2014, at the Charles F. Snyder, Jr. Funeral Home & Crematory, 3110 Lititz Pike, Lititz, PA 17543, with Pastor Drew Strayer officiating. The family will receive friends one hour prior to the service at the funeral home. Burial will be in Long Memorial UMC Cemetery, Neffsville. In lieu of flowers, Memorial Contributions may be made to Faith Friendship Ministries, PO Box 567, Mountville, PA 17554.
Leave a condolence on this Memorial Page
Condolences to the Family
February 16, 2019
I know this is late, but I haven't seen Calvin in a long time, and just recently found out that he died. I conversed with him back when I worked at the Weis Markets in Willow Street from December 1997 until August 1999. The obituary is accurate to state that he was a friendly guy who loved to laugh and uplift those around him. This is what made him well known and loved by the people of Willow Street, and I'm sure the people of Mountville loved him for that same reason; he will be greatly missed.
November 28, 2014
Back in 2002 I worked at a supermarket in Willow Street. I was outside on the porch watering plants, the sky was becoming very dark and cloudy. Calvin as I only knew him by that name, was just coming out the door with his boom box and stick in hand. He looked at the sky and commented " thunder boomers, yep, thunder boomers coming!". He delighted in life! That is what I will remember about him. Rest in peace sweet man, I am sure you are sharing your joy in heaven! Cheryle Thomas
November 28, 2014
My condolences to your family and friends, It really hard to lose someone you really love. Lost my brother-inlaw last week to cancer. God Bless you all
November 27, 2014
Calvin was such a sweet man!! I loved his happy attitude and great smile! I used to work at Kmart in Willow Street & he would come in and chat with me when I worked the service desk. He even made up a song for me and sang it to me!! I will always have fond memories of him!! He knew how to make me smile!! He will be missed by many of us!!
Kristi Stoltzfus

November 27, 2014
I had the pleasure of taking care of Robbie at FaithFriendship the last few years..he was always happy and always said Hi to everyone..he remembered my birthday as well as my children's birthday..the home will never be the same..he will be greatly missed by all. My prayers are with the family as they cope with this loss.
Sincerely,
Michelle Haefner
November 27, 2014
When he lived in Willow Street, Calvin attended our United Church of Christ community suppers. He enjpyed talking and eating and he brought happiness with him. Rest in peace, Calvin.
Nancy Harper
November 27, 2014
Bob kinda became part of our family many years ago as our three young boys encountered him walking by our home. Not knowing who this street walker was with a large radio on his shoulder and twirling stick in his hand one of our boys decided to encounter him. That started many years of friendship that led to Bob getting to know many of our friends and family. Bob went with us everywhere including some weekend campouts at Camp Swatara where he was introduced to numerous other camping friends. He was always a hit with his one-liners, his extraordinary knowledge of politics and of course his enjoyment of food. Everyone loved Bob. Life moves on but memoriers are forever and Bob (Calvin) certainly instilled tons of those great memores on scores of people just because of that one day many years ago an encounter with one of our boys happend on Millwood Road. May the Lord above rest your soul Bob as our family is trusting to meet you in heaven some day as we all contemplate that grand reunion. We'll all be twiling those heavenly sticks as we continue enjoy one-anothers company.
Tom Wissler
November 27, 2014
Sorry for your loss. "Calvin" was always a pleasure to talk to as he walked around Willow Street. A gentle, kind, caring man. God Bless
November 27, 2014
Such a sweet soul! He always had kind words for everyone! I've missed seeing him in Willow Street since he moved. May God bless his family always.
November 26, 2014
I have fond memories of him from his years in Willow Street. Calvin was known by so many, carrying his radio and stopping to talk to everyone and anyone. Be at peace knowing he touched many lives with his kind soul. God bless you in your time of sorrow.
November 26, 2014
He will be terribly Missed!!! I knew him when he lived in willow street! What a wonderful man who touched so many lives.
November 26, 2014
So sorry to hear about Rob. My prayers are with the family and wishing I could go to the funeral but am out of town. "Calvin" was a good friend and pal to me, who helped me look at the world in a different and child-like way. I have a lot of stories of running into Rob in both Willow Street and Mountville, he will be dearly missed. He once told me a simple thing once that makes me smile when I think of it! He said, " I never met a piece of candy that did not like, especially if it Free!" Then he would chuckle at his own statement . I liked that about Rob. He spoke from his heart. So, I just want to say that I consider it an honor to have known, sat on benches with , and ate candy with "Calvin" ! He was and is a great person that showed me how to slow down and smell the flowers! Until we meet again Buddy", Rest well my friend.
Sam Mylin
November 26, 2014
My sincerest condolences to the Wagaman family. My name is Cindy and I work in Willow Street. I had known Calvin for many years. My friend and I used to take him to Jenny's dinner alot .He sure loved to eat! He was a dear friend and a wonderful person. We all missed him when he moved to Mountville. He will be greatly missed.
Visitation

Friday, November 28, 2014
9:30 AM - 10:30 AM
Charles F. Snyder Funeral Home & Crematory
3110 Lititz Pike
Lititz, PA 17543

Map and Directions

Services

Friday, November 28, 2014
10:30 AM
Charles F. Snyder Funeral Home & Crematory
3110 Lititz Pike
Lititz, PA 17543

Map and Directions