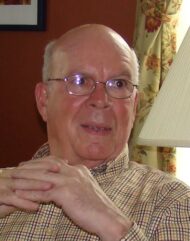 Robert J. Butler, 84
May 26, 2022
Robert J. Butler passed away on May 26, 2022. Bob was born to the late Paul and Mable (Evon) Butler in Fairfield, CT. After graduating from the UCONN, he met his wife of almost 50 years, Sally Holden Butler.
Bob proudly served in the United States Army and served in Korea during peace time and then transitioned to the Army Reserves.
Bob is survived by his daughter, Ginger A. Martin and her husband Kevin of Manheim, many nieces and nephews, and his faithful companion dog Zoie.
In addition to his wife, Sally, Bob is preceded in death by his brothers Tom and Paul Butler as well as his sister, Lois Butler.
A graveside service will be held on Friday, June 3, 2022 at Millersville Mennonite Cemetery, 435 Manor Ave, Millersville, PA 17551 at 10am.
Leave a condolence on this Memorial Page
Condolences to the Family
June 05, 2022
Gingier, so sorry for your loss. Love you, your cousin Jeff.
June 02, 2022
Ginger,
What a nice tribute to your dad in his obit. Susan sent it to me by e-mail today.Wish I had a car that I could trust with the drive to PA but I do not. I will be there in spirit with you and Kevin, however. Love you a lot and always have.
Aunt Marion
June 02, 2022
Ginger, wish I could be there. Love the photo and write up. Love ya, Aunt Jacqui