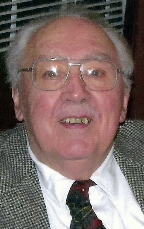 Robert H. Reese
Robert H. Reese died on Sunday, August 19, 2012 at the Essa Flory Hospice Center in Lancaster, Pennsylvania. He was born July 7, 1924 in Lancaster, Pennsylvania to Harold and Marie Reese.
He graduated from Manheim Township High School in 1942 and volunteered for the United States Army in 1943. He was a member of the 1st Calvary Division and participated in the Battle of the Philippines, the Liberation of Manila, the infamous Ball Park Battle, and was a member of the flying squadron that liberated hundreds of civilian and military prisoners of war from the Santo Tomas Prisoner Of War Camp. He was also involved in the initial landing in Tokyo, Japan at the end of the war and personally observed the Japanese surrender aboard the USS Missouri. He was wounded twice in the Philippines and received the Purple Heart and a Bronze Star for Valor.
He was honorably discharged from the United States Army in October of 1945, he was recalled to active duty during the Korean conflict in September of 1952, and again honorably discharged in July 1953.
He married Betty Mae Waltman on July 7, 1946. For a period of time, he worked at the Hertzler's Women's Apparel Shop in Lancaster, Pennsylvania.
He enrolled in West Chester State Teacher's College in 1946 and graduated in 1950 with a degree in elementary education. In 1967, he received a Master's of elementary administration from Temple University.
He began teaching on a fulltime basis for the School District of Lancaster in 1963 and ultimately became principal at the Hamilton and Mifflin Elementary Schools. He was principal for over twenty years at George Washington Elementary School and retired from education in 1986.
Bob worked tirelessly to provide for his family. Prior to becoming an educator, he was employed by the Radio Corporation of America as a Supervisor. In addition throughout the years, he worked part-time at Ready Mix Concrete, Penn Dairies, Interstate Motor Freight, and Kegel's Restaurant. He was an unpaid assistant to his wife Betty Mae Reese at the Ormond's Women's Apparel stores at both Lancaster Shopping Center and Park City.
Bob was a member of a number of service organizations. He was a 60 year plus member of American Legion Post 34. He was a 60 year plus member of Benevolent Protective Order of Elks Lodge 134 where he was Exalted Ruler in 1968, Elk of the Year in 1984 , and South Central Pennsylvania District Deputy in 1979.
He was a 50 year plus member of the Salvation Army of Lancaster, Pennsylvania and was on the Board Of Directors in excess of 40 years. He received the Distinguished Service Award from the Salvation Army in 2006.
He was a 60 year plus member of the Ross Street United Methodist Church and actively, financially supported the Church.
In 1990, he and his wife, Betty Mae Reese received the Red Rose Award from the Lancaster Newspapers for raising in excess of $150,000.00 for cerebral palsy through the Elks.
He was preceded in death by his father and mother Harold and Marie Reese and his lovingly wife of over 46 years Betty Mae Reese who died in December 1992. He is survived by his son, Robert H. Reese, Jr., and wife Monica Reese of Lancaster, Pennsylvania, and son Ronald P. Reese and wife Annette Reese of Mount Joy, Pennsylvania. He is also survived by four grandchildren, Megan Reese of East Petersburg, Pennsylvania, United States Navy Lieutenant Shannon A. Reese Buckley of Carlsbad, California, Tyler Reese of Lancaster, Pennsylvania, and Kelly Reese of Naples, Florida.
Bob deeply, and unconditionally, loved his wife, his family, and his country. He tirelessly gave back to his community through thousands of hours of volunteer work and as an educator.
He instilled in his children and grandchildren a sense of hard work, respect for others, and the deep love of family and country. He will be sorely missed by his family, friends, and all the people who knew him and whose lives were touched by his generosity.
Friends will be received on Sunday, August 26, 2012 from 6-9PM, with The Elks service at 830PM, from the Charles F. Snyder Funeral Home & Crematory, 3110 Lititz Pike, Lititz, PA. Friends will again be received on Monday, August 27, 2012 from 930-10AM, with the Funeral Service to follow at 10AM. Interment in Conestoga Memorial Park. In lieu of flowers please make contributions in Bob's memory to Hospice and Community Care, 685 Good Drive, Box 4125, Lancaster, PA 17604-4125 hospiceoflancaster.org. To send an online condolence, please visit SnyderFuneralHome.com. Charles F. Snyder Jr Funeral Home & Crematory 560-5100
Leave a condolence on this Memorial Page
Condolences to the Family
September 27, 2019
Dad,
Just happened to open this this morning. I MISS YOU so very much!!!! Just letting you know we are all ok and we ALL miss you. Megan, Shannon amd Kelly are all married now. Not yet for Tyler. He is doing GREAT though!
Say hi to MOM. We miss you both so very very much!!!!!!

Love you Dad,

Ronnie
Your loving SON forever!!
I was so sorry to hear of the death of Bob. He was a wonderful man and had a profound effect on my teaching career. His kindness and generosity will not be forgotten. I am sure that this is a difficult time for all of you and I will keep you in my prayers.
Joanne Dardis
I was so sorry to hear about Mr. Reese. He was my sixth grade teacher at George Ross School. I knew your mother as well. They were wonderful people. I often saw Mr. Reese at the Elks Club and when I was out and about in Lancaster. The last time I ran into him was at Kegel's Seafood restaurant. I was fortunate to have him as a teacher & he was one of my favorite people. He will be truly missed. My thoughts & prayers are with your family.
With my Deepest Sympathy,
Donna(Westbrook)Amato
I'm so sorry for your loss, I got to know Mr. Reese at Hamilton Elementary school, I started in 1966.
I did spend some time in his office, we were not on a first name basis, and as I recall he was very understanding and would look for the good in every situation, not dwelling on the negative but accentuating the positive, I never realized what he did for his country and fellow human being. Because he made it about the other person not himself. He was truly one of a kind and the world is poorer for him not being here.
If we all could be like this man truly the world would be a better place.
Pease take comfort in knowing what he accomplished with his life, and know that he left more than just a legacy, his attitude and lookout on life influenced many a person and we are all better people to have known him. Teekc@comcast.net
Dear Reese family-
On behalf of UDS (United Disabilities Services) I would like to offer our sincere condolences to you on the passing of Bob. He was a dear friend of UDS (which was then know as United Cerebral Palsy of Lancaster County) and through his efforts as a Elk was able to raise funds to help people with disabilities it the Lancaster area. Bob was also a long time Board member and we appreciate his service so much. Bob leaves behind a legacy of love, service and giving and will be long remembered by those for whom his tireless efforts benefited. Thank you for sharing him with us. May God bless you and yours.
All the best-
Larry Aubrey
UDS Director Major Gifts
717-397-1841
I was very lucky to know both your dad and mom, by working at Ormonds in at Park City. Bob was always so happy and made your day even at work. When Betty popped in she was always full of energy and both were so very down to earth people. Many of our Managers and coworkers at Ormonds are gone now, but I always remember them very fondly. My deepest sympathy to the family.
Beth Carter (Frey)
Our thoughts and prayers are with all of you. We have the fondest memories of your Dad and Mother. Due to medical reasons we were unable to go see him.
Will never forget his wonderful smile and laugh. He will be missed by everyone.
You have our deepest sympathy.
Raymond & Rita Good
My thoughts and prayers are with you at this time. I knew Mr. Reese from my work. He would come in for labwork and I got to know him pretty well over the years. He always told me I reminded him of his cousin. I cried with him a few months ago when he told me how ill he was. I've wondered how he had been doing since I hadn't seen him for a while. He always brightened my day! He will be missed. I knew he had been a principal but had no idea of his notable past. What a wonderful man!
Lori Jackson
Bob will surely be missed. I have so many great memories of him and Betty Mae! Your family is in my thoughts and prayers!
Kristin Groff
Your father was a wonderful man and he made us better people to know and care for him. He will be sorely missed.
Lynette and Dave Trout
God Bless You Papa Chee….
Our thoughts and prayers go out to your entire family. Mr. Reese was a wonderful man and will be greatly missed.
Sincerely,
Rick and Tina Kauffman.
It is with great sadness to hear about the passing of your father. He was the best principal anyone could have had at Hamilton Elementary School. Many great memories from Hamilton. He will be greatly missed but not forgotten.
With Deepest Sympathy,
Ann Marie Filling Koch and The Richard Filling Family