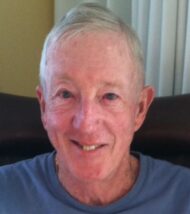 Robert G. Kelly Jr., 81
September 04, 2022
Robert G. Kelly Jr., 81, of Lancaster, PA, died peacefully on Sunday, September 4, surrounded by those he loved. Known as Bob, he was born the oldest of three children on September 8, 1940, to Robert and Mary Kelly of Wynnewood, PA.
In the heyday of Philadelphia's Big 5 basketball, Bob played guard for the University of Pennsylvania. He earned a law degree from Villanova University in 1965, established his own firm in 1971 and practiced law in Philadelphia for the next 50 years, many of those at the law firm Marshall Dennehey. His passion, intellect, mastery in the court room, and mentoring of younger lawyers generated success and appreciation from those with whom he worked.
Bob was an avid reader, an enthusiastic and occasionally frustrated golfer (who also notched a hole-in-one), a burgeoning chess player, extraordinary dance partner, and most importantly a loving and dedicated husband, brother, father, grandfather & friend. Bob was loved for his quick wit, "one-shot" jumper, commitment and loyalty to those he cared for, and levity in the company of all. Those who had the opportunity to be in his circle of support could always count on Bob to give guidance, but also to listen and always be their biggest fan.
He is survived by his wife, Susan, who loved and nurtured him for 32 years of marriage; his four children: Robert, Michael, Kevin and Tara; ten grandchildren; his first wife, Kay; his brother, Tom and sister, Mary Louise Wolfington. Interment will be private.
Watch the tribute video
Leave a condolence on this Memorial Page
Condolences to the Family
September 27, 2022
So Sorry to learn of Bob's passing. I use "passing," not as a euphemism, but as the reality that Bob is now in the warm embrace of God's love and sharing a new existence with family and friends who have gone before him. My memories of Bob are positive as to his kindness for others as well as with an occasional chuckle for his insightful humor. His banter within his network of close friends was always entertaining and memorable.
September 26, 2022
Recently heard of Bob's passing. To Susan and the entire Kelly family our deepest condolences. Bob was one of a kind, intelligent, witty, enthusiastic and a wonderful friend. Always willing to engage in spirited conversation, Bob was not shy to express his opinion whether on sports, law or politics. Being with Bob was interesting and fun. Over the years we enjoyed golf, biking and dining with Bob and Susan. Lots of fond Bob Kelly memories. Rest in peace my friend.
Jim and Diana Vaules
September 18, 2022
Thinking of my friend and mentor Bob Kelly today. Bob invited me to help coach Michael's VF Colonials PeeWee team back in 1980 and here I am still coaching hockey today. Sincere condolences to Bob's family. He will be missed by those that loved him.
Peter King
September 18, 2022
Many fond memories of competing against Bob in the Haverford/Malvern basketball rivalry of the late 1950s. He was a tough opponent. My deepest sympathies to the family.
September 12, 2022
To Susan and the entire Kelly family, we were deeply saddened to hear Bob had passed away and we extend our condolences to the entire family. I know Bob was a big cog in the family wheel and his absence will be greatly missed.
Bob and I have been good friends for over 65 years. From the early years at Malvern and four years at Penn, we had many great times together, including the years of marriage and young parenthood. Even as our lives took different paths, we always kept in touch. Bob was a honorable and witty person that was always fun to be with. No one made Katie laugh more. It is hard for me to accept he is gone and we will miss him greatly.With heavy hearts, Katie and John Heins
September 10, 2022
Bob welcomed me to Hersheys Mill in 2009 and served tirelessly as Council President for many many years! My heart goes out to my good friend Susan! You are in my thoughts & prayers love mep
September 09, 2022
It was an honor to work with and learn from Bob during my years at KMF. He was a knowledgeable and very good good lawyer; he was honest and witty; he was a gentleman. I considered him a friend and am so sorry he did not have more years to enjoy his life. I will miss him.
September 09, 2022
To Susan and the rest of Bob's family…. When I heard of Bob's passing, I was deeply saddened. Having known him since February of 1989, I feel a huge loss. May he rest in peace and I hope you find peace in knowing Bob touched so many people's lives and will definitely be missed.
September 08, 2022
It was an honor to know him for many years. Bob's kindness and humor made him loved by all. Al always enjoyed joking with him when they played golf together! Many good memories–
September 08, 2022
A great HM friend. We're so glad Bob came to WV and became involved here. Sincerely, Anne and Ralph
September 08, 2022
He will definitely be missed. He was an enthusiastic player on the chessboard and wonderful friend.
Suzanne Curry
September 08, 2022
I so greatly respected Bob's intellect and his creative passion for our work. We shall all miss him and honor his memory.
Tom Wagner
September 08, 2022
Bob, thanks for your time in my life. I am a much better person and lawyer for it. Rest in peace.
Timothy Hartigan