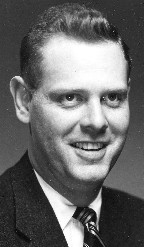 Robert E. Tiley
Robert E. Tiley. 85, of Lancaster and Elizabethtown, PA, died peacefully Thursday, November 8, 2012 at The Masonic Villages in Elizabethtown. His wife and family treasure memories of a man who loved family, humanity, and nature.
Born in Shippensburg, PA in 1927, he was the husband of Wendy (Gomes) Tiley of Mt. Vernon, NY and the son of the late William Douglas and Pearl (Baker) Tiley.
He lived in Gettysburg before moving to Catonsville, MD and later to Fairfield County, CT. After he retired, he wintered in Jupiter, FL and summered in Lancaster, where he was a member of Highland Presbyterian Church.
Robert studied at both Gettysburg College and Johns Hopkins University. His career in sales began at C.H. Musselman Company, Biglerville, Pennsylvania. After later serving as Vice President of M.W. Houck Food Brokerage and then as Vice President of Caemint Food, Inc., both in New York, he became President of Belle Island International, Inc., a food brokerage based in New York and later Connecticut.
He was a Navy veteran of WWII, where he served as a firefighting instructor. He was a member of Good Samaritan Masonic Lodge #336, Gettysburg, Pennsylvania.
In addition to his wife of 40 years, he is survived by a daughter, Nancy A. Tiley; a son, Stephen D. Tiley and his wife Holly (Helene) and their three children: Kathleen, Peter and Ellie; a step-daughter, Debbie and her husband Michael Merle and their daughter Maggie Leigh; a step-son, Thomas Johnson and a former spouse Kathy and their two children T.J. and Cassie; four great-grandchildren. He is also survived by a dear friend who was like a brother, Don Warner and his wife Pam.
Funeral Services will be held at 10:30 AM Tuesday, November 13, 2012 at Highland Presbyterian Church, 500 East Roseville Road, Lancaster, PA with Rev. Ann Osborne officiating. The family will receive friends one hour prior to the service at the church, from 9:30 to 10:30. Burial will be private. In lieu of flowers, memorial contributions in Robert's memory may be made to Masonic Tree of Life Fund, One Masonic Drive, Elizabethtown PA, 17022-2199. To place a condolence online, please visit SnyderFuneralHome.com. Charles F. Snyder, Jr. Funeral Home & Crematory 717-560-5100
Leave a condolence on this Memorial Page
Even though I have not been able to visit you for many years, I feel it was just yesterday that I last saw you. Nancy always kept me up to date on what you were doing and how you were doing. I could feel Nancy's love for you from the way she talked about you. She loved you so very much and loved spending time with you.
I will never forget my childhood days and the fun you always help provide for Nancy, especially her birthdays. I will always remember you as a generous, kind and wonderful caring father.
As you have always given to others in life, now is your time to rest in peace and enjoy the beauty of heaven.
With loving thoughts, you will always be remembered,
Annie
It was a sincere and special pleasure to meet with Robert a couple weeks ago. His daughter Nancy arranged the loveliest visit which was made all the more fun by the lively conversation. Even though things were getting more difficult for him by the day, Robert joked about his situation and made us all laugh. What a gracious and interesting fellow. He was much loved and I am certain he will be deeply missed.
Michele Smith
granddaughter of Jack L. Baker
Dear Nancy and family
Our thoughts, love, and prayers to your family at this very sad time.
your cousins Jeannette Sophy, Diane Jenkins, David , and Eric Stevenosky, and families.