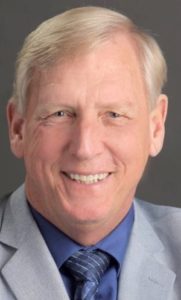 Robert Bell Cooper, 69
July 08, 2018
Robert Bell Cooper, 69, of Manor Twp., passed away Sunday, July 8, 2018 at Hospice & Community Care, Mount Joy, after a courageous battle with cancer. He was born in Lancaster to the late Herbert Cooper, MD and Barbara (Bell) Cooper. Rob celebrated 16 years of marriage with his wife Dawn L. Brill-Cooper, who was the "love of his life", and he always referred to her as his bride.
Rob graduated from Hempfield Area High School in 1966, and from the University of Pennsylvania in 1970. He has been involved in the real estate business since 1971, starting out as an agent and broker/owner, and later moving into management and becoming a real estate coach and trainer, with a passion to train all realtors to be the absolute best they could be in both their careers and personal life. Rob was a Past President of the Lancaster County Association of Realtors, and was also a member of both the national and state realtor associations.
An avid golfer, Rob was a member of the Conestoga Country Club. He bowled with his wife and family on Friday nights, and vacationed at Fenwick Island each year with the family. He was a strong, Godly leader of his home and loved his children and grandchildren more than words can say. Rob was also a very active member of LCBC Church Manheim where he served as an Usher. He was recently nominated to be inducted into the Hempfield Athletic Hall of Fame, which will be happening this coming September 7 & 8, and was greatly honored by this nomination. A lifetime fan and season ticket holder of the Philadelphia Eagles, Rob and his family were overjoyed to finally celebrate the team's first Super Bowl championship.
Surviving Rob, in addition to his loving wife Dawn, are their children, Robert Cooper II and his wife Lisa, Chrystine Mitchell and her husband Mike, Bryan Brill and his wife Laura, Leah Landis and her husband Dave, Carli Egland and her husband Erik, and Jourdan Smith and her husband Wes. Also surviving are grandchildren, Bella, Sophie, Gabe, Michael, Ava, Grey, Lucy, Paisley, and more on the way; brothers Herb Cooper and his wife Barb, and Tom Cooper and his wife Cheryl; and several nieces, nephews and cousins. He also adored their dog, Missy.
Friends and family are invited to attend a Celebration of Rob's Life which will take place on Monday, July 16, 2018, at 10:00 AM at LCBC Church Manheim, 2392 Mount Joy Road, Manheim, PA, 17545. In lieu of flowers, contributions in Rob's memory may be made to the Mary K. Dano Animal Shelter, 848 S. Prince Street, Lancaster, PA 17603.
Leave a condolence on this Memorial Page
Condolences to the Family
July 16, 2018
Our hearts, thoughts, love and warm affections are there for Dawn, Herb, Barb and families. Have known and respected Rob since the fall of 1971 in on many levels but it wasn't until 1977 when entering the real estate business that Rob's true talents were truly recognized. Rob was always honest, focused and dedicated to fellow Realtors and just anyone who was in his presence. Later as office manager, there was no one more capable and true to his office members in everyway. Rob was the pinnacle of the meaning of what makes a truly whole individual….simply the best. With deepest sympathy to we part with this dear sweet living man. To all those who Rob has touched, the memories will be everlasting!! Jeff LeFevre…
July 16, 2018
Dawn and Family, We are sincerely sorry for the loss of a great man. May your memories give you comfort at this difficult time. Our thoughts and prayers are with you. Cindy and Jim Sorrentino
July 14, 2018
Chrystine,
I am sorry to hear your father passed away. I met Rob many years ago when I worked for Dr. Good. I remember the joy you brought to his heart. May God give you peace and comfort, courage to face the days ahead, and loving memories to forever hold in your heart.
With love,
Jane
July 14, 2018
Dear Dawn and Family:
Deepest sympathy on the loss of your dear husband, father and friend, Rob.
May you be comforted by the caring kindness and love from your family and friends, and through your deep faith in the Lord.
Please know how much others care and share your grief.
With peacefulness and blessings – Barry and Joan Decker
July 13, 2018
Chrystine,
im so very sorry for the loss of your dad. I remember so well how proud your mom and dad were of you from the day you were born. He will always be with you. And your moms crazy bunch of friends are here for you when you need us!
Much love,
Jody
July 12, 2018
Dawn,
My heart breaks for you. I know this heartache all too well. Praying God's peace over you. He has you wrapped in His arms. much love and prayers to you!
-Debra (Buckwalter) Weidner
July 12, 2018
Having met Rob early in my Real Estate career in the early 70's, I have never met a finer example of a professional Realtor and gentleman. My deepest sympathy and condolences to the family. Chuck Thompson and Dolly.
July 12, 2018
My sincere condolences to you Dawn, your family and the Cooper family. May all your happy memories help you get thru your sadness. Rob was always a pleasure to be around. I was lucky enough to spend some time with you and Rob at our past 50th reunion, shared memories in the classroom and our co-championship football team our senior year. I was on the receiving end of some of his touchdown passes, one of them being the ring-dang-do play that Kirk mentioned.
-Barry Von Stetten
July 12, 2018
Dear Dawn, Herb, and all your family,
I am sorry to hear about Rob's passing away. I did not know he was sick. I played football with him at Hempfield for 2 years and he always was such a wonderful person to me and his teammates. He always was so encouraging to our whole team. He and Bob Rivard were always such great players in football and basketball. My wife Darlene and I will keep Rob in our prayers. God has a special place for him in Heaven.
God Bless Your Family,
Charlie and Darlene Roehm
July 11, 2018
Dawn….I'm so sorry to hear that Rob has passed.. I can't imagine the pain & loss you must be feeling now. My deepest sympathies are with you & your family.
Love & prayers
Tru Vizzini
July 11, 2018

Dear Dawn and Family – Wanda and I were saddened to hear of Rob's passing. Having had the privilege of working professionally with Rob for many years we can testify that he will be missed by many. He had unique talents that enabled him to connect with those striving to lift themselves up. The world needs more people like Rob not less. May he rest in peace and may time ease your sadness. Chris & Wanda Poole

July 11, 2018
Am so sorry to hear of Rob's passing, but am overjoyed to know that he is in heaven and will get to see him again. I worked for "CBSC2" on Centerville Road, and always enjoyed Rob, his visits to the office, and laughter! His down to earth nature was always appreciated. Blessings to all family and friends during this time of grief.
Stephanie Mowery Byers (Sam)
July 11, 2018
Dear Dawn,
I am so very sorry to hear of your loss. I will keep you in my thoughts, praying for your strength. I am sure your wonderful memories will keep Bob in your heart forever.
With Love and sympathy,
Carol Heilner
July 11, 2018
Sorry to hear of Rob's passing. Iam a Hempfield graduate from the same year of graduation as Rob – 1966. I hadn't seen him at any class reunions for years. Sorry I didn't get to see him in the recent past to wish him well. I remember him as quite the football star, along with his brother Herb. I found out about his death from a classmate's email. May God bring the family peace during this time. May He comfort as only He can comfort.
Phyllis Little (Lutz0
July 11, 2018
Dear Dawn and Family. So very,very sorry to hear of Rob's passing. He was a true gentleman. May your fond memories of your time together and the love and comfort of your Family and Friends and God's grace give you peace during this most difficult time. Dennis and Susan Dougherty
July 11, 2018
Dear Dawn and the entire family. Rob leaves a divot in this world that can not be replaced. May he rest in peace. God Bless you all in the healing process. Tom DeMascola
July 11, 2018
To the Cooper family,
Please accept my condolences on your loss. I learned of Rob's passing today and am deeply saddened for all of you. I have a lot of great memories with "Coop" and will treasure them. We met in 11th grade at Hempfield which was 1965 and had regular contact until I left Lancaster in 1988. The summer between our junior and senoir years, Rob had a party at his parents home and I showed up late with a recording of "Jumping Jack Flash", Rolling Stones, we must have played 50 times that night, dancing the whole time! We went skiing and snow mobiling, golfing, lots of memorable times! I was back for our 50th class reunion in 2016 and had lunch with Rob at CC and periodically texted back and forth. I learned at that visit that he was a believer like myself. So we shared our testimonies! I know he is in heaven and what a joy for Rob to be free of all the challenges he had here.
Sorry that I will not be able to attend the celebration.

God Bless all of you!

Stephen T. Musser
July 11, 2018
DAWN, BARBARA AND I WOULD LIKE TO OFFER OUR SINCERE CONDOLENCES TO YOU AND THE FAMILY. AS YOU PROBABLY KNOW, ROB AND I GO WAY BACK BOTH IN THE REAL ESTATE BUSINESS AND PERSONAL CONTACT. GOD BLESS HIM. LARRY AND BARBARA FAGAN
July 11, 2018
To live well and touch the hearts of others is to make a lasting difference….
Rob touched so many others in a myriad of ways. Knowing your memories will help bring you peace and comfort .
Jan Wagner
July 11, 2018
Rob was the quarterback and I was the center of Hempfield's league co-championship football team in 1966. We spent a lot of time together in those roles, and he became not just my friend but in many respects my role model in the process. Our paths didn't cross much for the next 50 years, but then at the Log Cabin recently I had the great pleasure of renewing that friendship — and reliving some memorable old times — with Rob, Dawn, and their wonderful family. I now greatly regret that I missed out on all of those intervening years. But I am left with nothing but high regard and appreciation for a guy who brought a lot of success and happiness to others. Thanks, Rob, for those great memories — including your "ring-dang-do' play that broke previously-undefeated Township's back, and those quarterback sneaks that averaged 9 yards per! You will be missed. And my sincere condolences to Dawn and the family.
Kirk Liddell
July 11, 2018
Dear Dawn, sorry for your loss, our prayers are with you and your family. God Bless. Lew and Dolly Sabatine.
July 11, 2018
Rob was my boss when I first started working at Coldwell Banker. It was my first night alone and he was sitting at the other side of the front desk doing some work. I got a call and the person asked for Rob. I hadn't met him yet, I was just a temp employee. I stood up from my desk and asked "Do you know if Rob Cooper is here?" He just laughed at me and then introduced himself. He was always a really nice guy. I went on to work with him for a few years. So sorry for your loss.
Sarah Keller
July 11, 2018
Omg, I am so so sorry for you loss Dawn and family. I know how much he meant to you and the love that you both shared was incredible. Dipper and I send our love and prayers. We are with you in spirit and love you so much. Please know that our hearts are with you…xoxox
July 11, 2018
Michael and I send our deepest sympathy and condolences to you, Dawn, and all your family. Sadly we say goodbye to our dear cousin, your husband Rob. With gratitude we breathe his suffering has come to an end. Rob was bigger than life and his towering, smiling presence is already sorely missed by all of us who loved him May the days and weeks to come bring you, Dawn and your family members, solace in the many fond memories Rob and you joyfully created. I feel certain Rob would want this!
Lynn Long and Michael Craven
July 11, 2018
Dear Dawn and family, so sorry for your loss. Thoughts and prayers are with you all.
Nancy Segro
July 11, 2018
I am so very sorry for your loss. Rob was loved by so many and will be greatly missed. Love, thoughts and prayers be with you all at this profoundly sad time.
MaryLou Hill
July 11, 2018
Dawn and Family,
So sorry for your loss. I have known Rob for over 50 years. He was a year ahead of me at Hempfield and was the nicest and most friendly person there was. We had some great talks over the years during real estate and mortgage get togethers. I was in the mortgage industry 44 years. Peace and love to all.
Sincerely, Deborah Fultineer McCartney
July 11, 2018
To Dawn and Carli and the rest of your family,
My deepest condolences to you all on your loss. Thinking of you and wishing you peace and comfort in your grief.
Fran Haldeman
July 11, 2018
Dawn and family
II am so sorry the the loss of your husband and father. May God give strength through this difficult time.
Prayers being said for all of you.
July 11, 2018
Dawn, my condolences to you and your family during this difficult time. Rob was very dedicated to his family and career and he expressed in everything he did. It was a pleasure to know and work with him during my short RE career at HH. I always looked forward to the Wednesday morning meetings. He will be missed by many. My heart goes out to you Dawn.
Sincerely
Ken Tramell
Services

Monday, July 16, 2018
10:00 AM
LCBC Church Manheim
2392 Mount Joy Road
Manheim, PA

Map and Directions