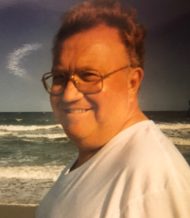 Robert B. Townsend, 78
November 16, 2019
Robert B. Townsend, 78, died on November 16, 2019 at home after a long illness. Robert was a 1960 graduate of Scott Senior High School and worked in the printing industry for the majority of his life. He loved his family, golfing, trout fishing and was a lifelong Philadelphia sports fan.
He is preceded in death by his parents, Amadeo Brioni and Celeia Bovi Townsend, and two siblings, Annabella and Jan Carlos "Butch" Townsend.
He is survived by his wife, Ruth, and their two children, Robert and Rebecca. Robert also had three grandchildren, two great grandchildren and two younger siblings.
In lieu of flowers, donations can be made in his name to St. Jude's Hospital at https://www.stjude.org/donate or the Humane League of Lancaster at 2195 Lincoln Hwy E, Lancaster, PA 17602 .
A celebration of life will be held privately and at the convenience of the family.
Leave a condolence on this Memorial Page
Condolences to the Family
December 03, 2019
Ruth Ann,
We are so very sorry for your loss; I personally remember you guys as being two of the best jitterbug dancers around. God bless.
Lise & Glenn Brown
December 01, 2019
MY PRAYERS ARE WITH YOU AND YOUR FAMILY I ALREADY MISS MY FRIEND AND GOOD FISHING BUDDY MAYBE THE LORD WILL HAVE A TROUT STREAM IN HEAVEN AND BOB WILL BE HAPPY I WISH YOU AND YOUR FAMILY WELL RUTHANN TC.
EDWARD A. KASIAN SR.
November 22, 2019
Ruthie, my brother told me of Bob's passing. We moved to Chesapeake Isle 2 years ago, so I rely on him for info from home. So very sorry to hear this. Remembering you both & the times we had as former neighbors in Parkesburg. Know that our thoughts & prayers will be with you, Robbie & Becca. Jack & Suz Steczak
November 20, 2019
Dear Rebecca, I am so very sorry for your loss. I will keep you and your family in my prayers. Know, your Dad is never far away – he will always be watching over you, your Mom, brother and his family. This is a loss that feels different than any other, I have been through it. Sending hugs and love to you. Lisa
November 20, 2019
So sorry to hear of Bob's passing Thinking of all the good times we had
Peace and love,
Sharon(O'Donnell) and Bob Eavenson
November 20, 2019
I am so sorry to hear about Bob. I will miss him greatly. I loved when he would walk in and give me that big smile or seranade me with his great big booming voice. We would talk about kids, family and share recipes. I know he loved you all so much and talked about you all the time. Please know that my prayers are with you all. Love, Tanya