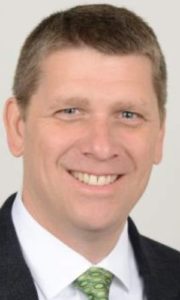 Robert A. Schroeder, 49
November 14, 2018
Robert A. Schroeder, 49, of Lititz, PA, and formerly of Northampton, MA, passed away on Wednesday, November 14, 2018, after a 9 month battle with pancreatic cancer. He was born in Suffern, NY, to Robert W. Schroeder and the late Carol (Cwik) Schroeder.
Rob graduated from Northampton High School in 1987 and recently celebrated 26 years of marriage to his high school sweetheart Carol Riordon Schroeder. He earned his BS in Operations Research Industrial Engineering from Cornell University and his MBA from the University of Connecticut.
He was a business development director for Graham Engineering, York, PA, and spent the majority of his career in Sales Management positions in the packaging industry.
An All Western Massachusetts Scholar Athlete for football in high school, Rob played on the Western Massachusetts Super Bowl Championship team in 1986. At Cornell he was a member of the 1988 and 1990 Ivy League Championship Teams.
Rob enjoyed following the Cornell Big Red and NY Jets. He coached his children in various sports and never missed a game or performance
A former member of St. Elizabeth Ann Seton Parish in Northampton, MA, Rob was currently a parishioner of St. Leo the Great Catholic Church.
Rob wanted to be remembered as a great son, husband and father who loved and greatly cared for his family.
Rob is survived by his wife Carol and their children Rory and Anne Schroeder; his father Robert and stepmother Mary Jane Schroeder, siblings Sean Schroeder and Stacey Schroeder, stepsister Carrie Frost, mother-in-law Molly Riordon, brothers-in-law John and Kevin Riordon, sisters-in-law Kathleen Riordon-Kyne and Mary Ellen (Riordon) Aylward and many loving family members and friends.
Family and friends are invited to a visitation on Sunday, Nov. 18th from 5-8 PM at the Charles F. Snyder Jr. Funeral Home & Crematory, 3110 Lititz Pike, Lititz, PA 17543. A Mass of Christian Burial will take place 11 AM Monday, Nov. 19th at St. Leo the Great Catholic Church, 2427 Marietta Ave., Lancaster, PA 17601, with The Rev. Peter I. Hahn as Celebrant. Interment will be private. Please omit flowers. Memorial contributions may be made to Inheritance of Hope, PO Box 90, Pisgah Forest, NC 28768 www.inheritanceofhope.org or to Ann B. Barshinger Cancer Institute, Cancer Patient Support Fund, Lancaster General Health Foundation, 609 N. Cherry St., 3rd Floor, Lancaster, PA 17604 www.lancastergeneralhealth.org/makeagift/
Watch the tribute video
Leave a condolence on this Memorial Page
Condolences to the Family
December 30, 2018
Carol, I just got the Christmas card from your mom I am so sorry to hear about Rob. What a great guy he was I just viewed the slideshow today a lot of great memories you can cherish forever. You're always in my thoughts and prayers. You aren't very much loved by all ❤️
John ward


November 28, 2018
To Rob's Family, it was very sad and shocking to learn of Rob's passing. He was a great teammate at Cornell. One who was very tough on the field, but one of the nicest guys off the field. The tribute video certainly depicted a life well lived; full of love and family.
Dave Easterly
November 27, 2018
So sorry for the family's loss. I lost track of Rob after his successful Cornell football career ended in 1990. The slide show tonight reveals what a great family man Rob had been. A life well-lived, but way too short.
November 21, 2018
Sorry to hear of your loss, my prayer and thoughts are with your family.
tony Anzalone '78
November 20, 2018
So very sorry to hear about Rob. He was a great teammate during our years at Cornell. I remember him as quiet but strong and always willing to give his all.
November 20, 2018
Deaf Schroeder Family,
I am so saddened to hear this news. I learned of his passing today from one of his teammates from Newhapton. I had not seen Rob in years, probably 1988, but spoke to him about 2 years ago and he was as welcoming as if we spoke often. My thoughts and prayers are with you all.
Warm Regards,
Sean Fagan
November 20, 2018
Dear Carol, I was so very sad to hear that Rob had died. He was such a good dad, and I really enjoyed knowing him. I'm thinking of you and Anne and Rory in this hideous time. I don't know if you remember that I also lost my mother too young (I was 7). I've always been comforted by the fact that I had her for the most important early childhood years, and I hope that eventually that will be a comfort to the three of you as well about Rob. I wish you the very best as you grieve and adjust to this new normal that you don't want. If you are back up this way and want to visit, please look me up. Lots of love to all three of you, Meg
November 20, 2018
Dear Carol, Rory and Anne – All of us on Ladyslipper Lane are deeply saddened to know that Rob is no longer with you. Ron and I loved having you as neighbors, and we remember Rob so well. I don't think I ever saw him without a smile and a big, friendly hello. Please know that you're in our hearts and that we think of all of you often.
Jack
November 19, 2018
Dear Schroeder Family,
I am saddened to hear of Rob's passing. I worked closely with Rob at Graham Packaging and enjoyed many of our conversations. He was always such a big support and full of kindness. I am truly sorry and hope that you find comfort in your memories and strength from the love of your family and friends! My deepest condolences!
November 18, 2018
Dear Schroeder Family,
My prayers and thoughts go to you during this difficult time. My heart sinks knowing Rob will no longer be with his loved ones. At the same time, I'm uplifted knowing the world is a better place because of him. He had a positive influence on all that he touched. While our paths crossed for only a few short years in college, he was a steadying hand for me when I needed it most. I looked up to him as someone to emulate and respect. He is already missed.
Much love,
Chad Livingston
November 18, 2018
Carol,
I am so sad to hear the news of Rob's passing. Having reconnected after losing contact so many years ago, I wish we had more time to better know each other as husbands and fathers. The things I remember most about Rob during our time at Cornell is his easy smile and his contagious happiness (and how he broke his leg). I'm sorry I am unable to come out for the service. Sending love and sympathy to you and your family.
-Rick
November 18, 2018
Wishing you friends to comfort you, memories to strengthen you and love to bring you peace. I will keep you all in my thoughts and prayers.
Sue Skrzyniarz
November 18, 2018
Carol,
We are so saddened to hear of Rob's passing. Prayers to you and the entire Schroeder family. Many wonderful memories of times in Northampton.
JoAnn, Charity, Jon
November 17, 2018
Carol,

I am so sorry to hear about Rob's passing. My condolences go out to you, your children, and Rob's entire family. Many of my best memories of Cornell involve time with Rob and you, and with his family on the holidays. I wish I could make the trip this weekend to pay my respects.

Best,
Darren
November 17, 2018
Carol, my deepest sympathy to you, your children and both families on the passing of Rob. Keeping you all in my thoughts and prayers during this sad and difficult time.
November 17, 2018
Carol, Rory and Anne:
We send our love and sympathy to all of you. It was evident every time we saw you all together how much Rob loved each of you. He was man full of life and one who lived a good life. We know that you will all come to feel him every day in your lives, as you bravely go forward, as that gentle voice who will guide you.
Rest In Peace Rob.
Love, Terry and Chris


November 17, 2018
Carol and family, I am so sorry to read of Rob's death this morning in the paper. Much love to you all. I hope you can find some comfort in family and friends.
November 17, 2018
Carol, Rory and Anne, we are so sorry to hear that Rob has passed away. We're thinking about you and sending you strength and love.
Gillian, Adam and Liam Kittredge
November 17, 2018
Carol, Rory, Anne, I am so sorry to hear about Rob/your dad. I remember you all from Ryan Road School. My heart is breaking for you. My sincerest sympathies to you and your family.
Sharon Matrishon
November 17, 2018
Dear Carol,
We are truly sorry, saddened and shocked to hear Rob passed away. Our thoughts and prayers are with you, Rory and Anne. Please accept our most heartfelt condoleances. May Rob's soul rest in peace and may the the love of the Lord and the Virgin Mary comfort you and your family.
Your friends,
Fred and Genevieve Venne

November 16, 2018
Our family will never be the same without you and every holiday is going to be a lot quieter going forward. You were such an amazing, strong father and uncle. We all love you forever.
November 16, 2018
Carol, Rory and Anne, we were so sad to hear the news of Rob's death. I only knew him during his illness but I know Claire told me that Rory said his dad was his best friend. That speaks so powerfully of the father and man he was. Prayers for you and your extended family.
November 16, 2018
OMG! Rob, you were such a great guy, fun, always a gag, a trick, something. You worked for me at TPI for summers and I remember you were painting lines and there was a pallet on the line and you painted on the pallet with out moving it. You were a riot! Course I had to explain the lines, but it was worth it! God Bless you and your family. I am so sorry, you are with God and I know you are smiling down on your family and friends.
November 16, 2018
To the Schroeder family,
I was privlaglaged to spend many family occasions with your wonderful family and get to know Rob. Thanksgiving , birthdays were memorable times to get to know this family . Rob was fun and I always enjoyed my conversations, lots of fun holiday cheer. Bruce Leventhal and my mom Eleanor Chaifetz extend our condolences and feel your sadness. In do time the memories will make you smile with love ..
Maxine and Bruce Leventhal and Eleanor Chaifetz
November 16, 2018
Schroeder Family,
The Myers boys are deeply sorry for your loss. We remember our basketball St. Leo trips VERY well ! Lots of fun with Coach Baker and all the parents. The Schroeder family was always great to be with ! Kerek always had a great time with Rory. Please know that we are thinking about you during this time.
November 15, 2018
Carol and Family,
Dennis and I are so very sorry and want you to know that Rob and your family are in our prayers and hearts.
Visitation

Sunday, November 18, 2018
5:00 PM - 8:00 PM
Charles F. Snyder Funeral Home & Crematory
3110 Lititz Pike
Lititz, PA 17543

Map and Directions

Services

Monday, November 19, 2018
11:00 AM
St. Leo the Great Catholic Church
2427 Marietta Ave.
Lancaster, PA

Map and Directions