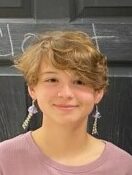 River Paige Olmsted, 17
October 16, 2023
The book of River Paige Olmsted's life began in Matthews, North Carolina in February 2006. Born to John A. and Molly S. (Holgate) Olmsted, River would soon become the middle child, and share many memories with siblings Noelle, and Helen Olmsted. The final chapter tragically ended on October 16, 2023.
The adventures in between were shared with many in Lancaster Mennonite Schools, Lancaster Catholic Schools, and Manheim Township High School. An active member at St. Peter's Lutheran Church, River quickly learned they had a love for children and began volunteering with the Sunday School. River aspired to be a music therapist for children and volunteered for Lydia's Closet. From an early age, they developed a love for music, and was apt to numerous musical instruments and singing. Music was everything!
River found peace being outdoors, especially when camping. As a skilled writer and poet, their muse was frequently found in animals. They also enjoyed working at the Renaissance Faire and would revel in the costumes and adornments. River was an avid reader and could frequently be found immersed in the pages of countless books.
River will be missed by all, especially her parents, siblings; aunts Heidi and Elizabeth; cousins, Catherine, Josephine, and William; 2 cats as well as 2 dogs, and countless friends.
While their story ended far too soon, those who knew and loved them, are invited to Celebrate River's Life and share of their tales together at 4 PM on Saturday, October 21, 2023, at St. Peter's Lutheran Church, 10 Delp Road, Lancaster, PA 17601. In lieu of flowers, memorial contributions are encouraged to be sent to Music for Everyone, musicforeveryone.org
Leave a condolence on this Memorial Page
Condolences to the Family
October 23, 2023
Dearest John, Molly, Noelle, and Helen,
Please know what our hearts are with you as you navigate this tragic loss. We will remember River as the beautiful child, always full of smiles, joy, and quick wit. We will miss her tender heart for others and for animals, and her affinity for music. May you all find comfort as you gather in remembrance & May you find peace with each other's love.
With love from Catherine, Ella, Milo, and Ginny
October 22, 2023
I'll always remember the Olmsted kids helping to set up the community meal for St. Peter's. Always eager to lend a hand, Paige was a joy to be around. I hope her soul rests in peace. My thoughts and prayers are with the family.
Sylvia Lashley
October 22, 2023
John, Molly, and family,
We extend our deepest sympathy to all of you for your tragic loss. No words can fill the void you must feel. We hope you can find peace in your hearts through your faith and trust in God. The Bennett family.
October 22, 2023
I enjoyed knowing River for just a brief time in my Creative Writing class, but I saw a beautiful flame of curiosity, a quiet spirit of introspection, and an aura of genuine kindness in them. As you all grieve and heal, you remain cemented in my prayers. – L. Spurrier
October 21, 2023
River always impressed me as a hardworking, caring student. They will be remembered for their smile that was shared for all. Prayers are sent to the family and all who were touched by River.
Suzanne Wood
October 21, 2023
Very sorry to learn of your loss. With deep sympathy.
Kishor & Flo Singapuri
October 21, 2023
River was an amazing spirit that the Fox Family will hold close forever. They were such a great friend & classmate of Sara's and we are blessed to have the memories we do. We are so incredibly sorry.
Melissa, Brian, Sara & Emma Fox
October 21, 2023
Please accept our deepest and most heartfelt sympathy. I only met River briefly a few years ago but I know how lovely they were. Our hearts break for your loss. We hope you can find solace in sweet memories and the love of family.
Sara's Nana, Mary Lou Sahd
October 20, 2023
River was a joy. They were smart and kind, talented and wise, adventurous and loving. They leave behind a hole, a gap in the universe that's felt by everyone who knew them. Molly, John, Noelle, Helen, I think of you daily and I pray for healing. God bless and keep you all. I'll miss you, River.
Nancy Basile
October 20, 2023
Holding you all close to my heart💛Missing River's warm smile, witty laugh & kind heart. A fellow sensitive soul, they'll always be near in spirit.
Lindsay Oehme
October 20, 2023
Our hearts are very heavy with sympathy for your family on the extremely sad news of Paige's death. Paige was a good steward of time and talents at St. Peter's.
Barbara and Brian Tolbert
October 20, 2023
While I never met River personally, many in my communities have and their impact on our Lancaster community is profound. I will keep you all in my heart. May you know you are held in so much Love. – Rev Sage Olnick, Unitarian Universalist Community Minister
October 20, 2023
My condolences go out to River's loved ones. Although I never met River, I heard wonderful things about them from my colleagues at Lancaster Theological Seminary. I hope that River's family is comforted in the days to come by their memories of River and be surrounded by the music that River loved. God bless you. Rev. Dr. Vanessa Lovelace
October 20, 2023
Olmstead Family, I am so sorry for your loss. River Paige was a beautiful soul and I remember her smile everytime she was playing or singing! God's peace be with you to comfort you at this time. Kim Sterner
October 20, 2023
John, Molly, Noelle, Helen:
Praying you find solace knowing River rests in God's loving arms. I am honored to have had an opportunity to volunteer with them at Lydia's Closet. Their kind heart and beautiful smile will be missed. May you feel our Lord's presence as He surrounds you with comfort and peace during this time of mourning. You remain in my thoughts and prayers. Revelation 21:4
With deepest sympathy, Deb Patton
October 20, 2023
I am so so sorry for your loss. My thoughts and prayers are with you all. River was a great kid!! Love to you all!! Charli's granny Pam kurtz
October 20, 2023
River was an amazing person whose life ended far too early. Sensitive, intelligent, thoughtful, quick-witted, and a consummate musician. My heart breaks at the loss of this beautiful soul. Prayers for all who knew River and who struggle in this world. Adam Lefever Hughes
October 20, 2023
To all in the Olsted family, our sincere condolences. Prayers for strength at this difficult time.
sincerely,
The Kerper Family
October 20, 2023
Molly & Family.
I am just heartbroken for your family, our close community. Please know that our arms are wrapped around you all in this difficult time. Prayers are lifted up so you can find the peace and comfort you deserve. We think of you all. God Bless. Kevin, Dana, Lexi and Sebastien Baker
October 19, 2023
Dear Olmsted Family
We are so very sorry for your loss. You will continue to be in our prayers. I was blessed to have River as a student. The ability to communicate with music is a profound gift, and River shared that gift extraordinarily well.
May the love of Christ comfort and embrace you
The Martin Family
October 19, 2023
River was such an amazing person and I feel extremely blessed that I was able to know them from church. I remember having a recent conversation with River about music and school band and it was obvious that they were passionate about it. I will always remember their bright smile. May the wonderful memories of River bring peace and comfort to all who knew them. Prayers for healing and comfort to Molly, John, Noelle and Helen.
October 19, 2023
Praying for peace as the family grieves and joy as you remember River. We grieve with you. Fondly, Sue, Annalise, and Chip
October 19, 2023
LCHS FPA misses you River
October 19, 2023
My heart is grieving esp for you, Molly and all your family and also all the friends of River. Praying for all of you to find peace. Sincerely, Mrs Peg Foley(Maggie's Mom)
October 19, 2023
Molly and John-I'm so very sorry to learn of the loss of your beautiful daughter. My heart breaks for you. Alison Savage
October 19, 2023
Dear Molly and John,
Please know that Ramón and I hold you close to our hearts and wish you lots of love as you grieve, surrounded by family and friends. Peace be with you and your beautiful family.
Truly,
Nikki and Ramón Rivera
Services

Saturday, October 21, 2023
4:00 PM
St. Peter's Lutheran Church
10 Delp Road
Lancaster, PA 17601

Map and Directions