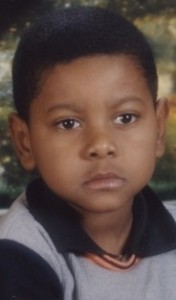 Ricky R. Reyes
Ricky R. Reyes, 7 years old, went home with the Lord August 22, 2007 with his mom at his bedside at Hershey Medical Center.
Ricky was the youngest son of Porfirio and Marilin Reyes and brother of Melvin and Ray, at home. He is also survived by three sisters, Janet, Frances, Neomi, and a brother, Ramon, all of Lancaster, paternal grandparents, Ramon and Francisca Reyes of Lancaster, and maternal grandparents, America Capellan and Belarminio Morel, both of Santo Domingo. He is also survived by many aunts and uncles, five nephews, and fifty-four cousins.
Ricky was a member of the Primera Iglesia Apostolica Templo La Hermosa. He was very active in Sunday School and church. He enjoyed playing the "star" in our Christmas play last year. His favorite toys were Spiderman and the green Power Ranger.
He was a student at Washington Elementary School, where he was going into the first grade.
The church, family, and friends celebrated his seventh birthday on August 14, 2007, where he was surrounded by love. Ricky, you are and will always be a miracle of God. We love you.
Funeral services for Ricky will be held on Sunday, August 26, at 7 PM and also on Monday at 11:00 AM at Templo La Hermosa, 440 Chester St., Lancaster, PA. Pastor Ismael Rivera will be officiating. A viewing will be held at the church Sunday evening from 6 PM until the time of service on Monday morning. Interment will be in Mellingers Mennonite Cemetery. Charles F. Snyder Funeral Home, Lancaster in charge of arrangements.
Leave a condolence on this Memorial Page