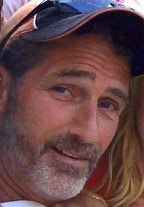 Richard W. "Rick" Wagner, 50
Rick Wagner, 50, of Lititz, went to join our Heavenly Father while surrounded by his loved ones on Tuesday, January 10, 2012 at the Hospice of Lancaster County, Essa Flory Center. He was a wonderful Son, Brother, and Dad.
Rick was born in Camp Lejeune, North Carolina. He served in the U.S. Navy for 5 years on the U.S.S. Dwight Eisenhower Aircraft Carrier. He worked for R.R. Donnelley for 20 years.
Surviving is his mother: Linda Wagner; his father: James L. Wagner; 3 daughters: Julie Wagner-Cole, Nicole Wagner and Lexie Wagner; and 5 brothers: James E. Wagner, William Wagner, Ronald Wagner, J. David Wagner and Robert Wagner.
A Funeral Service will be held at 7 PM on Monday, January 16, 2012 at the Charles F. Snyder, Jr. Funeral Home & Crematory, 3110 Lititz Pike, Lititz, PA 17543 with Pastor Jody Sambrick officiating. Family and friends can view at the funeral home from 5-7 PM. Interment will be at 12:30 PM on Tuesday, January 17, 2012 at Indiantown Gap National Cemetery. To send the family online condolences, please visit SnyderFuneralHome.com. Charles F. Snyder, Jr. Funeral Home & Crematory 717-560-5100
Leave a condolence on this Memorial Page
My prayers go out to the Wagner family. Rick was a co-worker at RR Donnelly. He will be greatly missed. Rick was a wonderful man, his smile would brighten up my whole day. He was a very strong person, now he can rest. Memories of Rick will be in my and others hearts forever.
Peg Wolpert
jpwolp@embarqmail.com
Sorry to hear the loss of Rick. I want to say thank you to the for letting us into your family and hearts. Thank you for the laughs and many, many good times with all the boys. He was a terrific brother, father and uncle.
Love always,
Lydia & Michelle
Sending condolences to all of you good people. My regrets to the passing of Rick. Time passes quickly but memories do not. Growing up with 6 of us and 6 of you were the best! Visits to the hay barn at the stock yards, capture the flag through out the neighborhood, playing in the church yard till they sent us home and endless days at the 6th ward park! We sure were hell raisers, and such fun, no care in the world.. We all feel lucky to have known him.
Mom Eady, Luann, Bob, Darlene, Linda, Fred, Steve Wentzel. (My Father Fred has passed to that cancer also!) Bless you.Always look up!!!!!!!!!!!!!!
It is with a very heavy heart that I am sending my condolences to you. We have lost a truly wonderful person. There won't be a day that I won't think of him. We became close friends thru work and I will cherish that friendship forever. My thought and prayers go out to you today. He may be gone from this life, but he is in another place, Heaven, and he is happy with having met us…his FAMILY. He will be in our hearts..FOREVER.
Sorry to hear about your loss my thoughts and prayers are with use.
Kevin Helm
Linda & Jim,
Please accept my sincere Condolences, I am truly saddened by Rick's passing.
Rick was my Co-worker, fellow Veteran, Motorcyclist, and most of all a Good Friend. We had lots of laughs throughout the years.
I can truly say he was one of the "Good Guys" and will be missed.

My thoughts and prayers are with his daughters, his Brothers and the entire Wagner Family, Friends & Loved ones.
With deepest sympathy,
Semper Fidelis
Candido Crespo Jr.
I am so very sorry for your loss. My thoughts and prayers are with your family. I worked with Rick at Donnelley when I first started there 15 years ago, he was such a wonderful, kind man and will be truly missed. God Bless
Our thoughts and prayers go out to all the Wagner family. We are so very sorry for your loss.
All of us have Wagner family memories from happier times in the past to keep in our hearts forever.
God Bless,
The Livengoods,
Lani & Jay
Mike and family
Megan
I was sad to hear of the loss of another Ross St. gang childhood friend has left this world too soon. Playing in the street, out after dark, railroad trains & stockyard bulls & consumers corn,& walking to school… Rick will remain in these memories. Praying for all of you & please remember, those who know the Lord will never say goodbye for the last time….
Renee Horn (Stoner)
So sorry to hear of your loss. thinking of you at this time. May you always
hold on to the memories. God Bless
Barb(Helm) Breneman
Sorry to hear of your loss i worked with Rick at Donnelly years ago.
Deb McMichael
He was a great man, thought very highly of him. he was one of the best! I'm deeply sorry for the families loss. He's soaring high now and we will see him soon.
Our Lord has his arms around Rick and he is no more pain. We will all see him again. My thoughts and prayers are with all of you. God Bless
Bob and family,
I am so sorry to hear of the loss of your brother. May God give you all the strength you need during this difficult time. Your family is in my thoughts and prayers.
Debbie Black
Sorry to hear of your loss, Our Thoughts and Prayers are with you during this difficult time. Rick will remain in our Hearts and Memories.
God Bless
Tammy Slocum (Stoner)
He was a wonderful man. I am so sorry for your loss. I will be there on Monday. Love to your whole family
LoriAnn Creegan
Life brings tears,
smiles and memories.
The tears dry,
the smile fades,
but the memories live on forever.
There are no words to describe how sorry I am for your loss.
Please accept my condolences.
Simoneta(Sisi)Dohl
To live in hearts we leave behind, is not to die.~Thomas Campbell
I know he will live on in the hearts of his family and his beautiful daughters.
I love you girls.
Terry McGarry
Dear Linda and Bobbie,
Just a note to let you know how very sorry we are for your loss. We will keep you in our thoughts and prayers knowing that you will be missing Rick every day.
Love,
Mike & Joyce Hoffman
joyceh44@gmail.com