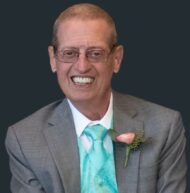 Richard "Rich" J. Shulenberger, 71
March 13, 2023
Richard "Rich" J. Shulenberger, 71, of Lancaster passed away, March 13, 2023. He was born to the late Emmett and Miriam Shulenberger in Carlisle, PA. He dedicated over 35 years to High Steel Service Center as a sales representative. It was a career he loved and enjoyed thoroughly until his retirement.
Rich was known for his positive attitude and a smile that he would share often. Even in the face of long-term illness Rich did not falter and always made the best of every situation. He was quick to make friends and very sociable. Rich enjoyed sports and was a fan of all Philadelphia sports teams. While his children were growing up, he was active in the community where he coached little league baseball and youth soccer. He also had a passion for cooking on the grill for his family and doing home improvement projects. In his youth, Rich enjoyed the outdoors and hunting. He loved his family dearly and will be missed by all those who loved and knew him.
Rich is survived by his beloved wife of nearly 48 years, June Shulenberger; his children, Gregg Shulenberger (husband of Danielle), Eric Shulenberger (husband of Shannon), Brad Shulenberger (husband of Christine), and Christa Pearson (wife of Brian); his brother, Gary Shulenberger (husband of Dianne); his grandchildren, Andrew, Kaylee, Alexis, Lauren, Matt, Allison, and Taylor; and many nieces, nephews, and dear friends.
A visitation will be held Sunday, March 19, 2023, at Charles Snyder Funeral Home, 2421 Willow Street Pike, Willow Street, PA from 6 to 8 pm. A celebration of life will be held Monday, March 20, 2023, at Lancaster Church of the Brethren, 1601 Sunset Ave, Lancaster, PA 17601 at 11 am with a visitation to take place one hour prior. In lieu of flowers a donation to the Lancaster General Health Foundation or The Lupus Foundation of America may be made in honor of Rich.
For those unable to make the service, a livestream can be found here.
Watch the tribute video
Leave a condolence on this Memorial Page
Condolences to the Family
March 20, 2023
Gregg & Family – Lots of great growing up memories from all those years at Lancaster Church of the Brethren. Your family is in our thoughts and prayers during this difficult time. Lyle Hosler
March 18, 2023
Shulenberger Family,
I worked with Rich at HSSC and had the privilege of becoming instant friends with him. He was a very kind soul. I was always touched when I'd see that yearly text on my birthday and our annual communications during holidays, I will truly miss those. May the angels bring you peace during this difficult time.
Sandy Alvarado
March 18, 2023
Our condolences on Rich's passing. He was a very affable gentleman. Although our interactions were not that many, we easily exchanged a fondness on Philly sports teams. Although his physical presence has passed on, his memories will remain immortal.
Vince Guarini and family
March 17, 2023
Dear June and family,
We were so sorry to hear of Rich's passing. Although we didn't know him long we were both always struck by his compassion and love of life. He will be missed by many on earth but he is enjoying company with those he missed in heaven again. Our condolences to you all.
March 16, 2023
We are so very sorry for your loss. It's evident Rich was the best husband, father, grandfather and friend. Praying that the grace of God and the love of family and friends will see you through.
March 16, 2023
May Rich's memory be a blessing. Olav ha Shalom
March 16, 2023
Sorry to hear of Rich's passing. He brought an energy and enthusiasm for life that no one could match. He will be missed. I will keep your family in our prayers.
Bill Maurer (I worked with Rich at High Steel)
March 16, 2023
Shulenberger Family,
So sorry to hear of the loss of Rich. Take comfort in imagining the beauty of what he can see. Imagine the smile he has now! Till we see him on the other side. It's only goodbye for a little while. Praying for all of you.
March 16, 2023
Dear June,
We were saddened to read about Rich's passing today. I still remember the first time I met Rich, in the summer of1980. It was at the Leola Pool and he was there with your family. I was immediately struck by his friendliness, and outgoing, welcoming personality. Please know that Carol and I will keep your family in our prayers.
God Bless you and your family,
Ted & Carol Nichols
Visitation

Sunday, March 19, 2023
6:00 PM - 8:00 PM
Charles Snyder Funeral Home
2421 Willow Street Pike
Willow Street, PA 17584

Map and Directions

Visitation

Monday, March 20, 2023
10:00 AM - 11:00 AM
Lancaster Church of the Brethren
1601 Sunset Ave
Lancaster, PA 17601

Map and Directions

Services

Monday, March 20, 2023
11:00 AM
Lancaster Church of the Brethren
1601 Sunset Ave
Lancaster, PA 17601

Map and Directions