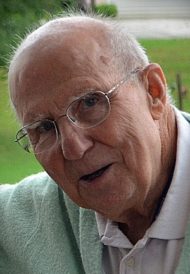 Richard L. Ramsay Sr., 84
November 22, 2018
Richard L. Ramsay Sr., 84, crossed the river to rest in shade of the trees on November 22, 2018. He was surrounded by family.
He was the son of Thomas and Lela Ramsay, and brother of Thomas H. Ramsay.
Beloved husband of Lillian Martin Ramsay, they shared over 62 wonderful years. Together they raised a family with three sons and one daughter. They were blessed with 12 grandchildren and 17 great-grandchildren.
Richard was educated in the Tredyffrin Easttown School District, attended Villanova University and West Chester State College, where he received a Bachelor's Degree in Education. He was a member of the Naval Reserves from 1952 to 1960.
He taught mathematics at Great Valley High School from 1962 to 1966. He moved into the computer field in 1966, starting at ITE Circuit Breaker, and then took a position at Foote Mineral Company where he was Data Processing Manager for 25 years. He retired in 1992.
Richard and Lillian traveled extensively in their RV, were Florida snow-birds for several years, and settled in Sebring, Florida in 2004. They returned to Pennsylvania in 2014 and became residents of Brethren Village, in Lititz, PA, in 2015. Despite health setbacks, Richard enjoyed his time with family and the new friends he made at BV.
Richard was a member of Thomson Masonic Lodge 340 of Paoli, Reading Consistory, and Rajah Shrine of Reading.
He had a great passion for gardening, Sudoku, and for golf, where he scored three aces, the last being on a par four for a double eagle.
Richard is survived by his wife Lillian, his brother Thomas, his children Richard Jr. (Patricia), Cheryl Schweigart (Charles), Douglas (Carol), and Donald (Barbara), twelve grandchildren, and seventeen great-grandchildren.
A Memorial Service to celebrate Richard's life will be held at 11:00 AM on Wednesday, November 28, 2018 at Charles F Snyder Jr. Funeral Home & Crematory, 3110 Lititz Pike, Lititz, PA 17543. Visitation for friends and family will be between 9:30 and 10:50AM. Interment will be private. In lieu of flowers, donations can be made to Shriners Hospitals for Children at 2900 Rocky Point Drive, Tampa, FL 33607 or online at donate.lovetotherescue.org. or to Hospice and Community Care of Lancaster at 685 Good Drive, PO Box 4125, Lancaster, PA or online at hospiceandcommunitycare.org.
Leave a condolence on this Memorial Page
Condolences to the Family
November 27, 2018
We are so sorry to hear of the loss of my cousin Dick. Over the years we spent several times together in Pa. that are full of good memories. He will be missed , he was a special man. Carolyn and Jack McMenamin.
November 25, 2018
Rich, Pat and the extended Ramsay family, my deepest sympathy for your loss. To Rich, the time I spent as Mom and Dad's cargiver has had a very profound effect as it changed my life in so many positive ways. I hope that you will to get to feel much closer to your Mom and Dad for the many sacrifices you made during these past months. Respectfully, Tom Lewis
November 25, 2018
Rich, Pat and family,
We are deeply sadden by your loss. May you take comfort in knowing that now you have an angel watching over you. Our thoughts and prayers are with you and your family.
November 25, 2018
A lovely man it was a pleasure to have known him I used to play golf with him in Sebring Florida until I move back to the UK I had the pleasure of being with him when he got a hole in one. I'm sure he will be missed by everybody that know him.
Visitation

Wednesday, November 28, 2018
9:30 AM - 10:50 AM
Charles F. Snyder Funeral Home & Crematory
3110 Lititz Pike
Lititz, PA 17543

Map and Directions

Services

Wednesday, November 28, 2018
11:00 AM
Charles F. Snyder Funeral Home & Crematory
3110 Lititz Pike
Lititz, PA 17543

Map and Directions