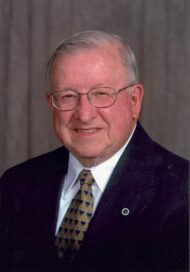 Richard L. Kephart, 93
September 3, 1928 - October 04, 2021
Richard L. Kephart of Lititz passed away peacefully on October 4, 2021 at the age of 93. Born in Osceola Mills, PA on September 3, 1928 he was the son of the late Howard and Florence Kephart. He and his wife Marie (Shirk) Kephart celebrated their 60th wedding anniversary on June 24, 2021.
Richard enjoyed his boyhood growing up in Kylertown, PA exploring the outdoors with his friend Roy Dingey. They spent a lot of time in the woods and shared many stories of their adventures.
Richard graduated from Cooper Township High School and enlisted in the U.S. Marines at the age of 17. He served as a Marine Guard at the Naval Hospital in Philadelphia.
Later he graduated from Lock Haven State Teachers College and received a Master's degree in education from Penn State University. Richard spent 40 years in education in Williamsport and Manheim Township School District where he was the principal of Neff, Bucher and Nitrauer Elementary Schools.
He volunteered as a midget midget baseball coach and served on the Manheim Township Parks & Recreation Board. He was a loyal fan of high school sports and his favorite Pittsburgh Pirates, Pittsburgh Steelers and Penn State Nittany Lions.
Richard was a member of Highland Presbyterian Church for 58 years where he served on the session and was a member of the Nursery School Board.
He enjoyed hunting, fishing and playing golf where he was very proud of his hole-in-one. Richard took his family on many road trips in the family station wagon throughout the US. One of the most memorable was a 3-week trip to the Pacific Ocean and back, visiting numerous National Parks along the way.
Richard is survived by his wife Marie, and 3 children: Mark of York, Ann Seto (Ronald) of Duncan, SC, and Todd (Kelly) of Lititz; and 6 grandchildren: Hayden Kephart, Noelle Almond (Mitchel), Mason Kephart, Rachel Seto, Allison Seto and Kimberly Seto. Also surviving is a sister Doris Noel of Akron, OH and numerous nieces and nephews. Along with his parents, Richard was predeceased by siblings Kathryn Mons, Clair Kephart and Dean Kephart.
A Celebration of Life will be held at Highland Presbyterian Church on Saturday, November 27, 2021 at 2:00 PM, with The Rev. Dr. Roger Rabey officiating. The Kephart Family will receive friends from 1:00 to 2:00 PM. Private interment in Highland Church Memorial Garden.
In lieu of flowers memorial contributions may be made to Highland Presbyterian Church, 500 E. Roseville Road, Lancaster, PA 17601 or to Brethren Village, Good Samaritan Fund, Attn: Development Department, 3001 Lititz Pike, Lititz, PA 17543.
Leave a condolence on this Memorial Page
Condolences to the Family
October 12, 2021
Dick left the world a better place because he was here. I found him to be a caring and kind person and I'm a better man because of him. May you Rest In Peace.
Paul D. Sellers
October 11, 2021
I was president of the PTO at Nitrauer Elementary School when Richard Kephart was the principal. I found him to be a very kind and competent leader. It was a pleasure to work with him. I extend my thoughts and prayers to his family. H. Diane Penchansky
October 10, 2021
Marie and family, Our most heartfelt sympathies in the passing of Dick. He always had a warm smile, kind words and wonderful stories to tell while walking the old neighbrohood (Northbrook Hills). Our prayers are with you all. With love, Pam & Phil Oles
October 10, 2021
So sorry to read of Richard's passing , our thought and prayers are with your family
Maurice & Linda Boley & "Shorty" Summers
October 10, 2021
Marie, Sorry to read of Dick`s passing in the paoer this morning. We always enjoyed seeing you both in church. I still recall one morning Dick sitting down in the pew in front of you thinking he was sitting beside you. The look on his face when you tapped him on the shoulder and his realization he was in wrong seat was priceless. Please be well, and best regards. Jane and Bill Hoar
October 10, 2021
Marie and Family, We always enjoyed your visits to the family reunion on Labor Day. Ed especially loved talking to Richard. He was a great man and will truly be missed.
October 10, 2021
Just found out this morning about Uncle Richard. My heart goes out to all of you. Such fond memories of our visits with you. Love and prayers, Sharon
October 10, 2021
Marie, sending my deepest and warmest sympathies. A beautiful article of a dear man. Blessings to you and your family.
Marilyn Sander
October 10, 2021
Dear Marie & Family–
We were so very sorry to read about Dick's passing in this morning's newspaper, and sincerely extend our deepest condolences to each of you and your families. Dick was the consummate gentleman, friend, mentor, and role model for Linda and I when we began our teaching careers. He will be genuinely be remembered for a legacy of total professionalism and integrity, and will always have a place in our hearts and minds. With respect and love, Ken & Linda Husler.
Visitation

Saturday, November 27, 2021
1:00 PM - 2:00 PM
Highland Presbyterian Church
500 East Roseville Road
Lancaster, PA 17601

Map and Directions

Services

Saturday, November 27, 2021
2:00 PM
Highland Presbyterian Chruch
500 East Roseville Road
Lancaster, PA 17601

Map and Directions