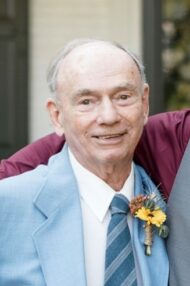 Richard L. "Dick" McCue, 86
February 3, 1936 - September 14, 2022
Richard L. McCue, 86, passed away at Oak Leaf Manor North on Wednesday, September 14, 2022. He was born in Mount Joy, son of the late George P. and Marie Elizabeth (Wagner) McCue. Dick shared 46 years of marriage with his wife Esther F. (Harsh) McCue before her death in 2007.
A 1954 graduate of Columbia High School, he served in the Army during the Korean War era with Co E. 34th Signal Battalion stationed in Germany. Dick played baseball, basketball, football and wrestled in high school as well as the Army. He signed a contract with the Detroit Tigers in 1959 as a pitcher after his Army discharge. He also was a basketball referee, coach of the Hempfield High School girls' softball team, as well as several other baseball and softball teams. He was inducted in the Lancaster County Baseball Hall of Fame.
Dick earned an associate degree in Police Science from HACC and was a police officer for Lancaster City for 25 years before retiring in 1986. He then served as Police Chief for Millersville Borough in the early 1990's.
Dick enjoyed hosting picnics for his extended family by his pool at his West Lampeter Township home, spending time with his grandchildren, and attending sporting events.
Surviving Dick are his son-in-law, Raymond M. Hess, grandson, Randal M. Hess, husband of Theresa (Mockler) and their son Colton O. Hess, and his granddaughter, Lauryn L. Hess, all of Willow Street. Also surviving Dick are his sister, Betty, wife of John Wogelmuth of Hershey, niece Andrea Riefenstahl and nephew Kristopher McCue both of Mount Joy, and his close friend Millie Stevenson of Willow Street.
In addition to his loving wife Esther, Dick was preceded in death by their daughters, Robin Lynn McCue, and Cari L. Hess, as well as his siblings, Donald, George, William, and Shirley McCue.
A viewing will take place from 10 to 11 AM, followed by the funeral at 11 AM with Rev. Mark Thiboldeaux officiating, on Monday, September 19, 2022, at the Charles F. Snyder III Funeral Home & Crematory, 2421 Willow Street Pike, Willow Street, PA 17584. Interment with Military and Police Honors will take place in Strasburg Mennonite Cemetery.
Please omit flowers, and kindly consider a contribution in Dick's memory to Hospice & Community Care, P.O. Box 4125, Lancaster, PA 17604-4125.
Watch the tribute video
Leave a condolence on this Memorial Page
Condolences to the Family
September 18, 2022
We were very sad to learn of Dick's passing. Dick was an excellent police officer, athelete, coach, and all around sportsman. You will be missed Chief.
September 17, 2022
Mr. McCue was my first baseball coach for IAM 928. He taught us sportsmanship, respect for authority, how to behave off the field. When we were playing pick-up ball in the neighborhood he would stop by in uniform on his motorcycle to see how we were all doing. What a wonderful man he was to us boys. Thank you Officer McCue. May you rest with Jesus always.
Tom Dougherty
September 16, 2022
So sorry for your loss. Dick was my baseball coach for the Salvation Army Midget Midget Baseball team. It was a team coached by mostly police officers and there were many police officer sons on the team. He coached us to the Sertoma League Baseball Championship one year and we got to play in the New Era Midget Midget Tournament. He was a good guy.
September 15, 2022
Hess Family,
We are so sorry for your loss. Even though we did not know him i'm sure he was a nice man. Our prayers are with you. My he rest in eternal peace. Love Aunt Mary and Uncle Frank.
September 15, 2022
We are so sorry for your loss. He was a very sweet kind man & I was so lucky to have met him. Our thoughts and prayers to you and your family. RIP 😢🙏 Love Dave & Sue Brown
Visitation

Monday, September 19, 2022
10:00 AM - 11:00 AM
Charles F. Snyder III Funeral Home & Crematory
2421 Willow Street Pike
Willow Street, PA 17584

Map and Directions

Services

Monday, September 19, 2022
11:00 AM
Charles F. Snyder III Funeral Home & Crematory
2421 Willow Street Pike
Willow Street, PA 17584

Map and Directions