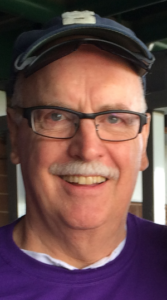 Richard H. (Dick) Fulmer, Ph.D., 73
December 19, 2018
Richard H. (Dick) Fulmer, Ph.D., 73, of Millersville, PA, passed away on December 19, 2018, with his wife by his side at St. Anne's Retirement Community. Born in Danville, PA, Dick was the son of the late Earl and Mary (Hilner) Fulmer. He was the loving husband of 52 years to Ann (Wyatt) Fulmer.
In addition to his beloved wife, Dick is survived by his daughter, Ellen Fulmer Malenke, his grandson, Jackson; and his two sisters—Catherine Fonda and Janet (Gary) McCaffity.
Dick was professor of social work at Millersville University from 1985 until his retirement in 2010, at which time he was named professor emeritus. Dick began his career as a social worker at Eastern State Penitentiary in Philadelphia, and played an instrumental role in conducting the research necessary to establish the prison as an historic site.
Dick was involved in the community as a board member at Alternative's Inc., in Pottstown, PA, and the Occupational Development Center (ODC) in Lancaster, PA. After his retirement, the volunteer activity closest to his heart was the Watch D.O.G.S. Program at Springfield Park Elementary School in Henrico, VA, where his treasured grandson attended school. Dick used those trips to Virginia to indulge his passion for college basketball, often planning his trips so he could catch four games in a day.
Dick loved the beach, especially many family trips to the Outer Banks, N.C., where he enjoyed walking the dogs by the ocean, playing family board games on the porch, and honing his skills as a frustrated golfer. He also enjoyed music, and loved performing in many Tuba Christmas concerts throughout the years.
Dick will be greatly missed for his sense of humor, intelligent wit, genuine love of people, and his kind, loving, generous heart. Friends, family, students, colleagues, inmates, clients, and even strangers he encountered were all touched by his unique and upbeat perspective on life.
A Celebration of Dick's Life will at 3 PM on Saturday, January 19, 2019 at the Charles F. Snyder Funeral Home & Crematory, 441 N. George St, Millersville, PA 17551. Friends will be received from 2-3 PM prior to the service. In lieu of flowers, contributions may be made to the Eastern State Penitentiary Historic Site, Attn: Advancement Office, 2027 Fairmount Ave, Philadelphia, PA 19130 or to the Alzheimer's Association, 2595 Interstate Dr, Suite 100, Harrisburg, PA 17110.
Watch the tribute video
Leave a condolence on this Memorial Page
Condolences to the Family
January 26, 2019
Dearest Ann and Ellen and Jackson, too.
What a wonderful husband, father and grandfather. A gentleman and friend to so many,and a truly caring person. My heartfelt thoughts and prayers go to you all.
Love, Susan Sicchitano
January 18, 2019
Dear Ann and Family
We were all so very sorry to hear of Dick's passing. He was always ready with a story, a perspective, a memory which would often bring smiles or laughter…His kindness and caring will be long remembered.
Our love and thoughts are with you all, Sally Martin and family
January 05, 2019
Dear Ann,
I was sorry today to learn of Dick's passing. It was wonderful to have been your neighbors. I will always remember those early years on our street in Crossgates with fond memories. You and Dick were a big part of making our neighborhood special. Thank you and God bless.
Keith Kauffman, Pequea, PA
January 04, 2019
Ann, yesterday we were sad to learn of Dick's passing. We knew him as a well-liked and respected classmate. Dick was extremely friendly towards everyone he met, and individuals repsponded likewise to him. He will be greatly missed. Our condolences to you and your family.
Alex & Judy Dubil, Bloomsburg, PA

January 03, 2019
I didn't know it at the time, but Dr. Fulmer was the kind of teacher who's lessons stuck with you– teaching you something knew everytime they flashed across your memory. I can't count how many times I have thought of him over the years. He shaped the way I practice and the way I learn. I look forward to continuing to learn as I reflect on his lessons. To his family: I pray that your memories comfort you. Thank you for being the rock to such an incredible Social Worker and teacher. He is missed.
Sarah Billings
January 01, 2019
Dr. Fulmer (I jokingly used to call him "Dickie") was extremely influential in my undergraduate career at Millersville in the early 2000s. He challenged me to question everything, and taught me there was never a way anything or anyone "should" be. I remember he took our social work and corrections class on a trip to Eastern State Penitentiary. I recall how proud he was to have worked there and he enjoyed giving us the tour. He frustrated me, made me laugh, and helped me see my true potential. He was my favorite professor and I will be forever grateful and blessed to have known him and to have had the opportunity to learn from him. I hope I can one day make a positive influence on the future of other social work students.
December 28, 2018
Dick was a great colleague. I enjoyed working with him during his years at MU, and enjoyed speaking with him as we occasionally bumped into each other in Crossgates and around town since his retrement. Thinking of his family at this time. Best. Len Litowitz
December 24, 2018
Dear Ann and family,
I was so saddened to learn of Dick's passing. He was always such a kind and caring neighbor. I am sending much love, prayers and many healing thoughts to all of you. He will be missed.
Bev Jordan
December 24, 2018
Dr Fulmer was a wonderful teacher. He was a favorite of mine and many others. His sense of humor and charm made learning fun. He left a limetime impression on me and influenced my Social Work career. After graduation I ran into him several times and was always happy to see him. I'm truely sorry for your loss! Lisa Paulson
December 24, 2018
I am deeply sorry for your loss. I was just telling my husband about the things we learned from Dr. Fulmer in our social work classes. He was always very kind to me and made sure I could handle the profession. Thing of you and your family during this time.
December 24, 2018
Only got to know Dick breifly in the last two years or so for maybe a total of 24 hours. We celebrate his memory with the regret of not knowing him longer in other parts of his life. In our short times together he was very much as described & his family was a large part of what he enjoyed most. Ann, his grandson & all his family can be consoled by knowing he was recognized as a good person in all parts of his life.
December 23, 2018
I was a student in the Social Work program in the 1980's. I credit Dr. Fulmer with bringing me out of my introspective, shy shell. I remember distinctly the day I was in one of his classes and found myself questioning out loud something he said. When I realized I had said my thoughts out loud, I was horrified that I disagreed with him in the public forum of his classroom. Dr. Fulmer pulled me aside after class and reassured me that I was not out of line or disrespectful in my comments. And he went a step further and congratulated me for finally speaking out. He said he could see my "wheels turning" but I never said anything. His kindness and encouragement planted a seed of confidence that has grown over the past 30+ years. I have no doubt that his influence in not only my academic endeavors but also in my personal development and confidence have contributed to my professional success. And I am certain that there are many other Social Work students out in the world now who have similar stories.
Please accept my condolences on the passing of your loved one. His influence reaches far and wide.
Rachel Wright Zellers
December 23, 2018
RIP Dick Fulmer. It has been a Special Honor to be your Friend.
Paul Herman
December 23, 2018
Dear Ann,
Audrey and I are deeply sadden to learn of Dick's passing. You are very much in our thoughts. I will always cherish the summer afternoon discussions with Dick, Dr. Rossi and other neighbors on your front lawn as well as sharing Dick's golfing frustrations while playing golf with him at Crossgates.
Macon and Audrey Nixon, Ajijic, Mx.
December 23, 2018
We love "Jackson's Grandfather" and will keep the entire Fulmer family in our thoughts and prayers.
-Barbara, Ryan, & Sean Bonner
December 23, 2018
Ann & family,
I am happy to have known Dick for several years, dating back to when I first met him while he was teaching at Penn State-Berks campus. What started as me hosting Dick and his students for tours at the county prison evolved into jail internships, golfing, a Penn State football tailgate, him taking me for a tour of Eastern Pen and eventually working out at the L-S YMCA together after we both retired. When he found out that he had Alzheimer's, he told me he would give it a good fight in the same upbeat manner that he laughed about shooting well over 100 strokes for 18 holes of golf in our Senior League. Dick had an infectious passion for life and I am a better person for knowing him. Thank you for sharing him with all of us who called him "friend."
December 23, 2018
Dr. Fulmer was a great Professor @ M.U. I had him for a couple of classes and always enjoyed interacting with him. My condolences to the family.
December 23, 2018
I am so sad to see the passing of my old friend and student intern mentor. I had a lot of fun working with him, as he guided many students through their internships. Seems like yesterday. I loved running into him at John Herr's and catching up on his grandchild stories. Nothing made him happier. I will miss him. Diane Dombach
Visitation

Saturday, January 19, 2019
2:00 PM - 3:00 PM
Charles F. Snyder Funeral Home & Crematory
441 North George Street
Millersville, PA 17551

Map and Directions

Services

Saturday, January 19, 2019
3:00 PM
Charles F. Snyder Funeral Home & Crematory
441 North George Street
Millersville, PA 17551

Map and Directions