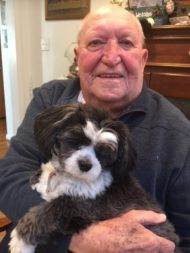 Richard C. Rehm, 85
July 26, 2018
Richard C. Rehm, 85 of Lititz, passed away at home peacefully with Hospice care on July 26, 2018. Born in Lancaster in 1932, he was the son of the late John M. and Edna K. Rehm. He was a wonderful husband to his devoted and caring wife, Geraldine Starr Rehm for almost 66 years.
He was a great father to his three sons, Richard C., husband of Suzanne of Lititz, Gary S., husband of Sandy of Lititz, Scott N., husband of Sharon of Lancaster. His 5 grandchildren were his pride and joy. Jeremy R. Rehm (LaCole) of Leola, Eric M. Rehm (Tabitha) of Lititz, Whitney A. Seibert (Casey) of Germany, Patrick R. Rehm (Kirsten) of Ephrata and Carson C. Rehm of Lancaster. He had a beautiful great granddaughter, Ivy Mae.
He was preceded in death by his three sisters, Jane Trimble of Holtwood, Helen Lefever of Lancaster, Edna (Snook) Young of Willow Street and his two brothers, John Rehm of Virginia and Donald Rehm of Lancaster.
Dick began working as a farm hand on the Christ Hess farm, located on Fruitville Pike. He was a graduate of Thaddeus Stevens Trade School in the early '50s from the machine tool program. His working career included employment at Sensenich Propeller, Theodore Schwalm, Hubley Toys and Schick Electric as a tool and die maker. While at Schick, he was instrumental in setting up their plastic injection molding department and was a charter member of the Schick Sportsman Club. In 1973, he founded Lancaster Mold Incorporated, a tool, die and plastic company. Dick retired in 1997 as President and the company continues today by his three sons and two grandsons, who maintain operation of the company after 45 years.
He was affiliated with the tool, die and mold associations, NTMA, SME and SPE.
Dick's hobbies included motorcycling, horses, hunting, fishing and boating. He enjoyed his mountain cabin in Lycoming County as well as his Charlestown Manor cottage located on the Chesapeake Bay.
Dick was a member of the Happy Pappy Motorcycle group and The Eastern Pennsylvania Retreads Motorcycle Club.
He was a member of Salem Lutheran Church of Owl Hill in Lititz.
Special thanks for all the help from family members, friends, Hospice and family physician, Dr. Robert G. Shultz, who cared for our beloved, Richard.
Relatives and friends will be received at Charles F. Snyder Jr. Funeral Home & Crematory, 3110 Lititz Pike (Rte. 501), Lititz, PA on Friday, August 3, 2018 from 6:00pm to 8:00pm and also on Saturday, August 4, 2018 from 10:00am to 11:30am, with a Celebration of Life service to follow at 11:30AM. In lieu of flowers, contributions can be sent to Salem Lutheran Church, 26 Owl Hill Road, Lititz, PA 17543, Hospice and Community Care of Good Drive, 685 Good Drive, Lancaster, PA 17604-4125 , Friendship Community, 1149 East Oregon Rd., Lititz, PA 17543-8366 or Schreiber Pediatric Rehab Center, 625 Community Way, Lancaster, PA 17603.
Watch the tribute video
Leave a condolence on this Memorial Page
Condolences to the Family
August 01, 2018
so very sorry to see in the obituary section your husband father uncle and great man. I remember when i was very young mr ream would always kid around with me when he saw me my father told me he thought the world of mr ream and enjoyed working with and for him i know my dad and dick are talking about the old days may god bless you all at this diffulcult time
curt plaisted son of bill plaisted
August 01, 2018
From our family to all of yours, we share in your sorrow for the loss of Dick but rejoice in his peace. May you all be blessed by his strength and surrounded by love and support. You have all been good friends and partners over many years and across generations. With the recent passing of Reid, both he a Dick will be sorely missed. They were great men and achieved much through great giving and steadfast commitment to industry and to family. Your tribute to him is awesome and is paralleled in our family much the same. To Gerri, Rick, Gary & Scott – Jeremy & Eric – and all the family, you have our heartfelt condolences through this difficult time.
May God bless you all.
Geoff: Graybill's Tool & Die, Inc
The Graybill Family: Inda, Jere, Geoff, Kevin, Andy, Adam & Jason
July 31, 2018
Gerry, Rick, Gary ,Scott and families ………..
So sorry to hear about Dick. He was always a jovial guy to talk to.I know he will be greatly missed – I am sure by your loving family. May God bless and watch over you all at this sad occasion. Don & Lynn Krushinski
July 31, 2018
Bob and I send our deepest sympathy and prayers to Scott, Sharon, Carson and your family for your great loss!! Our sincere thoughts are with you at this. time! ❤️‼️ With Love, Bob and Diane Klement
July 31, 2018
Dick was quite a character (to put it mildly) and I know that he will be sorely missed. I also know that the wonderful legacy he left with his family will be a source of strength and comfort in the difficult times ahead. My thoughts and prayers are with you. Rick Baron
July 31, 2018
Rick, Gary and Scott, I am sorry to hear of your father's passing. May your fond memories of your time together and the love and comfort of your Family and Friends and God's grace give you peace during this most difficult time. Tim Gillespie
July 31, 2018
Go Fly High Now Uncle , Your Work Here On Earth iS Done, We Will Miss You Greatly <3 Shelia Trimble
July 31, 2018
So sorry to hear about dick. Very kind and sweet guy every time we meet at Hershey farms breakfast. Bob and I send are deepest prayers. Bob and Karen.
July 31, 2018
Our deepest sympathies to all the family. Our thoughts and prayers are with you at this difficult time of life!
Shirley and John Smoker
July 31, 2018
Uncle Dick – the world is a sadder place without you! We all loved you dearly! While this is a sad time on earth, this is a joyous time in Heaven. All the Rehm brothers and sisters are back together again, and Aunt Snook is throwing a party! Heaven is rockin!!!!
July 31, 2018
Deepest sympathy to the family.

Jarrod and Carey Specht
Visitation

Friday, August 03, 2018
6:00 PM - 8:00 PM
Charles F. Snyder Funeral Home & Crematory
3110 Lititz Pike
Lititz, PA 17543

Map and Directions

Visitation

Saturday, August 04, 2018
10:00 AM - 11:30 AM
Charles F. Snyder Funeral Home & Crematory
3110 Lititz Pike
Lititz, PA 17543

Map and Directions

Services

Saturday, August 04, 2018
11:30 AM
Charles F. Snyder Funeral Home & Crematory
3110 Lititz Pike
Lititz, PA 17543

Map and Directions