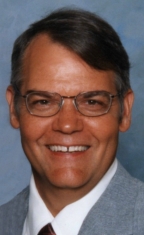 Rev. Vincent J. Thomas, 53
Rev. Vincent J. Thomas, 53, of Manchester, PA went to be with his Lord on Saturday, June 28 at ManorCare of Kingston Court.
Vince was born in Johnstown, PA, and is the son of Margaret P. (Berkshire) Thomas of Elizabethtown, and the late Kermit R. Thomas. He was the husband of Martha A. (Greenawalt) Thomas, with whom he celebrated twenty-nine years of marriage on April 29.
"Pastor Vince", as he was known throughout his congregation, was the pastor of the First Church of the Brethren in York, PA, and was the former pastor of Christian Community Fellowship Church in Manchester, PA, and Otelia Mennonite Church in Mount Union, PA. He was loved as a pastor by his entire congregation. Vince was also an accomplished carpenter and handyman. He owned his own home improvement business and was known for his quality workmanship and honesty.
Vince graduated from Conemaugh Area High School in 1973, Messiah College in 1977, and Eastern Mennonite Seminary in 1990. He enjoyed the outdoors, hunting, fishing, and boating. Vince loved spending time with his family. His family meant everything to him.
Surviving besides his wife and mother are two daughters, Rebecca Miller, wife of Luke of Dover, PA, and Laura Lash, wife of Christopher of Lancaster, PA, grandson, Benjamin Thomas Miller, sister, Regina Tripp, wife of William of Elizabethtown, and brothers, Kermit Thomas, husband of Marsha of Johnstown, PA, and Derwin Thomas of Elizabethtown.
Memorial Service to celebrate the life of Pastor Vince will be held on Saturday, July 5th at 1:00 from First Church of the Brethren 2710 Kingston Road, York, PA 17402. A viewing will be held on Thursday evening, July 3rd from 6 until 8:30 PM at the church. Memorial Contributions in Pastor Vince's memory may be made to First Church of the Brethren. Charles F. Snyder Jr. Funeral Home & Chapel, 3110 Lititz Pike, Lititz, PA 717-560-5100 in charge of arrangements. To send an online condolence or to receive information, please visit www.snyderfuneralhome.com.
Leave a condolence on this Memorial Page
Dear Marty and Family,
We send our love and prayers as together we remember Vince, our friend and colleague in ministry. Vince will be missed for his wit and humor, his love for the out-of-doors, his down-to-earth easy going personality, his love for family and our Lord. His passion was to see persons grow to love God with heart, soul, mind and spirit. He also had vision to see unfinished work completed whether in carpentry or what others could become as they draw near to God. Vince's listening ear functioned as a pastor's heart numerous times for us over the years. Vince is eternally healed and held close to God's heart. Along with you, we'll miss Vince.
Sincerely,
Warren & Linda Tyson

The darkness of the present hour, may like Golgotha seem;
But Jesus' promise of eternal life, is to my heart more than dream.
Vincent has gone through the veil, Death's dark shadow is behind;
No sorrows, pains, nor anguish now, the joys of Jesus are his to mine.
The Tripp's of Colorado send to you their love in Jesus Christ our Lord;
May peace and comfort be all yours, One Spirit, One body, One Trinity, in heaven's accord.
"Peace I leave with you, My peace I give to you; not as the world gives do I give to you. Let not your heart be troubled neitherlet it be afraid. You have heard me say to you, I am going away, and coming back to you. If you loved me, you would rejoice becaues I said I am going to the Father, for My Father is greater than I." John 14:27–28
Harry J. Tripp & family
Dear Marty,
Vince was my accountability partner for nine years and he had a positive impact on my life and on the others in our group. I will miss his genuine care, godly counsel, tough questions, faithful prayers, and his deep faith in Christ. In short, I will miss his friendship.
May the Lord comfort you and carry you (Deut 32:10-12).
Sincerely,
Rick Mailloux
Dear Ones,
I don't know the immediate family of Vince, but I do know Margaret his mother and his aunt Betty B. We lived next door when I was very young. My mother Beatrice Roth kept me posted on Vince as he pastored his congregations. What a wonderful gift he was to many people. I am sorry for your great loss.
My prayers are with you.
Peace,
Priscilla Roth Ziegler
Praise the Lord Marty and girls, It has been a long time since we have talked but you are still in my heart and mind. I remember when my husband Ken and I were in the midst of moving from the farm house to our home where we are now about 12 yr. ago, and I remember Vince coming to our home that day and helping to pack everything and help organize things that Ken had left go. My thoughts and prayers are with all of you. Vince is up there walking with our Lord and Saviour walking on the streets of gold no more in pain.
Blessings and Love Jackie and Ken Rowles
AT THIS TIME OF YOUR LOSS, THERE IS REALLY NOTHING THAT CAN BE SAID TO TAKE AWAY YOUR GRIEF. BUT, AT TIMES LIKE THIS THERE ARE ONLY TWO FOOT PRINTS IN THE SAND. FOR THE LORD IS CARRYING YOU. HE FEELS YOUR SORROW AND IS WITH YOU AT THIS MOMENT. MAY HE STRENGTHEN YOU AND KEEP YOU. OUR LOVE AND PRAYERS ARE WITH YOU AND THE GIRLS.
NEL, STEVE, DUANE AND DUSTIN
Dear Marty,
Our thoughts and prayers are with you in your loss of Vince. He was a long time friend of my dad Warren Tyson. Our prayer is that you will find God's grace and comfort very present over you and your family.
With love,
Luanne Hershey
Dear Marty and family,
It has been years since I have talked with you and Vince. I am sorry to hear of your loss. I remember countless trips back and forth from Messiah with Vince. The trips were always enjoyable in that convertible. I recall something special about riding with Vince, we always had a short prayer before we left Messiah or home to ask for traveling mercies. Vince has made his final trip, one I am sure he made with prayer.
Love and prayers for you in the days ahead,
Karen Eash
Dear Marty & family,
Thank you for sharing Vince with so many people. His compassionate heart, listening ear, and willing spirit have touched all of us with Jesus' love. He has run a great race. He fought a good fight. It ended a lot sooner than any of us wanted. But none of it is in vain.
Eternity will tell the full scope of his life's impact!
We stand with you for the Father's strength and comfort to hold you very close in these days.
Much love,
Dave & Sheri Hess
I am so deeply sorry to hear of your loss. The few years I worked for First Church of the Brethren, I found Vince to be a kind and devoted man to his loving family as well as his Church. He had a wonderful sense of humor and always made me smile. I am sure he will be sadly missed by all. Please know that my thoughts and prayers are with all of you in this terribly difficult time. ~ Donna Hacker
To Marty & Entire Family!
(Words from "Beyond the Sunset")
Should you go first and I remain to walk the road alone,
I'll live in memory's garden dear with happy days we've known.
In spring I'll watch for roses red and shades of lilac blue,
In early fall when the brown leaves fall then I'll catch a glimpse of you.
Should you go first and I remain to finish with the scroll,
No lengthening shadows shall creep in to make this life seem droll.
We've known so much of happiness yes we've had our cup of joy,
And memory is one gift of God that death cannot destroy.
Should you go first and I remain there's one thing I'd have you do,
Walk slowly down that long path for soon I'll follow you.
I want you to know each step I take so that you may walk the same,
For someday down that lonely road you'll hear me call your name.
*****************************************************************************
The sorrow of the faithful is not that of permanent loss, but the tender sense of sadness that comes in saying good-bye for now to someone we've loved so dearly. May today's sorrow give way to the peace and comfort of God's love. For we know that we will meet our loved ones in that bright land one day & Praise Jesus Together…Forever! As one of Grandma Berkshire's favorite songs rings in my memory, "I Will Meet You In the Mornimng Over There", I can just visualize Vincent dancing on the streets of gold with his Daddy & Grandma & all the others that have gone on before us, singing & praising Jesus …with no more pain nor tears…I can't wait to get there!
I'm sooooo sorry we couldn't be there with ya'll support you & give you comfort, as I have to work the Fourth of July! But you're all in my thoughts & prayers as we all feel our great loss! Our spirit is with you! With our Deepest Sympathy & Love! Glenda & Larry, Michael & Brittney Kazsmer (Hartman)