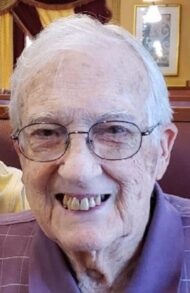 Rev. Stuart S. Dunlap Jr., 96
July 12, 2022
Rev. Stuart S. Dunlap, Jr., 96, of Lancaster, passed away peacefully on July 12, 2022.He was born on February 25, 1926, to parents, Stuart Speer Dunlap and Miriam (Pancoast) Dunlap of Springfield, Delaware County, PA.
After basic training in Texas during World War II, he spent 15 months in Europe, mostly Germany, and was discharged a five-stripe Technical Sergeant.
A graduate of Penn State University, he received his B.S. in Industrial Engineering in 1950. While at Penn State, he met Patricia Anne Templin of Ephrata, and they were married to on August 25, 1951.
Stuart started his engineering career with Armstrong World Industries at the Floor Plant in Lancaster and was transferred to Jackson, Mississippi, and Pittsburgh, PA where he earned an M.B.A. Following 14 years with Armstrong as an electrical engineer supervisor, he was employed by the Pennsylvania Railroad in Philadelphia and with Alan Wood Steel in Conshohocken, PA.
In the fall of 1972, Stuart felt a definite call to the ministry. With his family of six, he studied theology in England for two years before finishing with a Master of Divinity from Princeton Theological Seminary in 1978, with his wife receiving the same.
In 1980, Stuart and Patricia were the first clergy couple to be ordained as Presbyterian ministers in the Philadelphia Presbytery. During their ministerial tenure, they served as co-chaplains at several retirement and skilled nursing facilities in PA and DE, as well as co-pastored 3 churches in MD and DE. He and his wife retired in 2001, with over 20 years of active ministry. They moved back to Lancaster in 2003.
Stuart, whose wife predeceased him in 2012, is survived by son Scott (and Roberta) Dunlap of Mt. Laurel, NJ; daughter Mary (and Charles) Hippsley in England; son Mark (and Colleen) Dunlap of Mineral, VA; and daughter Anne (and Savage) Frieze of Norwalk, CT. He also leaves seven grandchildren: Caitlyn (Travis) Reeves, Justin Dunlap, Anthony (Lauren) Hippsley, Andrew (Charlotte) Dunlap, Trevor Dunlap, Amy Hippsley, and Sara Frieze, and five great grandchildren: Aveline, Claire, Ainsley, James, and Remington.
During their ten years of residency in Swarthmore, PA, this family of six camped every summer vacation in interesting places in Canada, Cape Cod, Martha's Vineyard, Delaware, Virginia, and Florida. That was all good preparation for the six weeks of camping in 1975, covering nine countries of Europe.
Friends will be received by Rev. Dunlap's family on Friday, September 9, 2022 from 10-10:30AM at First Presbyterian Church, 140 E. Orange St., Lancaster, PA, with the Memorial Service to follow at 10:30AM. There will be a luncheon at the church following the service.
Leave a condolence on this Memorial Page
Condolences to the Family
July 15, 2022
My wife and I loved Stu. I'll always remember singing the doxology with him on Sunday mornings. And I still use a couple stoles that he passed along to me. What a dear friend and faithful servant of Christ.
Rev Dan Snyder
Visitation

Friday, September 09, 2022
10:00 AM - 10:30 AM
First Presbyterian Church
140 E. Orange St.
Lancaster, PA 17602

Map and Directions

Services

Friday, September 09, 2022
10:30 AM
First Presbyterian Church
140 E. Orange St.
Lancaster, PA 17602

Map and Directions