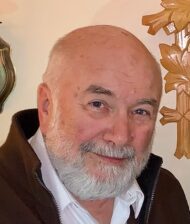 Rev. J. David Snyder, 74
September 15, 2021
Rev. Joseph David Snyder, "Pastor Dave", 74, went to be the Lord on Wednesday, Sept. 15, 2021, in Lancaster, PA after 50 years of ministry. He died peacefully in his home after a short illness.
Pastor Dave was born in Altoona, PA, Jan. 2, 1947. He graduated from Warren G. Harding High School in 1965 in Warren, Ohio. It was there he met his wife of 53 years, Irma (Ipsa) Snyder.
Dave graduated from Evangel University in Springfield, MO in 1969 with a Bachelor of Music Education. After graduation, he was led by God to go into full time ministry and began serving at First Assembly of God in Kenosha, WI as Youth and Music Minister. In 1971, he was called to serve at his "hometown" church, First Assembly of God, in Warren, OH. He served there for 10 years in many roles including Youth and Music Pastor, Interim School Administrator, Associate Pastor and began a counseling ministry. During his years in Warren, he graduated with a Master of Divinity from Ashland Seminary. In 1981, he joined the staff at Emerge Ministries, a Christian counseling center, in Akron, Ohio where he served as Vice President of Field Ministry and Merchandise and also Adjunct Faculty Member for classes with Ashland Seminary. He counseled clients and did weekend seminars, as well as speaking in churches around the country. In 1987, he was called to serve as Senior Pastor at Calvary Temple in Sandusky, Ohio. In addition to pastoring, he spent many hours counseling individuals and families and began a divorce recovery group at the church. He was also on the local radio station, WLEC for many years, with a 5 minute devotional every morning at 6:00 a.m. called "Your Prayertime." He served a number of years as Presbyter for the North Central Area, Ohio Ministry Network of the Assemblies of God. He retired from full time ministry in 2011 and did Interim Pastoral Ministry for churches in North Central Ohio until 2019.
While in Sandusky, Ohio he was involved within the community and was a president of the Sandusky Lions Club, president of Sandusky Area Minister's Association, Board Member of Goodwill Industries, Board Member of Sandusky/Erie County Community Foundation, and an advisor for Firelands Mental Health Center.
Dave is survived by his devoted wife, Irma; children, Eric (Sonya) Snyder and Krista (Michael) Chambers and 8 grandchildren. Dave was preceded in death by his parents, Jacob Walter and Ida May Snyder.
Friends may call from 1PM to 2 PM in the chapel at Calvary Church, 1051 Landis Valley Road, Lancaster, PA 17601 on Friday, Sept. 24, 2021, Funeral Services will follow at 2PM.
In lieu of flowers, donations may be given to Calvary Church at the above address.
Watch the tribute video
Leave a condolence on this Memorial Page
Condolences to the Family
October 01, 2021
Dear Irma & Family,
I was so sorry to hear of Pastor Dave's death. I went to him for counseling when he was at Calvary Temple in Sandusky. He spent more time with me & was more of a pastor to me than my own preacher was. I really appreciated his Godly counsel. He was so proud of Eric & Krista & spoke of them often. I am sure he has heard the words, "Well done, thou good and faithful servant," from our Lord whom he loved and served for so long. I am praying for God's peace & comfort for you all. Please take care.
Renee A. Bryner
September 26, 2021
Dear Irma and Family, We are remembering Dave today as a man whom God used to bless our lives from Teen Tempos to Emerge to China. May our Father bless you with His comfort and peace. Dale and Becky Cuckow

September 24, 2021
Pastor Dave's life was such a blessing to so many especially ours as he helped us through the troubled waters of our journey to Jesus, that's why his homegoing as glorious as it is, is so difficult too. May God continue to comfort all of you and give you peace. Marantha! Kip & Deb
September 23, 2021
Pastor Dave has always been such a blessing in my and Michele's life. He demonstrated the true heart of a shepherd. He always valued people. His impact on my life will continue to grow. Prayers for Irma and the family.
Ken hiser
September 23, 2021

Dear Irma,
Please accept my sincere sympathy. Although it's been many years since your time in Warren, I fondly remember you and Dave for your faithfulness to God and to all of us who you poured your life and ministry into. Please know that you are Loved this day.
Jeff Eacona
September 20, 2021
Pastor Dave was such an important part of my teenage years. He cared so much about all of us, he would pray for us and encourage us to be disciples of Christ. I learned so much from him and the other youth leaders from warren's first assembly. Prayers for Irma and family. He will be missed.
Cheryl (Shafer) Robertson
September 20, 2021
Irma – We are praying for you and the family. Dave was a humble leader, who had the ability to make someone feel included. He had a great capacity to forgive and overlook the faults of others. I saw him in action from the ministry side help many people in their time of trouble. It was a pleasure to fill in as the youth pastor and work with Dave. The Wednesday night Bible studies in the old bank manager office were always good. When Judy and I were without a place to worship and serve, he so welcoming. He was a wonderful Christian man. Love Tom and Judy
September 20, 2021
Irma I know that this is a difficult time for you and the kids. But I know all of you are strong in the Lord And the Lord will care for you. Joe and I will be praying for you even though we haven't been in close contact. We will treasure our memories of you and Dave. Love love you. Joe and Jeannej
September 20, 2021
So sorry for your loss. You and your family are in our thoughts and prayers! I have so many fond memories of him as our youth Pastor.
Lisa Gould Lukacic
September 20, 2021
Dear Irma and family,
I am sorry to hear of Pastor Dave's passing. I attended First Assembly of God in Warren and worked there, as well, while Pastor Dave was a Pastor there. He was a good listener, had a good sense of humor and was an all-around caring person who loved the Lord and served Him. But, most of all, I remember the love he had for his family and how much he loved you, Irma♡ God bless you and your family, Irma. May God give you His Peace and Comfort during this difficult time. "To be absent from the body is to be present with the Lord" We know that Pastor Dave is enjoying his Savior's presence!
Sherie Crawford Shaffer
September 19, 2021
Irma, Eric, and Krista, we will always remember Pastor Dave and your family and the blessing that you all were to our family. We will look toward the time that is yet to come, when we will all be together again with our Lord.
James, Priscilla, Emily, and Beth Mira


September 19, 2021
My deepest sympathy to Irma and family. Pastor Dave will be missed. I was thankful for the many years that he served Calvary Temple in Sandusky.
Paulette Pasley
September 19, 2021
Carole and I offer our deepest sympathy in the difficult loss of pastor Dave. We only knew him a couple years but he was a kind loving person. A holy man indeed. He will be missed by all.
Andy and Carole Pahountis
September 19, 2021
You have my prayers and sympathy. I did not now Pastor Snyder, but I enjoyed his morning Prayertime. It kickstarted my day. He would end his Prayertime with "God's grace and peace be with you". From the first time I heard that, I began to end all my letters with that. Have been doing that for over a decade. May he rest in peace and may perpetual light shine upon him. Rosie Hermes
September 18, 2021
He will be missed. We were the 2nd couple he married when he came to Calvary Temple. Polly and Charlie.
September 18, 2021
How sad to learn of Pastor Dave's passing! We appreciated his friendship during his long stay in the Sandusky area, his wisdom and his wide-ranging ministry — especially in couselling. May the Lord's comfort rest on Irma and all the members of Dave's extended family.
Paul and Ruth Birmingham
September 18, 2021
Our deepest sympathy to all of you. Dave was a special guy and a good friend. You will be in our thoughts and prayers. We love you.
Jim & Connie Randas
September 18, 2021
Irma, Eric and Krista, I was saddened to hear of David's passing. He was always a joy to speak with. Please be assured of my prayers for all of you at this time. May he Rest In the Peace of Christ.
Phil Dinovo
September 17, 2021
Many fond memories while growing up with David in the Warren church. My Dad had taught me to tie my tie with a military knot; David taught me the Windsor knot in the church bathroom. He loved playing ping pong; I only beat him once.
Ray Perkins
September 17, 2021
I'm sorry to hear about Dave. You are in my thoughts and prayers. I know he will be deeply missed.
Cindy Powell Shomo
September 17, 2021
Dave became a wonderful friend when I moved to the Firelands region. I will miss his gentle spirit.
Michael Leonard
September 17, 2021
So sad to hear that we lost Pastor Dave. He was such a great man of God. Always kind. May God bless his family.
Kaye Burel
September 17, 2021
Sincere condolences to your family. Pastor Dave was a special man. Thankful to have known him.
Gayle Ann Riedy
September 17, 2021
Irma and family, I imagine Dave in another room now . Possibly trying to explain to a relative of mine how good behavior is easy.
If anyone can do that, it will be Dave.
The good thing is, there are so many memories of Dave , he will be with us in spirit.
Barbara
September 17, 2021
So sad and taken too soon but rejoice that He has been welcomed home. Praying for all the family as they enter a new phase in life. May the memories you have carry you through the sorrow you feel at this time.
Frank and Ruth Clark
Visitation

Friday, September 24, 2021
1:00 PM - 2:00 PM
Calvary Church
1051 Landis Valley Rd.
Lancaster, PA 17601

Map and Directions

Services

Friday, September 24, 2021
2:00 PM - 3:00 PM
Calvary Church
1051 Landis Valley Rd.
Lancaster, PA 17601

Map and Directions