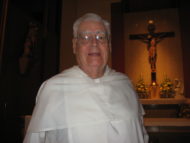 Rev. Father Edward M. Gaffney, OP, 98
April 8, 1921 - January 27, 2020
In Memory of Reverend Father Edward M . Gaffney, OP
Reverend Father Edward M. Gaffney, OP was called Home to God to receive the Crown of life on Monday, January 27, 2020 after a long and fruitful life of Dominican Priestly ministry. He was born on April 8, 1921 in Newark, NJ to Rose Crawford ad Edward Powell Gaffney, Sr. He entered the Order of Preachers in 1942 and was ordained on June 9, 1949 in Washington, DC.
Throughout his 71 years of priesthood Father Gaffney served at Holy Name Priory in Philadelphia, PA, preached numerous missions as part of the Dominican Mission Band, and was
Director of the Retreat Center of Springbank, SC. For seventeen years he served patriotically as Military Chaplain in the Vietnam war. Following this, he served as Prior for four terms at St Dominic's Priory in Washington, DC, was on the faculty of Mt. Saint Mary's Seminary in Emmitsburg, MD as Professor and Spiritual Director. In 2002, he was assigned as Chaplain to the Dominican Nuns of the Perpetual Rosary in Lancaster, PA., where he spent eleven happy, prayerful years until he retired to the Mohun Health Care Center in Columbus, Ohio.
Father Gaffney is predeceased by a sister, Lorraine Gaffney Durkin and survived by many nieces and nephews in the West Coast. Father is mourned prayerfully by the Dominican Nuns of Lancaster and missed lovingly by the many who frequented the chapel during his time here.
The Mass of Christian Burial will take place at St Joseph Church, 5757 State Route, NE, Somerset, OH at 11:00 AM with prior Visitation at 10:00 AM on February 8, 2020
The Very Reverend Kenneth Letoile, OP, Provincial is Celebrant. Burial will follow with Military honors. Luncheon to follow at Parish hall.
Leave a condolence on this Memorial Page
Condolences to the Family
December 17, 2020
My name is Gayle Gibson and I am a first cousin once removed from Father Ed as we called him. He and CNN my father were first cousins, their mothers were sisters. We didn't know he had died. My brother sent a Christmas wreath to Father Ed every year and we just found out he had passed. He was ever present in our lives. We last saw him in DC at the priory there about 3 years ago. We will miss him. He was a good man.
Gayle Gibson
February 13, 2020
Our connection with Father Gaffney was established in Berchtesgaden, Germany in 1968-1971. He was the Director at the Retreat Center. Wonderful memories followed! We even met his mother and Denise, his niece. Our three years there in Berchtesgaden were greatly enhanced through the church and Father's guidance. Later, while my husband was stationed at Fort Ord, we met Father again at the Presidio SF! We kept in contact with letters through the years. A wonderful priest and friend whom we will miss very much. Our condolences to his family and friends. RIP Father Gaffney.
Marsha Eberhardt
February 10, 2020
Father Gaffney was one of the priests at Ft. Detrick in Frederick Maryland, He was the one that told us that my Multihandy capped son could be confirmed even though he had not reieved his first communion. Because of him my son was confirmed with his sister. me and my wie will be for ever gratiful for him and i know he is now watching over Jimmy
Larry Sullivan
February 07, 2020
Father Gaffney was my spiritual advisor in 1993 when i attended Mt. St. Mary's Seminary. I came to love him dearly for his honesty and advice, as I discerned the Catholic Priesthood. He affected my life in more positive ways than I can list. I wanted to sincerely express my condolences to his family, and his extended family in Christ. He was a great man, and I pray that he will continue to guide me from his place in Heaven.
Peter Contre
February 05, 2020
All the Brennan's will deeply miss you. I, Libby met you January 27,1960 — the night before My sister Connie ws born. My Mom,Florence Brennan made a delicious roast beef dinner. We had many great dinners over the years. You and Dad – Dr Bernard F Brennan were high school classmates, and your mother Rose kept in touch with Dad. In the summer of 1965 your niece Denice,my sister Maureen, Your Mom and I with others emparked on a journey to Europe visiting many countries and even on a 7 day cruise you celebrated Mass and kept us all close to God. Thank you. Also so many memories of friendship at 444 Powell's Lane– including lobster cooked on the grill outside on the pool deck. Thank you again. I Know You, Mom and Dad are celebrating with the Lord. As Connie would say "Peace and Love Forever"
Libby and Bob Wentzell
February 02, 2020
Condolences to everyone who knew Father Gaffney. May he rest in peace with Jesus. I remember when him as a priest at St philip in millersville pa. I will miss his homilies. May he rest in peace.
Marysue A Perry
Visitation

Saturday, February 08, 2020
10:00 AM - 11:00 AM
St. Joseph Church
5757 State Route, NE
Somerset, OH

Map and Directions

Services

Saturday, February 08, 2020
11:00 AM - 12:00 PM
St. Joseph Church
5757 State Route, NE
Somerset, OH

Map and Directions