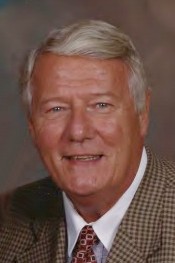 Rev. Derwood Strunk, Jr., 85
March 23, 2020
Rev. Derwood Strunk, Jr, of Lititz PA, died March 23,2020. He was the son of Sara Blake and Derwood Strunk Sr. One of 7 children; survived by his sister Joanne Osborne (Arizona).
Derwood married his childhood sweetheart Lois Lehman. She died in May 2001.
Derwood is survived by 3 children: Ruth (Clyde) Schon, Master Chief Kathryn (Robert) Jennings, and JanMarie (Richard) Hendershot. He is also survived by 3 grandchildren Sandra Meckley, Jenna Benjamin, and John Benjamin and a great grand daughter Aurora.
Derwood graduated from Altoona High School in 1952 and became a licensed real estate and insurance broker. Derwood and Lois were involved in many social and civic activities such as the Masons, Square and Compass, Jaffa Temple, Shrine, Scottish Rite, American Red Cross and American Cancer society. In 1967 Derwood answered the call to the ministry. He enrolled at Lycoming college, received his BA in 1971 and his Masters of Divinity from the Lancaster Theological Seminary in 1974. He also studied at Wesley Theology Seminary in Washington D.C. and Radboud University in Nijmegen, Netherlands. Derwood was ordained in 1975 an honor he considered to be the highest he could achieve except being known as a saved soul. Active in the Central Pennsylvania conference of the United Methodist church Derwood served on the communications committee, the Children's Home, Bethany Village, Board of Ministry, and Sessions Committee. Derwood and Lois traveled extensively leading tours with the United Methodist Heritage to Greece, Germany, Great Britain, Israel, and Europe.
Due to the corona virus services will be arranged at a later date to be conducted by Dr. Ronald McElwee a lifetime friend. Family requests donations be made to the Ovarian Cancer Institute at 960 Johnson Ferry Rd. Suite 130 Atlanta GA 30342 or at ovariancancerinstitute.org in memory of his wife, Lois.
Leave a condolence on this Memorial Page
Condolences to the Family
March 28, 2020
Thoughts of Rev.Strunk make us smile as we think of his warm and kind and caring ways. His warm smile and laughter always made Sunday at Pine Street a blessed day..our prayers are with you
Susan and Jim Maeulen
March 27, 2020
Thoughts of Rev.Strunk make us smile as we think of his warm and kind and caring ways. His warm smile and laughter always made Sunday at Pine Street a blessed day..our prayers are with you
Susan and Jim Maeulen
March 27, 2020
My deepest sympathies and condolences to the family. It was a pleasure having him as my pastor at Colonial Park UMC. May God welcome him home as a good and faithful servant. ~Jeannette Keezel, Harrisburg, PA
March 26, 2020
My deepest condolances to Reverand Strunk's family. He officiated at my wedding many years ago at Pine Street. I will remember him as a wonderful kind man.
LORI DOUGLASS

March 26, 2020
So sorry for your loss. Prayers for you all hugs pattie calmon🙏🙏🙏
March 26, 2020
We never lose what our heart has known and loved. Psalm 116:15 " Precious in the sight of the Lord is the death of His saints." We don't lose loved ones, we send them on ahead. Prayers of comfort and peace to your entire family.
Pat Startzell
March 26, 2020
Carol and I want to extend our sincere condolences to the family. Have some fond memories of our time together on Inwood Road.
Carol & Gus Holt
March 26, 2020
Our hearts and prayers go out to your family 🙏. Zane & Carole Zirkle
March 26, 2020
I knew Derwood as a ministerial colleague and served near him in the Lewisburg district — he at Bloomsburg, and I in Danville. But a fond memory was walking in Nazareth with 2 other friends, and I hear my name being called from across the busy street. I turned and saw Derwood and Drue Sherman. None of us leading tours this time, just checking things out. Derwood was a good man. God grant you all comfort in the memories of his love. "Well done good and faithful servant."
Rev. Dennis W. Derr
March 25, 2020
Our church family is praying for your peace at this time. May God's grace surround you as we all remember Derwood and his many contributions to the life of our congregation.
Pastor Steve Rodgers, Lititz UMC
March 25, 2020
I will always remember his smile and laugh. I enjoyed talking stocks and business conditions with him too. And Michelle and I appreciated his part in our wedding. He and your mother will live on in your memories. You are all in our thoughts and prayers.
Dave Ross
March 25, 2020
Our deepest sympathies to you all. He is at peace now. We all carry fond memories of your Dad. What a character he was! I fondly remember the family meals we had at your parents house and joining hands and singing "Bless be the ties that bind." The many stories and jokes. The trips to the farmers markets. We hold those memories close and we hold each of you close in prayer. I hope each of you find peace. May perpetual light shine upon him and eternal rest be his. May he already be in Heaven with the love of his life❤️ We love you❤️. Virtual hugs
Sue, Jeff, Megan and Katie Rabish
March 25, 2020
Our hearts, love, and prayers go out to Ruth, Kitty, and Jan, as well as their respective spouses and grandchildren. Uncle Skip and Aunt Lois have prepared them all well, by demonstrating the family legacy to carry on – of service to others – which each one of them has taken their role in already. If we believe in God, which Uncle Skip spent his life's work in the ministry, we then share in the joy that Uncle Skip & Aunt Lois are finally reunited in Heaven right now. May God bless them both for their love, and all the happy memories they've created for so many.
Beth & Hugh Chamberlin, Carole Lehman, and Joel & Penny Lehman
March 25, 2020
I love you so much Uncle Skip and all the memories I had with you. Love to Ruth, Kitty, Jan and their families.
Rachelle
March 25, 2020
With deepest sympathies to the Strunk Family at this time. Derwood and I served in the Williamsport area at the same time in the 1970's. The family was especially in my thoughts as when I felt the need to replace the family pet after the Pine St Fire. My prayers go out to you all now as then with certainty that peace and love will prevail. A colleage and friend.
Rev. Charles E. Snyder
March 25, 2020
Sympathy, prayers and long distance hugs to Ruth, Kathy & Jan and families. Now our Dads can debate in heaven!
Kathy Baughman Frey
March 25, 2020
We knew Derwood (and Lois) as fellow clergy and spouses. When in the Bloomsburg area we had many opportunities to be together socially. We remember those time fondly. There was always plenty of laughter. Our sympathy in your loss.
Michael and Barbara Druck
March 25, 2020
I was Derwood's mentor for his inservice year when was pastor at Widsor Grace United Methodist Church and i was pastor of Red Lion Zion United Methodist Church. We spent many hours together as we shared conversation about being faithful pastors and growing in effective ministry.
Richard G. Felty
March 25, 2020
Good memories of serving in the Williamsport District with Durwood. My heart goes out to the family as they find themselves so personally impacted by COVID-19. Received God's Love, Mercy, and healing in this time of grief.
Larry L. Coleman
March 25, 2020
I was the pastor of Lititz United Methodist Church when Derwood retired there. I kindly remember his outgoing personality and gracious support of my ministry. My prayers for you in your grief.
Larry Leister
March 25, 2020
Our deepest sympathy to the family on the passing on your dear Dad and grandfather. We had the privilege of knowing him from LUMC. He had such a warm smile, a very kind and gentle nature, and was truly a gentleman. May you find peace and comfort knowing that Dad is 'home' with Mom.
Paula Keperling
March 25, 2020
Our deepest sympathy and prayers to Paster Strunk's family. We got to know Derwood when he was pastor at Colonial Park United Methodist Church. He was very supportive to our family when our granddaughter Neita past away . Derwood will always have a place inour hearts. God Bless. Ken and Mary Lou Harms, Elizathbethtown and Jan and Doug Harms, Enola Pa.