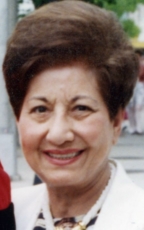 Rena Garonzik, 92
Rena (nee Ben-Aziz) Garonzik, 92, of Lancaster, passed away on April 25, 2011. Born on Armistice Day Nov. 11, 1918 in Basra, Ottoman Empire (now Iraq) she was the daughter of the late Ezekiel and Rachel Ben-Aziz.
At the age of 12, her family moved from Baghdad to Tel Aviv, British Mandate Palestine. As a teenager, she joined the Hagganah, a youth development organization and the predecessor to the Israel Defense Forces. After helping a medical team care for an injured member, she decided her future would be in nursing. Years before the war in Europe, Palestine was a magnet for Germans escaping Nazi persecution. It was at this time that she learned to read and speak German while teaching elders to learn Hebrew.
With high school behind her, she became a nurse trainee at a British hospital in Tiberius run by the Church of Scotland. As a graduate nurse, she was accepted by the Hadassah Hospital in Tel Aviv. She worked as an operating room nurse during the tumultuous years prior to Israel's independence. In 1947, she left Palestine for advanced surgical training at Columbia Presbyterian Hospital in New York City. During Christmas break, she vacationed in Florida, where she met and later married Nathan Garonzik, for a union of 63 years.
Rena mastered 4 languages, teaching modern Hebrew at Franklin & Marshall College and French at Lancaster Country Day School. She traveled widely and had an unbounded appetite for the visual and performing arts and French food and wine. She loved her family, her home in Lancaster, and Lancaster County's abundance.
In addition to her husband Nathan, she is survived by 3 sons: Arnon of Cherry Hill, NJ, Elan of New York, NY, and Ronnie of Brookline, MA. Also surviving are her 4 grandchildren: David, Sarah, Oren and Yarden; her brother Ben Ben-Aziz of California, and her two sisters, both of Israel, Dahlia and Hannah.
Services are private and at the convenience of the family. Donations may be made in Rena's memory to Hadassah, 50 West 58th St., New York, NY 10019. To send an online condolence, please visit: SnyderFuneralHome.com
Leave a condolence on this Memorial Page
It was my honor to be part of her health care . . . You & she are in my prayers.
Kat, Cardiac Consultants
Dear Nathan & Family,
We were saddened to hear of the loss of Rena.She was quite a lady.
Wishing you all the best,
Carol & Michael Gleiberman
To Elan Garonzik
Extendng deepest sympathy to you and your family .
Susan Snavely Evans