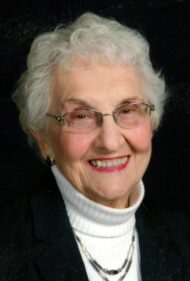 Regina Louise Forsha, 92
February 22, 2023
Regina Louise Forsha, 92, of Lititz, PA, passed comfortably and peacefully from natural causes in the early hours of Wednesday, February 22, 2023.
Born in Johnstown, PA, "Jean" was the daughter of Elizabeth "Butch" (Bellak) Mayer and Gustave L. Mayer. She was the beloved wife of James (Jim) Thomas Forsha, and they were married in the home of Jean's parents in Johnstown, PA. The couple celebrated 68 years of marriage until Jim passed in August of 2021.
Jean attended Immaculate Conception School before moving to Garfield Junior High and then Johnstown High. She followed business/secretarial studies, and became a physician's assistant out of school. This was followed by work as a secretary for Quaker Sales until her marriage and the beginning of her family. She and Jim had three daughters and son before Jean went back to work, briefly as a secretary at Bedford High School (Bedford, PA) in 1959.
In 1964 the family moved to Manheim, Lancaster County, PA. Jean served many years working in the Manheim Central School District, as secretary to the middle school principal, eventually being elevated to secretary to the school district's superintendent. She also worked for Sauder Chevrolet, Manheim.
Jean was a woman of strong faith, a long-time member of St. Richards Catholic Church, Manheim, and then St. James Catholic Church, Lititz, PA. She was welcomed into the Alpha Program at St. Thomas Episcopal Church of Lancaster, and, notably, introduced and ran that program at St. Richards.
A wonderful mother, grandmother, and great-grandmother, Jean still had time for many leisure activities, at which she excelled. She was a prodigious quilter and needlepoint creator. She and Jim took up golf together, and spent much of their retirement covering the country with friends and family. Jean herself counted two holes-in-one to her credit!
Mrs. Forsha is survived by three children: Joyce Pfautz, married to Steven Pfautz, Manheim; Janice Bellman of Elkhart, IN; and James D. Forsha, Jersey City, NJ. She was preceded in death by husband Jim, daughter Debra Weaver, and brother Donald C. Mayer.
Also surviving are five grandchildren: Jeremy Weaver, Harrisburg, PA; Erin (Pfautz) Manning, wife of Justin Manning, Mt. Joy, PA; Michelle (Pfautz) Current, married to Jeffrey Current, Lufkin, TX; Chaz Bellman, married to Kaitlyn Bellman, Nappanee, IN; and Chayla Bellman, Nappanee, IN.
Finally, surviving great-grandson: Ace James Bellman.
Family and friends are invited to celebrate Jean's life on Friday, March 3, 2023 at the Charles F. Snyder Funeral Home and Crematory, 3110 Lititz Pike, Lititz, PA, 17543. Private family viewing will be from 9:00 a.m. to 10:00 a.m.; public viewing from 10:00 a.m. to 11:00 a.m., followed by a brief service at 11:00 a.m. The interment will take place at Indiantown Gap National Cemetery, Annville, PA.
Watch the tribute video
Leave a condolence on this Memorial Page
Condolences to the Family
March 08, 2023
Dear Loved Ones
We enjoyed watching your family gather most Sunday afternoons it seemed when we first moved into the cottage across the street on White Oak Drive. I enjoyed visiting with your Mother when I could and she shared with me about her life and beloved husband as we visited. When COVID hit, she was forlorn that she could no longer spend her days with her beloved Jim; she missed him SO MUCH! Then her pussy needed to go somewhere else and she moved across campus, leaving an empty cottage behind that was filled with many memories from all of you! May you reach to God in heaven for comfort in her recent passing. Love, Paul & Lisa Buckwalter
February 27, 2023
I was sad to read this obituary in the Sunday Paper. I shared with JD and Eric, which led to us reminising about the old neighborhood. We all agreed it was a great place to grow up. I remember spending many hours at the Forsha's house with Janice and Joyce and I rode to school with them all the time. Having lost our dad last year, I can attest to how difficult this is and my heart breaks for all of you. That you were able to have her for 92 years is a blessing!
Keeping you in our thoughts and prayers.
Beckee (Shank) Fair
February 27, 2023
Dear Family
i was saddened to read of Jean's passing. Her friendliness and smile were always uplifting. She had the ability to make everyone comfortable when you were in her presence.
May wonderful memories of her and Jim provide you with many smiles when you think of them.
Dennis Denenberg
February 26, 2023
My sweet Aunt Jean…what a beautiful lady, inside and out. I will miss her dearly, as she was such a joy to be around. We were lucky to live nearby her for many years, so we got to see her often. I will miss her sweetness and laughter, but I know she is now an 'angel' in the presence of her beloved husband, daughter, brother (my Dad, Donald Mayer) and mother. You are forever in my heart, Aunt Jean. I love you dearly.
Patricia Gerlitzki
Visitation

Friday, March 03, 2023
10:00 AM - 11:00 AM
Charles F. Snyder Funeral Home & Crematory
3110 Lititz Pike
Lititz, PA 17543

Map and Directions

Services

Friday, March 03, 2023
11:00 AM
Charles F. Snyder Funeral Home & Crematory
3110 Lititz Pike
Lititz, PA 17543

Map and Directions