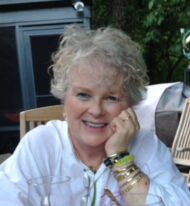 Rebecca Martin Stamp, 77
August 27, 2022
Rebecca Martin Stamp, 77, of Lancaster, PA, passed away peacefully at Hospice & Community Care's Bob Fryer and Family Inpatient Center in Mount Joy, on Saturday, August 27, 2022, with her loving husband, Al, at her side.
Born in McAllen, TX, on February 2, 1945, Beca was the daughter of the late Celia Hare Martin and the late Scott Martin, Sr and the cherished niece of her five Hare aunts and an uncle. She was raised in Mission, TX, and Marquette, MI, before moving to Georgetown, Washington, D.C. She graduated from Immaculata Preparatory School and St. Mary of the Woods College, Indiana, where she earned a degree in elementary education.
She returned to Washington, D.C. to teach fourth and fifth grades at Four Corners Elementary School, Silver Spring, MD. On a blind date, she met Alfred T. Stamp Jr., who she married on October 17, 1970. They moved to Roanoke, VA, where she taught one year at Mountain View Elementary before welcoming their first child in 1974.
In 1978, Al and Beca settled in Lancaster, their home for more than 40 years. Beca was a member of St. John Neumann Catholic Church and supported her children's education and activities through volunteer work. In 1990, Beca joined Manheim Township School District as a paraeducator for learning support students, with whom she formed lasting bonds and friendships across many years.
With signature turns of phrase and "on my medal" honesty, Beca was a captivating storyteller. An even better listener, she turned strangers into friends, and friends into family. Quick to laugh and share her thoughts, all benefitted richly from her wisdom about etiquette, grammar and a nightcap of Kahlua.
She was guided in life by her strong Catholic faith and a fierce love for her family. Surviving beside her husband are children, A.T., of Lancaster, married to Rebecca Stamp, and Bridget, of Annapolis, MD, married to Coleman Ruiz, Jr., as well as grandsons Cole, Ben and Ollie Ruiz of Annapolis, and Thomas and Henry Stamp of Lancaster.
She is also survived by brother Scott Martin of Mission, TX; and nieces Mary Dale Newsome of Lottsburg, VA, and Rebecca Crook of Mission, TX, as well as many Hare cousins.
A funeral Mass will be held at 11:00 a.m. on Saturday, September 10th at St. John Neumann Church in Lancaster, with a celebration of life party to follow.
In lieu of flowers, please consider a donation in Beca's memory to Hospice and Community Care, 685 Good Drive, Lancaster, PA 17604 or Healing Journey Foundation c/o Lancaster Cancer Center, 498 Stehman Road, Lancaster, PA 17603.
Leave a condolence on this Memorial Page
Condolences to the Family
September 04, 2023
Becca was a friend of mine at St. Mary of the woods in 1963. Boy, I wish so much that I had contacted her many years ago. She and her suite mate Maureen kept me laughing through home sickness. Becca came and helped us build a brick bookcase. We were living in Woodbridge while husband was in the Marines. By the way, I named my oldest daughter Brigid!!!
Margaret Durkin Brinkman
August 18, 2023
I only now learned about the passing of Miss Martin, as I knew her, from Four Corners Elementary School in Silver Spring, Maryland. She was my 4th grade teacher in 1968 – and one of the finest teachers I ever had (and that is K to university). I have posted a link to this death announcement in a Facebook group for persons that attended Four Corners in case others from her classes at Four Corners want to post something here to honor her and her memory.May your memories of her always be a blessing.
Patrick Zilliacus
September 18, 2022
Al and Family,
My apologies for not reaching out sooner. I first met "Aunt" Becca at my sister Maureen's wedding. She was so very fun, and continued to make every Lundy wedding theirafter more fun due to her presence and personality, up threw my own wedding just over 25 years ago. My Mom will miss her younger cousin dearly, as she always viewed Becca as the little sister that she never had. My deepest sympathies to you all.
Condolences,
Jim Lundy & Family
September 12, 2022
Dear Al, I just learned of Becca's passing. I am so sorry for your loss. I always admired the great love the two of you had for one another. Sending lots of healing to your heart! Peace and Love, BP
September 11, 2022
Dear Al and Family,
We are so Sorry to hear about Becca. We were not aware until today(9/11/22) of your loss otherwise we would have been at the Celebration of Life in her honor. We are thinking of you and your Family at this time of loss and asking God to care for your deepest needs.
Richard and Barbara
September 10, 2022
To Beca's Family,
I was so sorry to read about Beca's passing. I worked with Beca at Neff for several years, and she was always a delight. Beca always had a smile on her face and a humorous saying to go with any conversation. I looked forward to seeing her in the faculty room to hear about her latest exploits or her interactions with her students which she could make into a good story. May she rest in peace and your family be comforted to know Beca touched many lives.
September 09, 2022
I remember her friendly smile as she and Al would stop and ask how I was doing when I was walking in Deerford. Sympathy to the family and prayers during these difficult moments

September 08, 2022
Al, A.T, Bridget and grandsons, I am writing this note on behalf of my mom, Aileen Hare Lundy who adored your mother (as did I). My mom would fill me in on what was going on in your family after her weekly Saturday calls with Beca. She is sure going to miss those phone calls – she always regarded Beca as her "sister" and not her cousin. We are sending love and strength from Chicago and will be watcing the service on Saturday and celebrating her life with you. Sharon Lundy McKeown

September 08, 2022
Hey babe… I can't beleive how much I am going to miss you.. always a shining star in my life. So many laughs and hugs.. From one Texas Broad to another Texas Broad…..I love you…
September 08, 2022
Stamp Family,We were so saddened to hear the news. She was an incredible woman with such spirit and love for her family. We loved when she would visit the Naval Academy and help cheer on the swimmers at Lejeune! Sending all our love!
Chrissy Gussen
September 07, 2022
Mrs. Stamp blessed so many people with her faith and kindness. I am blessed to have fond memories of her from St. Anne School. Praying that you'll find comfort in your memories of her and in the knowledge that others are missing her, too.
Wishing you peace, Angela Bitts-Sydorko
September 06, 2022
I worked with Beca at the Neff Sixth Grade building and loved working with her. She was a lovely lady. Deb Bielek
September 06, 2022
Dear Al and family, I was so saddened to read of Beca's passing. Thinking of you at this sorrowful time.
Sincerely, Diane Lausman
September 06, 2022
Al sorry to hear about Aunt Becas passing. The Hares and Lundys always had fond memories when we would visit. Beca was one of a kind. She will always be in my prayers. I will miss that beautiful smile and the witty combacks Beca always had when we were verbally sparring
I won't be able to attend the services as I am going to have catarat surgery but I will be at Mass on Saturday for Beca
God Bless

September 06, 2022
Al, We offer you our sincere condolences on Beca's passing. We are sad that we'll no longe see her beautiful, smiling face at SJN Saturday 4PM Mass. Pat Donoghue & Tom Brommer
September 06, 2022
To Al, Bridget and A.T.
We were so sorry to read of Beca's passing. She had a great personality and was a friend to all she met. Our time with Beca throughout the swim years was full of fun. We will be unable to attend the service but our thoughst and prayers are with you and your exended family.
Jim and Sally Oatman
September 06, 2022
Rest in peace, may God welcome you into His Kingdom! You were my confirmation sponsor in 7th grade and I learned countless manners and life lessons from you at all the sleepovers with A.T.! The Horse Inn is still one of my favorite restaurants. We went there after Saturday evening mass. May God comfort Al, A.T. and Bridget. Sending you all love, peace and prayers! Love,
Bobby Haas
September 06, 2022
Al, Jeanne and I are so sorry for your loss of Beca. We know how much she meant to you, AT and Bridget. 🙏
Barry & Jeannie Free
September 06, 2022
Sending thoughts and prayers to all the family at this time of sorrow. I and my family (John, Christina, Kenton) have many fond memories of the years spent living next door to Al and Becca. Becca was a ray of sunshine for us all. – Pat Martin
September 05, 2022
Mr. Stamp,
I had the honor of having you as my kindergarten teacher. When I saw your mom as my patient it clicked right away. When I told her you were my kindergarten teacher she said "WOW". I sadly didn't get the chance to say hi to you when you were visiting. It was crazy to me after 14 years I am working as a patient care assistant and you helped me on my journey to get there. It was an honor taking care of your mom in her last weeks. She was such a sweet lady. I am so sorry for you and your family's loss. -Kayla Boley
September 05, 2022
To AL AND FAMILY, MY CONDOLENCES TO YOU. BECA WAS A SPECIAL LADY. MARY ANN KIMMEL
September 05, 2022
Our sincere condolences
John & Jeannette Wolff
September 05, 2022
I was glad to share my life with this family and am so sorry for their loss. – Donna Kaylor
September 05, 2022
Al, A.T., & Bridget: I am so sorry to see Beca's obit in today's LNP. What a great woman: what a great family. I am glad I knew her for at least a short while. I am further sorry to say that I cannot be with you at the service on Saturday, but please be assured that my heart is with you.
September 04, 2022
With fond and loving memories of a wonderful, loving, caring and fun lady. You joy was contagious and will be missed. Much love to Al, Bridget and A.T.
Services

Saturday, September 10, 2022
11:00 AM - 12:00 PM
St. John Neumann Catholic Church
601 Delp Rd
Lancaster, PA 17601

Map and Directions