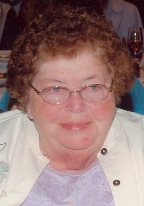 Rebecca A. Yecker, 70
Rebecca A. (Zuch) Yecker, 70 of Lancaster, passed away on Friday, June 13, 2008. Born November 7, 1937 in Lancaster County she was a daughter of Helen B. (Landis) Zuch of Elizabethtown and the late Lester S. Zuch. She was the wife of Paul E. Yecker and they observed their 51st wedding anniversary on August 11, 2007.
She was a sales clerk for Save Mart and the Hills Department Store. She was formerly employed by Trojan Boat and Shick Inc. Besides juggling all her jobs, her main occupation was a homemaker for her family.
She was a graduate of Donegal High School, lettering in field hockey. During her high school years she participated in the school choir, band, "Emerald" yearbook staff, TRI-FLI-Y, and she was a librarian assistant.
She was a member and CCD teacher at St. Anthony of Padua Catholic Church. She enjoyed a host of activities including working with ceramics, playing the organ and piano, avid reading, selling candy at the Marietta Theatre, spending time in Huntington Co. at the hideaway and boating at Raytown's Lake and the Chesapeake Bay. She loved spending time with her family and was known for her willingness to give a helping hand whenever needed.
In addition to her mother and husband she is survived by 4 sons Paul E. Yecker Jr. husband of Barb A. of Lititz; David A. Yecker , husband of Denise L. of Millersville; Steven S. Yecker; and James L. Yecker, husband of Heather R. of Lancaster; and 1 daughter Kathleen A. Klugh of Millersville; 7 grandchildren: Tim, Sarah, Jared, Devin, Tyler, Erik, and Justin. She was preceded in death by 2 grandchildren: Paul III, and Jordan.
Also surviving her are 1 brother, Samuel L. Zuch of Coatesville, and 2 sisters, Joanne Cope of Mount Joy, and Chris Rosser of Maytown.
Friends will be received on Monday from 6-8PM at the Charles F. Snyder Funeral Home, 414 East King St., Lancaster, PA, with a Christian Prayer Service at 7:45PM. The Mass of Christian Burial will be held on Tuesday at 10AM at St. Anthony of Padua Catholic Church, 501 E. Orange St., Lancaster, PA 17602 with the Rev. Daniel Mitzel as Celebrant. Interment in St. Joseph New Catholic Cemetery. In lieu of flowers, contributions may be made in her memory to St. Anthony of Padua Catholic Church.
Leave a condolence on this Memorial Page
We wish to send you our condolences on the loss of Rebecca. She was a wonderful person and we know she will be missed. Our thoughts and prayers will be with you during this time of mourning.
God Bless
Brian & Chris Smith and family

We are sorry for the loss of Rebecca. We at the Knight of Columbus Bingo group send our prayers and condolences as you go thoughout this troubling time. Paul, we all hope to see you soon and will continue to pray for you and your family.
God Bless
KofC Bingo
Dear Paul,
You and your family are in our hearts and prayers during these difficult times.
With deepest sympathy.
Sincerely,
Katie Mcglory & Harry Brown
ON BEHALF OF THE CLASS OF 1955 OF DONEGAL HIGH SCHOOL, I WISH TO EXTEND OUR SYMPATHY ON THE DEATH OF "BECKY". WE SHALL REMEMBER HER AS ONE OF THE "MARIETTA" KIDS WHO WAS A VALUABLE PART OF THE GREAT CLASS OF 1955.
MAY YOU FIND COMFORT IN THE MEMORIES OF YOUR LOVED ONE.
GAIL (SHELLY) HAWTHORNE
Dear Paul,
I was very sorry to hear of your loss. Our thoughts and prayers are with you and the rest of the family.
I wanted to attend the funeral, but due to some health problems I was not able to do so.
Ed Landis
I'm so sorry for your loss, I worked at Hills Department store with her, she was one of a kind, she always had something to say to make me laugh, she was quick witted, that's what made her so special. she will be missed. God bless you and your family
Teri Decker