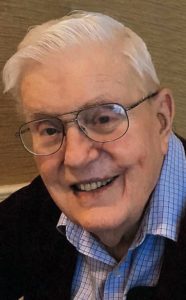 Raymond Oliver Anderson, 97
July 16, 2020
Raymond Oliver Anderson, 97, entered into God's presence on Thursday, July 16, 2020 after struggles with several illnesses. Born on August 24, 1922 in Wausaukee, WI, he was the son of Swedish immigrants Gunnar Anderson and Esther Lillequist Anderson. He lived his early years in Chicago, IL, but most of his life in Michigan. Ray was a proud WWII Veteran of the US Marines, serving five years mostly in the Pacific on Saipan in the air unit of Piper Cubs as a radio specialist. Upon returning to the US, he graduated from the University of Michigan in education, later getting advanced degrees at Michigan State University. He held positions as a teacher and counselor at the public school level in Midland, Alma, and Lansing, Michigan; then becoming Registrar and Dean of Admissions at Lansing Community College. Late in his career, he was Director of Guidance at Interlochen Arts Academy.
Ray attended Grace Church of Willow Valley and was involved with the Lions, Kiwanis and was a volunteer with Hospice. He enjoyed collecting coins, sports, traveling, reading anything on the military and was an avid fisherman, teaching those skills to his children and grandchildren. He loved to tease and have fun and his family was very important to him.
He and his wife Genevra relocated from Michigan to Willow Valley Communities in 1998. Ray is survived by two of his three children, Sally Cook (M. James) of Lititz, PA and Keith (Sarah) Anderson of Grand Rapids, MI. He is also survived by daughter in law Peggy Anderson, wife of Craig Anderson of Lansing, MI, who preceded him in death. He is survived by 7 grandchildren: Chad, Paul, Ryan, Brett, Lindsay, Tyler and Derek as well as 11 great-grandchildren. He was preceded in death by his sister Dr. Evelyn Anderson Carney of Chicago (Dr. Andrew Carney) as well as Genevra Anderson and Virginia Briner Anderson.
Ray's family would like to thank Willow Valley Lakes, Meadow Ridge and Lakeside for the loving care given to him on all levels. Also thank you to Caring Hospice who helped his last days be more comfortable and kept our family updated through this time of quarantine. A memorial service for family will be held at a later date.
In remembrance, gifts can be sent to either Caring Hospice or Hospice of Lancaster County.
Leave a condolence on this Memorial Page
Condolences to the Family
July 27, 2020
What a nice picture of Raymond. I worked with Raymond as I am a Volunteer Coordinator for Hospice & Community Care and Ray used to volunter in the Inpatient Unit. Ray told me that his wife used to do the cooking and so he was fine making food for patients in the unit but he was not the best cook and did not know how to poach an egg. This comment led me to plan a cooking workshop for Inpatient volutneers. We had such fun! Raymond was such a bright light, always willing to help out and always had a smile for all. Rest in Peace Raymond. Prayers being sent to his family.
Jacqueline Bilder
July 26, 2020
My husband, Raymond Good, sat at the table at Lakeside for all his meals unless I came
for lunch with him. Your dad would always tease us as we walked by holding hands.
He was so nice to my husband and I'm glad he had a chance to be with your father
RITA GOOD