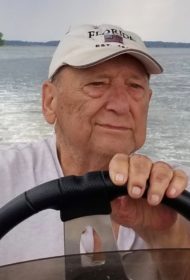 Raymond G. Gabler, 81
July 26, 2020
Raymond, G. Gabler, 81, of Lancaster, formerly of Michigan, beloved husband, father, grandfather and great-grandfather, died Sunday, July 26, 2020 surrounded by his loving family. Born in Hamtramck, MI, he was the son of the late Raymond W.. and Genevieve (Holeski) Gabler. Raymond was the loving husband to Ruth E. (Spitz) Gabler with whom he celebrated 57 years of marriage with.
Raymond was a proud Veteran of the US Air Force. He enjoyed fishing in Lake County, FL, playing bocce and enjoyed the game of poker. He and Ruth enjoyed taking cruises, as travel was in his blood. He had a wonderful sense of humor and was the life of the party. Raymond will be remembered for his gregarious personality and sense of humor. Most of all, Raymond cherished spending time with his family.
In addition to his wife, he is survived by three children, Dawn Fox (Ellwood Wagner) of Lancaster, Darlene Gabler of Lancaster and Raymond A. Gabler (Lee Gabler) of Columbia, MD; 3 grandchildren: Richard Fox (Kristie) of Inwood, WV, Danielle Fox of Laurel, MD and Jarred Gabler of Columbia, MD and 2 great-grandchildren Layne Rinard and Lucas Fox both of Inwood, WV. He is also survived by siblings: Robert Gabler (Sadie Gabler) of AL, Rosemary Curl (Jerry) of MI, Roberta Gabler of MI, and sister-in-laws: Phyllis Gabler of MI and M. Virginia Spitz of VA as well as several loving nieces. He was preceded in death by his brother Richard Gabler.
Raymond will be laid to rest at Resurrection Cemetery in Clinton Township, MI at a later date. In lieu of flowers, memorial contributions may be made to PA Wounded Warrior Inc, 1117 Country Club Rd, Camp Hill, PA 17011, Paralyzed Veterans of America, www.pva.org or Hospice and Community Care, 685 Good Drive, Box 4125, Lancaster, PA 17604
Leave a condolence on this Memorial Page
Condolences to the Family
August 08, 2020
So sorry for your loss! Praying for you all.
Janice Krieger
August 03, 2020
I am praying for your family. You are in my thoughts and prayers.
Evangeline
August 03, 2020
Our sincerest sympathy to all the Gabler family. To all my Gabler cousins, I send love and prayers.
Pat and Bob Gentry
August 02, 2020
I'm so sorry for your loss. Mr and Mrs Gabler were my surrogate parents for many of a weekend sleepover. Thank you Darlene for sharing your family with my me. Know you all are in my heart and prayers.
Dana Krawcyk
August 02, 2020
Praying for you and your family.
Jeann Hudson
August 02, 2020
Darlene and family. You will be in my thoughts and prayers over the next few weeks and months. Hang in there and get your strength from the Lord😛!!
Sue Lodico
August 02, 2020
So very sorry for your loss Darlene!! Just know that you are in my heart and prayers!! God Bless you and your family!! Love you!!❤❤🙏🙏
Tammy Tropp
August 02, 2020
Our deepest sympathy to Ray's family.
Leslie and Nick DePace
August 01, 2020
I was proud to have known him.
Kenneth R Martin
August 01, 2020
Dad you were always on an adventure. You were well loved. Miss you
Darlene Gabler
August 01, 2020
Love you dad! You will be missed.
Dawn Fox