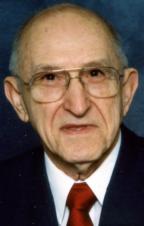 Raymond A. Alleman, 87
Raymond A. Alleman, 87, of Covenant Crossing, Brethren Village, formerly of Bluff View Dr. died on Thursday, January 6th at 7:10 AM.
He was born in Mercersburg, son of the late Paul K. And Myra Shoemaker Alleman. He was married 57 years to Isabell Elaine Erzen.
During World War II, he served in the Field Artillery, U.S. Army in Germany, Austria and France.
Ray graduated from Penn State University in 1950 with a BS degree in Mechanical Engineering. He was a licensed Professional Engineer. Following graduation, he was employed by Baldwin-Lima Hamilton Corp., Eddystone, PA for five years. In l956, he came to Lancaster to work for RCA in the Equipment Development Division where he served as an engineering leader. He held several patents in connection with his work. After retirement in 1988, he was called by Buckbee-Mears Corp., Cortland, NY for the dismantling of a plant in San Juan, Puerto Rico for shipment to Shenzhen, China. He worked in China on reassembling the plant for manufacturing there. On completion of that project, he worked as a consultant for Thomson, Lancaster, retiring in 1998.
Ray enjoyed golf, bridge, photography, gardening, stamp collecting and travel. He traveled extensively, both on business and for pleasure. He was a member of St. Peter's Lutheran Church, The Pennsylvania Society of Professional Engineers, the American Society of Mechanical Engineers, the Central Pennsylvania Chapter of NAIC and Silver Threads.
He is survived, in addition to his wife, by three sons: Raymond A. Jr. (Patricia) in Exton, PA; Charles R.Baltimore, Robert W. (Jennifer), Lancaster, three grandchildren: Justin A., Lancaster, Kathryn Grace and John Christian, Baltimore, and a sister, Elizabeth Bucy, Mercersburg.
The family will receive friends at St. Peter's Lutheran Church, 10 Delp Rd., Lancaster, PA 17601 on Saturday, January 8, 2011from 10-11AM. The service will follow at 11AM with the Revs. Craig Ross, Jacquelyn Roderick, and Vicar Trevor Hahn officiating. Interment in St. Peter's Lutheran Cemetery. Please omit flowers. Contributions in Ray's memory may be made to St. Peter's Lutheran Church. To send an online condolence, please visit SnyderFuneralHome.com. Charles F. Snyder Jr Funeral Home & Crematory, 717-560-5100
Leave a condolence on this Memorial Page
Chuck and family my thought and prayers are with you all during this difficult time.
My thoughts are with you at this difficult time.Ray was a top performer at RCA and greatly respected by his co-workers.He contributed much to the Tv industry during his employment.
Bill Miller