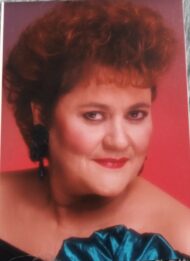 Ramonita "Cookie" Saez
November 14, 2021
Ramonita "Cookie" Saez, 76, of Lancaster died peacefully at home on Sunday November 14, 2021. She was born in Ponce, Puerto Rico on October 28, 1945, the daughter of Domingo Ruiz and Maria Theresa Fernandez. She was married to Saul Saez, Sr. on May 15th 1965. She gave birth to three children. She is predeceased by her son, Saul Saez, Jr. She is survived by daughters Bathsheva "Tootie" Sanchez and Wanda Y. Saez, her grandchildren Maira Noel Benjamin, Saul D. Saez, III, Diamante Spruill, Davana Spruill and Tatiana Tisdale, her great grandchildren Moriah Richardson, Isamae Spruill, Syere Broussard and extended family.
She was a beautiful and talented woman of tremendous faith. She worked as a police officer, a prison guard, a political activist, a dressmaker, and had an entrepreneurial heart while running her own children's boutique. There was no job given to her that she couldn't accomplish. She battled many illnesses throughout her lifetime but strongly tackled each.
We rejoice that she is free of suffering and made new with the Lord. We look forward to joining her one day in Glory.
A funeral service will be held on Tuesday, November 23, 2021 at Charles F. Snyder Funeral Home & Crematory, located at 3110 Lititz Pike, Lititz, PA 17543. 10:00am – 12:00pm – viewing. Service at 12:00pm.
ALL are welcome to come pay their last respects.
Watch the tribute video
Leave a condolence on this Memorial Page
Condolences to the Family
November 23, 2021
Mr. Saul Saez Sr.
My name is Fred Schneider. I worked with you at Mt.Airy Lumber Co. many years ago. I remembered "Cookies" nickname and read her obituary. I'm very sorry about her passing. Best wshes to you and your family. May God bless you all
Sincerely Fred Schneider
November 23, 2021
God bless the entire Sáez family with love and comfort in the coming days ahead! My condolences. Love you all. 💙 🙏 💙
November 22, 2021
My condolences to you & your family. Praying for peace & comfort. Blessings and love to you
November 22, 2021
Sending prayers/condolences to Wanda n Saez family members regarding the lost of your mother. Wanda the last time we met was during the time your mother was at Hamilton Arms n I was visiting a friend. I pray GOD will give U n your family strength during this time. Earl "Papa " Boots
November 22, 2021
I will miss you, Nana! I love you. Wanda and Family, my condelences to you. All My Love!
November 22, 2021
My Condolences To The SAEZ Family
Rest In Heavenly Peace
November 22, 2021
RIP titi
you will be missed





November 22, 2021
The Saez Family:
My deepest thoughts and prayers are with you. We know she will be missed but she is with God now. 🙏🏽🙏🏽