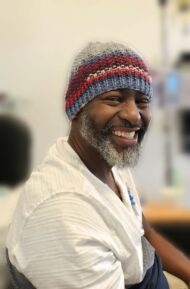 Ralph Turenne, 47
July 24, 2022
Ralph Turenne, 47, of Lancaster, passed away on Sunday, July 24, 2022 after a long and courageous battle with colon cancer, with his loving family by his side. Born in Port au Prince, Haiti, he was the son of Marie Carmel (Leconte) Turenne and the late Isdore Turenne. He and Genevieve (Riche) Turenne celebrated over 19 beautiful years of marriage together.
Everyone knew when Ralph was around. He was the life of the party and lit up a room. He always wanted people around him to have a good time and be happy. He was a commercial truck driver for J.B. Hunt and loved going to work every day. He found that traveling the open road was his calling. Ralph also focused on keeping himself healthy. He would spend hours at the gym preparing for 5K races; his biggest accomplishment was completing a Spartan Race a few years ago.
Ralph will be sorely missed by his mother, Marie; wife, Genevieve; children, Jadon, Brielle and Donovan Turenne; brothers, Hans Turenne, husband of Covell Lee-Turenne of Bergenfield, NJ, Thierry Turenne and Ricardo Turenne, both of Brooklyn, NY; a niece and nephew, Amaya and Tyler; cousins, Diane Lorseille of Hartsdale, NY, Vladamir "Lepe" Lorseille of Long Island, NY and Wence Lorseille of Brooklyn, NY, as well as his aunt Yseult Lorseille of Brooklyn, NY.
A Celebration of Ralph's life will be held on Friday, July 29, 2022 at 6 PM at the Charles F. Snyder Jr. Funeral Home & Crematory, 3110 Lititz Pike, Lititz, PA 17543. Friends and family are invited to a viewing beginning at 4 PM until the time of the service.
Watch the tribute video
Leave a condolence on this Memorial Page
Condolences to the Family
August 02, 2022
Dear Genevieve and the entire Turenne family,
I knew Ralph many years ago. Thierry and I were best friends and brothers in high school. I spent many of days with Ralph growing up, and looking up to him. He, much like Hans and Thierry and Marie were a second family for me. Ralph truly was the nicest and most positive person I've ever met. He had the original Turenne smile that lit up not just a room, but a person's day. I admired him because he always found the positive and was just always so kind. My prayers and condolences going out to you all. From my family to yours, we wish you peace during your time of grief. Ralph truly is one of the greatest souls I've known, and departed far too soon. God Bless all of you.
David Vanette
July 28, 2022
Genevieve, you are in my thoughts and prayers along with your beautiful family. May God comfort your hearts and give everyone of you peace of mind. And may your memories consol you and give you joy as Mr. Turenne's legacy of love continues through you! ❤ Love and prayers, Charlotte Robertson, Lanc CAO
July 27, 2022
Dear Genevieve, I am so saddened to learn of your husband's passing. I think of how lovingly you spoke of him. My heart goes out to you and children. God bless you all.💕
Cybil Bomberger
July 27, 2022
Keeping you and your family in my thoughts and prayers. My deepest condolences to you and your family. I am so deeply sorry for your loss.
Holly Cruz
July 27, 2022
Genevieve, I am saddened to hear of the passing of your husband, Ralph. I along with my family are praying for strength for you and your family during this difficult time. May the LORD God provide His comfort and peace.
Nadine Neal and Family
July 27, 2022
Keeping your family in our prayers. We pray your family to receive strength through this time and keep faith in Gods promises. Much Love & Support sending your way 💕💕💕
July 27, 2022
Genevieve, what an amazing person Ralph must have been! I'm so glad that you had so many good years together, and I'm so sorry that there won't be more. I'll be thinking of you and your family. I wish you peace and love as you go through the process of saying goodbye.
July 26, 2022
My deepest Condolences to you and your family! I'm so very sorry for your loss! You and your family are in my thoughts and prayers ❤️ 🙏🏽🙏🏽
July 26, 2022
Dearest Genevieve and beautiful children,
I am so so sorry for everything that is happening. I do know that the three of you have such love and strength for eachother and for your Father/ Husband that although it may seem impossible, the three of you will get through this. Sending all my love and hugs your way,
Donna Mallik

PS I look forward to a pizza trip Wed night with Jadon and Brielle. Love you all
Visitation

Friday, July 29, 2022
4:00 PM - 6:00 PM
Charles F. Snyder Funeral Home & Crematory
3110 Lititz Pike
Lititz, PA 17543

Map and Directions

Services

Friday, July 29, 2022
6:00 PM
Charles F. Snyder Funeral Home & Crematory
3110 Lititz Pike
Lititz, PA 17543

Map and Directions