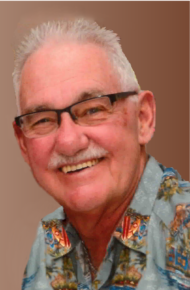 Ralph D. Armold, 79
July 06, 2020
Ralph D. Armold, 79, of Mount Joy, passed away on Monday, July 6, 2020.
He was the husband of Joyce E. Mowrer Armold with whom he shared 27 years of marriage this past September 19th. Born in Lilly, PA, he was the son of the late Daniel O. and Mary Louise Campagna Armold.
Ralph had worked for ACME Markets Inc. for 43 years, serving for the past 34 as warehouse manager until his retirement in 2006. Following retirement, he worked for Royers Flowers as a delivery person.
He enjoyed golf, going to the beach, and was huge Pittsburgh Steelers fan. He had served as the past president of the Make-A-Wish Foundation from 2003 to 2006 and was very involved in the organization of the first Truck Convoy and the Guinness Book Record for the world's longest truck convoy in 2003 with 391 big rigs.
He was a member of Calvary Church.
In addition to his wife, he is survived by his children: Diana married to Keith Myer, Denise married to Ray Garraffa, Dawn Armold-Getz married to Tom Getz, and Holly married to John Filius, all of Lancaster, Dana married to Bob Rafferty of Glens Mills, and Troy married to Leilonie Armold of Manheim; his stepdaughter Danielle Trotman of Landisville; his 13 grandchildren, and his sisters, Margaret and Janet, and brothers, Larry and Tom. He was preceded in death by his son, Shawn, and by his brother, Ted.
Services will be private. In lieu of flowers, please make a contribution in Ralph's memory to a charity very important to him: Make-A-Wish Philadelphia, Delaware & Susquehanna Valley, 1054 New Holland Ave., Lancaster, PA 17601.
Leave a condolence on this Memorial Page
Condolences to the Family
July 19, 2020
Joyce, so sorry to hear of Ralph's passing. I'm sure you have a huge hole in your heart. My God comfort you. Praying for you and your family.
Barbara ,Davey, and Kelley Eshleman
July 15, 2020
Dear Joyce, I am so very sorry to hear about your husband. Know you are in our thoughts and prayers.
Joni Martin Shirk
July 12, 2020
Joyce, we are so sorry to hear the news of Ralph's passing. To say it was a shock would be an understatement, and I'm sure for you unbelievable. Condolences to the family also.
Lorraine Matthews and Marian Fissel
July 12, 2020
So sorry for your loss. May the Lord be with you and your family. We were on the cruise to the New England states when we met you. God Bless you and keep you and your family safe.
Dawn and Bob Stohler
July 11, 2020
Joyce, I am so sorry to hear about Ralph. You are in my thoughts and prayers. Love, Chris Sweigart
July 11, 2020
Thoughts and prayers for the family. Ralph hired me 35 years ago. I actually liked my job but when he retired everything changed. He was a great manager and always took time to answer your questions. I respected him and I never felt disrespected by him! I haven't felt that way since he retired.
Sandy Henry
July 11, 2020
Joyce, Ralph truly loved to play golf. I will always remember the fun times on the course. The sudden loss is very difficult and will take a long time to recover, but you will. Stay strong and keep smiling. We will all miss Ralph.
Diane and Rocco DeMasi
July 11, 2020
Dear Joyce and Family,
We were shocked and very saddened to hear that our good friend, Ralph passed away. Our thoughts, prayers, and condolences go out to you Joyce and your entire family.
Ralph, is a "True Man's Man" disciplined, and compassionate to his family, and friends. Although geographically distanced, our times together with family and friends will be cherished and never forgotten… Ralph we love ya man.
Dan and Hedy Grkovich


July 11, 2020
Joyce – We were sad to see the passing of Ralph. Our thoughts & prayers are with you during this difficult time.
Mark & Marianne Sheely
July 10, 2020
Joyce,
I'm so sorry for your loss. My thoughts and Prayers are with you.
Deb Ressel Roth
July 10, 2020
I am so very sad to hear of Ralph's passing. He was a great person. My condolences to Joyce and the rest of his family. God Bless.
Yvette Cecil
July 10, 2020
To Joyce and Family,
I am so very very sorry to read about Ralph. I am at a loss for words. My heart, thoughts and prayers go out to you Joyce and the family. You are in my thoughts and prayers that God will give you the strength and comfort you in this time of need. Please call me whenever you feel up to it. Evenings are the best. I love you Joyce. 717-471-4838
Dori Weiler
July 10, 2020
So sorry to hear of Ralph's passing. I was part of the Acme gang for 25 yrs. My deepest sympathy to Joyce and the family. Please know I care.
Darlene Devonshire
July 10, 2020
My deepest condolences to all. What a wonderful picture of Ralph. So many wonderful memories of childhood vacations with Joyce, Ralph and family. He is now a angel with Shawn. Still in shock of this all. My love to Joyce and Danny at this most difficult time. Joyce you are a wonderful person and Ralph loved you so much and you loved him.
Melissa Eshleman
July 10, 2020
My deepest sympathy to Joyce and Ralph's family. JC and I shared many wonderful times with Ralph in the mission of the Make A Wish Foundation. His leadership was an important asset to the Foundation and the Mothers Day Convoy. Many happy times shared with Ralph and Joyce in those good old days. May cherished memories sustain you all through this sorrowful time. Carole Hale
July 10, 2020
So sad to hear of Ralph's passing I work with Ralph for many years at Skyline my thoughts and prayers are with you and the family, Tommie Vera
July 10, 2020
So So sorry to hear about Ralph.What a great man he was. I met him through my wife side of the family many years ago. He will be miss Paul Schmertz
July 10, 2020
Joyce, my deepest sympathy to you. I worked with Ralph for many years at Acme/Skyline. You and all of Ralph's family are in my thoughts and prayers during this time.
Debbie Long
July 10, 2020
So sad to learn of Ralph's passing. My condolences to his family. I had the good fortune to know and work with Ralph for many years as part of his Acme family. Lots of memories but none more valued than our many great times on the golf course.
You are in my thoughts and prayers,
Bob Manley
July 09, 2020
Ralph was a pleasure to talk with and to work with. His presence will always be with with your all in his spirit and great memories you share.
Vince Guarini
July 09, 2020
I was shocked and saddened to hear of Ralph's passing. I was part of the Skyline/Acme group that worked with Ralph for many years. Keeping all of his family in my thoughts and prayers during this difficult time.
Mara Pakalnins
July 09, 2020
Joyce, please accept our sincere sympathy on Ralph's passing. Our hearts go out to you at this very difficult time.
Judy and Steve Czarnecki
July 09, 2020
Our condolences go out to all of the Armold children. We are sorry for the loss of your father. Our thoughts and prayers are with you at this sad time. You are in our thoughts and prayers. Cherish all the good memories you will always have in hearts.
Barbara and John Perozich
July 09, 2020
I was very sad to see this morning's paper and read of Ralph's passing. We had some good times together over the years and the year or so we lived together was a big help and support to me. Ralph was a very special person and I am sure he will be missed by all who knew him My deepest sympathy to Joyce and all of his children. I will always remember the good times playing golf and the many get togethers involving the trucking industry. RIP Ralph Judy and I extend our sincere condolences !!!
Bill Kudrick

July 09, 2020
So sorry for your loss My thoughts and prayers at this difficult time are with you
Cheryl Fulton
July 09, 2020
Ralph was a great boss at ACME. He will be missed by many.
Ann Humer (Conroy)
July 09, 2020
So sad to learn of Ralph's passing. I worked for and with Ralph at Acme Markets. Deepest sympathy to everyone at this difficult time.
Tina Schwartz
July 09, 2020
Thoughts and prayers to the Armold families during this time of loss. Dom and I worked with Ralph at Acme Markets. Our deepest sympathy

Dominic and Linda Liepa Giangiulio
July 09, 2020
Joyce, I am so, so sorry. You and you family are in my thoughts and prayers
Steph Melvin
July 09, 2020
Thinking of you all during this difficult time. Sending prayers!
Deana Mahlandt
July 08, 2020
So sad to hear of Ralphs passing! God has another great Angel!! I still work for Acme and Ralph was my boss for 19 years. He was a strict but fair, wise and a heartfelt. He treated everyone as a person and not a number! He will be greatly missed! Prayers to his family that he loved so dearly!!
Cindy Neff
July 08, 2020
Ralf was the brother of my step-father Larry. I had many fond memories of "uncle Ralph" and his family. Watching Steeler games and even going to one in Baltimore where I met Terry Bradshaw on the field. Going to his house and having the time of my life with his children growing up. My prayers go out to his whole family. Thank you for the everything and the lifelong memories.
Billy

Bill Cruey
July 08, 2020
Ralph will be missed for his friendliness, interesting conversations, and bright smile. My heart goes out to Holly & John Filius (and Jack & Grant Filius, his golfing buddies.) A special hug to Diana, Denise, Dawn, Dana, Holly, and Troy, along with their families for their loss. My prayers are with you.
Joyce Filius
July 08, 2020
I'm so very sorry for your loss!! Thinking of you all during this difficult time.
Sue Reincke
July 08, 2020
So sorry for your loss. Our heartfelt prayers go out to Danielle and family. Love Rich & Cheryl Reincke III
July 08, 2020
Sending our sincere sympathy and love… Myrl and Clair
July 08, 2020
OH Joyce. I am soooooo sorry to hear this. My heart goes out to you and all your family. Please come visit us here at Appel & Yost when you feel up to it. Kisses and hugs from all your old pals here.
Judy Marsh
July 08, 2020
I worked with Ralph at the warehouse and though he had a reputation for being strict (I think he really needed to be dealing with our gang) he was also very fun loving, kind and fair. He was a great mentor, friend and had a lot of my deceased father's qualities so I really respected his feedback and guidance. I learned a lot from him and always enjoyed hearing from him over the years after he retired. I was so sad when I recieved the news that he had passed. He made a great difference in my life and I miss him already.
With Deepest Sympathy,
Nancy Griffith