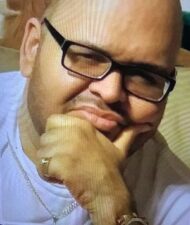 Radames Narsiso Robledo, 50
February 12, 2022
With our deepest sorrow, we announce that Radames Narsiso Robledo, 50, favorably known as Randy by friends and Sisito by family, entered into peaceful rest on February 12, 2022, with his family by his side. Born in Ponce, Puerto Rico and raised in Lancaster, Pa to Catalina "Catin" Perez-Alomar and the late Radames Hector Robledo-Rodriguez. He is survived by a son, Radames John Robledo (Wendy), sister Geisha Cruz-Rodriguez (Guillermo), sister Lynnette Crespo (Candido), brother Alexis Cruz (Lucy), sister Antonia M. Ortiz (Eddie), sister Edalmira Rivera (Daniel) and companion Maritza Ramos. He will be deeply missed by a host of aunts, uncles, nephews, nieces, and cousins.
Sisito truly lived life to the fullest through simple pleasures; chatting with friends and family, listening to music, spending time with his loved ones. He will be lovingly missed for his friendly, compassionate nature, great sense of humor, and love for music. He will mostly be remembered as DJ Heavy at special occasions and events. Sisito was equally content when listening to music surrounded by family and friends.
The family will receive friends and others whose lives Sisito touched at the Charles F. Snyder Funeral Home and Crematory, 414 East King Street, Lancaster on Sunday, February 20th from 5-7pm. We will be paying our final respects and sharing memories of Sisito at 11AM on Monday, February 21 at the funeral home. Family and friends will be received from 10 until the time of service. Interment will follow at Mellinger Mennonite Cemetery. The family would like to express our thanks for the care given by UPMC of Lititz.
Watch the tribute video
Leave a condolence on this Memorial Page
Condolences to the Family
March 17, 2023
I had the honor of caring for Randy in his final weeks. He was such a kind soul. He held deep affection for his family and friends. At one point, he brought up that he was seeking Christ. I'm very excited to think about meeting him again in heaven. It's easy to think some people are taken too soon, but I truly believe he's in a better place, walking on streets of gold, his favorite music echoing off the clouds as he talks with Jesus.
Christina
February 19, 2022
My deepest condolences to the family .. Theres no words for comfort. I just want to say me and my daughter's will trully miss him. He was a beautiful heart. He helped me with my daughter's when there father wasnt around he was there and continued to be there no matter what called and text them . i will always be greatful to him for step up when he did. Im sorry to hear he pass away may He RIP and its not a good bye its till I see you àgain God said you was tired a Golden heart was laid to rest… I will always remember that Golden Heart it was one of a kind. ♥️
February 18, 2022
My condolences to the family, and yes Radames, I will always be your Betty Boop. Rest in peace my Gordo Bello.
February 18, 2022
RIP Randy. We had 21 years together and even though we had are ups and down, you will forever hold a piece of my heart. Have a party with all the Titi's and play music and dance away the days. Till we meet again. You will be missed and loved by many.
February 17, 2022
U will be miss cuz R.I.P 💔
February 16, 2022
My deepest condolences to the Robledo family. Rest in peace, may he find love and happiness in his eternal rest.
February 16, 2022
My deepest condolences 🌹 to DJ Heavy family I will really miss 😭😭 him
February 16, 2022
My dearest friend may you rest in Heaven! My kids and I will miss you! You were the most realistic person I ever met your little princess will miss you too!!
February 16, 2022
Our deepest condolences to the family from the Robledo fam and we pray to God to give u the strength in this difficult time.
We will alway miss u cuz and ur messages 😢 RIP
February 16, 2022
To my family truly hard to take this in but I know it's even harder for you all . Sisito we grew up together as cousin / brother & sis we had memories fun times and even learning how to Dj on your turn tables. As adults at times we stayed in touch rather if it was to lift you up give word of encouragement or you asking about my mom your cousin Nere who you loved so much and you would make sure you told those you loved how much you loved them . I'm going to miss talking to you . Our Heavenly Father gained his son so sudden & even though we may not understand we know you reached the heavens Love Alwyas mi primo Sisito RIH❤️🕊to the fam God shall shall & will see you all through 🙏🏽❤️
February 16, 2022
MAY YOU R.I.P PRIMO MY CONDOLENCES TO THE FAMILY LOVE YOU CUZ 🙏🙏😭
February 16, 2022
My Condolences To The Family May GOD Bless You All With Peace And Strength At This Time Rest In Peace Randy Gone But Never Forgotten
February 16, 2022
My deepest condolence to the family Rest in peace my friend until we meet again and Heaven🙏😇💐💔
February 15, 2022
May you RIP big brother you are the definition of a true hero to me because you belived in me right when I started doubting my self and you showed me to never give up on my dreams you sure will be missed see you in the next life DJ heavy/my big brother
February 15, 2022
Descansa en el regazo del Señor. No te olvidaremos nunca. Vuela Alto 🕊🕊🕊 de Titi Ali y Lizzy. Nuestras condolencias para la familia.
February 15, 2022
Sisito ..Tus primos Mayra…Enid y Jr Alomar siempre te recordaremos con amor.. Tus chistes ..picardia..y sonrisa. Descansa en Paz
February 15, 2022
Randy
I will truly miss you my friend lots of love…
Rest in paradise my friend
Milta Vega
Visitation

Sunday, February 20, 2022
5:00 PM - 7:00 PM
Charles F. Snyder Funeral Home & Crematory
414 East King Street
Lancaster, PA 17602

Map and Directions

Visitation

Monday, February 21, 2022
10:00 AM - 11:00 AM
Charles F. Snyder Funeral Home & Crematory
414 East King Street
Lancaster, PA 17602

Map and Directions

Services

Monday, February 21, 2022
11:00 AM
Charles F. Snyder Funeral Home & Crematory
414 East King Street
Lancaster, PA 17602

Map and Directions