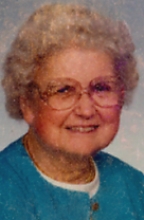 Rachael S. Walker, 94
Rachael S. Walker, 94, of Lancaster and formerly of Millersville, died on Friday, November 13, 2009. She was born in Lemasters, PA, on January 20, 1915, the daughter of Percy Smith and Bessie Hawk Smith. She graduated from Catawba College in Salisbury, NC, in 1936. She was a math teacher for several years before becoming a full-time homemaker. She was the wife of the late Joseph E. Walker.
Rachael was a member of Bethany Presbyterian Church. She enjoyed reading, puttering around the house, traveling, and watching basketball. Above all, she enjoyed entertaining her family with memorable meals in an atmosphere of love and laughter.
Rachael is survived by her three sons: Robert S. Walker of Lititz, J. Samuel Walker of University Park, MD, and Walter F. Walker of Seattle, WA, and by 5 grandchildren.
A memorial service will be held at Bethany Presbyterian Church, 25 N. West End Ave., Lancaster, on Friday, November 27, 2009 at 2:00. The family will receive friends at the church from 1:00 until the service begins.
In lieu of flowers memorial contributions can be sent in Rachael's name to Bethany Presbyterian Church, 25 North West End Ave., Lancaster, 17603, or to the Rachael Smith Walker Scholarship Fund, Office of Development, Catawba College, Salisbury, NC 28144-2488.
Arrangements by Charles F. Snyder Jr. Funeral Home and Chapel 3110 Lititz Pike Lititz 17543.To send an online condolence or for more information please visit snyderfuneralhome.com
Leave a condolence on this Memorial Page
On behalf of your many friends at the Republican Comm of Lancaster County, we extend our deepest sympathy on the passing of your Mother. May the comfort of our Lord help you in these difficult times…. and may your memories of joys you shared with her give you strength.
Craig A. Ebersole, Chairman
RCLC
Please accept our sincere sympathies on the passing of your Mother.
Connie and Don Derman, and June Thumma
Bob, Sam, Wally, and families……..
I am sorry to hear that your mother has passed on, but believe that she and my mom are chatting together somewhere above, both with their husbands again.
I have fond memories of your family and mine growing up together on Hostetter Drive. We could not have had any better neighbors than your family.
My thoughts are with you,
Sincerely,
MarySue (Rettew) Jones