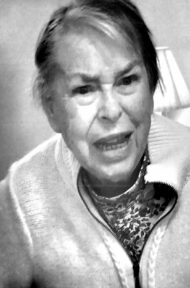 Rachael A. Bates, 88
July 30, 2022
Rachael Ann Bates of Lancaster, PA passed away peacefully on July 30, 2022 at the age of 88. Born in Bainbridge, PA she was the daughter of the late Benjamin and Iva Byerly Herchelroth.
Rachael graduated from Elizabethtown High School in 1952. She worked for Wyeth Labs in Marietta, PA. She also worked as a seamstress for Clean Enterprises.
Rachael met William C. Bates in 1952. She and William were married in Lancaster County in June of 1953 and had two children together.
Rachael was an active member of Trinity Reformed United Church of Christ in Mountville, PA. She enjoyed golfing, gardening, reading and sewing. She was also a volunteer at her local library.
Rachael is survived by her son Jeffrey husband of Donna Reid and daughter Judy wife of Max Fuller; her brother Pete Herchelroth; 6 grandchildren and 17 great-grandchildren as well as many nieces and nephews. She was preceded in death by her husband of 39 years; 3 brothers and 2 sisters.
A private graveside service will be held at the convenience of the family.
Leave a condolence on this Memorial Page
Condolences to the Family
August 09, 2022
I know the church has offered their sympathy but as a member of TRUCC I want to say how much I enjoyed knowing Rachael. She will be missed by all who knew her. My sincere sympathy. Gladys Drybred
August 09, 2022
Peace and blessings to you from the congregtion of Trinity Reformed in Mountville. I have such wonderful memeories of Rachel as a kind and caring person. May you find comfort in the loving promises of God and joy in your memories.
August 07, 2022
Just heard from my brother Marty that Aunt Rachel passed away peacefully and send my hearfelt sympathy to the entire family. She was a wonderful Aunt who was always kind and thoughtful even when we were challenging little ones. Have not seen Aunt Rach for almost 10 years but thought of her often. Fond memories of her with Fifi, golf, sewing and good times boating at the cottage bring a smile. She will be misssed.