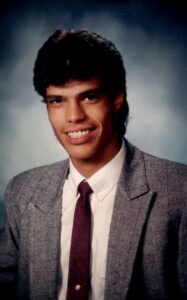 Perry P. Mendez, 52
November 23, 1969 - July 15, 2022
Perry P. Mendez, 52, of Lancaster, passed away at Lancaster General Hospital on Friday, July 15, 2022. Born in Lancaster, he was the son of Aida Victoria Mendez and the late Juan Antonio Mendez.
Perry graduated from Penn Manor High School, where he excelled in track and field. He worked as a manager at TGI Friday in Park City and in Harrisburg. Perry was one of the top bartenders in Lancaster County, known for his magic tricks.
In addition to his mother, Perry is survived by his brothers, John Antonio Mendez husband of Maria Angelica Diaz of Clearwater, FL, Tayding Axel Mendez of Denver, PA, and Luis Raul Ortiz of Leola, PA.
Perry was preceded in death by his father, Juan Antonio Mendez, and his brother, Michael Orlando Mendez.
Services will be private. Memorial contributions can be made to Esperanza Hope For The Future Counseling Service, Inc., 1148 Elizabeth Avenue, Lancaster, PA 17601.
Leave a condolence on this Memorial Page
Condolences to the Family
July 18, 2022
Your ImageFIRST family in Clearwater would like to extend our sincerest condolences. Our thoughts and prayers are with you and your family during this difficult time.
Heddy Collazo
July 18, 2022
The Holmes family is sending love and prayers during this difficult time. Our hearts go out to everyone who loved him.
Natasha Holmes
July 17, 2022
I remember Perry from high school. He could always make me smile and his smile would brighten a room. He was filled with such kindness and always made others feel good. Rest easy Perry!
Jenny Ditzler
July 17, 2022
Perry was a bright light to everyone that knew him. His smile was infectious. He will be remembered fondly from all who's paths he crossed. Jeff & Darby
July 17, 2022
My deepest sympathy to Perry's family, friends, and coworkers. Perry was such a nice guy and there was no one who didn't immediately like him when they met. My prayers for his soul to have peace and for his family and friends to find comfort that they were loved by a truly nice person. His famous smile was like a great hug, so genuine and warm. I hope that the good memories will help all of you through this very difficult time.
Very sincerely,
Katie Tumolo(Morris)
July 17, 2022
Rest in Peace cousin!
Michael Anthony
July 17, 2022
My condolences go out to the family. Perry and I grew up together in Quakerhills. We were always good friends and his smile was one that I'll never forget. He was definitely a GREAT bartender!! He will be missed by many who had the pleasure of knowing him.
Kimberly Flemming Rineer
July 17, 2022
R.I.P Perry. You were a person with a heart of gold.
Tom
July 17, 2022
Perry was always so happy!!! That smile lit up the whole room!! My husband and I worked with him at Friday's. Very sad news seeing this today. Our warm thoughts and prayers to his family. Bobbi & Frank Russo
July 16, 2022
In our hearts forever. We loved your smile, and kind generous heart. Love never dies. God Reigns.
Sandy and Dan Brown