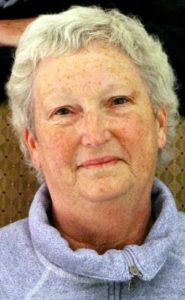 Peggy (Margaret Waller) Anderson, 71
June 25, 2017
Peggy (Margaret Waller) Anderson, 71, of Mount Joy, passed away June 25, 2017, at home surrounded by her loving family. Peggy fought a brave and courageous battle with breast cancer for over two years. Born in Lancaster, Peggy was the daughter of the late William and Pauline (Keyes) Waller. She was the loving wife of David E Anderson.
Peggy was a 1964 graduate of Lancaster Catholic High School and earned an Associate in Arts degree from Thomas Edison College in NJ. Peggy was employed as an Administrative Assistant for Milton Hershey School from which she retired in 2009. She previously worked in marketing for Schering-Plough Pharmaceuticals and was one of the founders of the Warren County Community College in NJ. Peggy was an avid gardener, a dog lover and enjoyed reading and spending time with her family and friends. But mostly, she loved spending time with her grandchildren. Peggy was a choir member of Mary Mother of the Church and worked the Brown Bag Lunch program at St. Anne's in Lancaster.
Peggy positively touched the lives of so many people. She was a friend to all who knew her, and deeply devoted to her faith.
In addition to her husband, Peggy is survived by her two children: David J Anderson, husband of Cindy of High Bridge NJ; Erika L. Lund, wife of Christian of Westerly RI. She's also survived by five grandchildren: Riley, Mason, Grace Anne, Jensen and Olivia; and two siblings Anne Riley, wife of Michael of Lancaster; and Paula Nickle, wife of John of Lancaster.
A Mass of Christian Burial will be held at Mary Mother of the Church, 625 Union School Rd., Mount Joy, PA 17552 on Thursday, June 29, 2017 at 11 AM. Friends and family will be received from 9:30 AM to 11 AM. Interment will be held at 2:30 PM at St. Joe's New Catholic Cemetery, 10 Charles Rd., Bausman, PA. In lieu of flowers, memorial contributions may be made to Mary Mother of the Church, address above, Humane League of Lancaster, 2195 Lincoln Highway East, Lancaster, PA 17602 or Hospice & Community Care, 685 Good Dr., Box 4125, Lancaster, PA 17604.
Leave a condolence on this Memorial Page
Condolences to the Family
June 30, 2017
Dave and Family,
We're so sorry to hear of Peggy's passing. Our thoughts and prayers are with you all.
Jack and Sam Leonard
June 28, 2017
Dear Dave,
Sending our sympathy to you and your family at this sad time.
Maryellen and Tom Herren

June 28, 2017
Dave and family,
So sad to hear of Peggy's passing. You were blessed to have a such a wonderful and caring wife, mother, and grandmother. Our thoughts and prayers are with the Anderson family. May she rest in peace. Tom and Sue Huegel
June 28, 2017
Uncle Dave, David James and Erika,
I'm truly sadden by the passing of Aunt Peggy. I will never forget the weekends spent in NJ and fun cabin getaways we were all able to share. I always looked forward to holidays where i was able to get a big hug and kiss from Aunt Peggy. I know she is now in heaven looking after all of us until we meet up with her again. I'm sorry i can't attend the services because of testing in school but ill be there in spirit and sending prayers. I love you all and pray for peace for your families.
Take care and see you soon….
Love,
Julie Anderson
June 28, 2017
Dear Dave & Family, I am saddened and so sorry to hear of your wife's passing. I know that there are no words to ease your pain. Be assured you are in our thoughts and prayers. I'm sure Peggy fought a courageous battle along with your support. May God embrace her in her eternal sleep. God bless you all. With our deepest sympathy, Bill & Linda Welsh
June 28, 2017
My deepest heartfelt sympathy to the Anderson family on the loss of your dear Peggy. My thoughts and prayers are with you all. Peace and blessings, Sandy DeSouza


June 27, 2017
Dear Dave & Family,
My prayers and thoughts are with you at this sad time. I know how much you all loved Peg. Remember the good times. With my deepest sympathy & Love, Linda Elko
June 27, 2017
Dave, I am very sorry to hear of your wife's passing. It sounds like she has done a lot of good and selfless things and has enriched others lives. I feel for you. Sincerely, Steve Swartz
June 27, 2017
Our deepest sympathy to the Anderson family. Rest in Peace Peggy. Phil and Mary Lou McCaskey
June 27, 2017
Hi David, it's Jane Spangler. I am so sorry for your loss. Many a good times had in the past. Peggy was a great person. Very personable and fun to be around. Will never forget those cabin weekends. You have my deepest sympathy as well as David and Erika. I know Peggy's faith got her this far. FYI, this July 20th, it will be 22 years that Jack passed. Where does the time go?
Again, my deepest sympathy and am thinking of you all.
Love
Jane
June 27, 2017
Dear Anderson family, I would like to wish you all my deepest sympathies in the loss of your wife, mother and grandmother. She indeed was a very Special lady. And very loved. I hope you will all be able to find peace and comfort in these difficult days ahead in the memories that she left with all of you! I will continue to keep you all in my thoughts and prayers. She will surely be missed! Love Kim McGahan
Visitation

Thursday, June 29, 2017
9:30 AM - 11:00 AM
Mary Mother of the Church
625 Union School Rd.
Mount Joy, PA

Map and Directions

Services

Thursday, June 29, 2017
11:00 AM
Mary Mother of the Church
625 Union School Rd.
Mount Joy, PA

Map and Directions