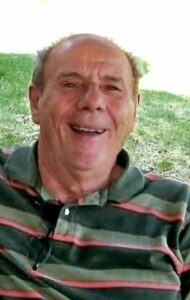 Paul S. Zamboni, 83
November 15, 2021
Paul S. Zamboni, known as "Sonny" to his family and "Boni" to his many friends, passed away peacefully on November 15, 2021, surrounded by his loved ones at home. Eighty-three- years young, he was the son of the late Paul and Mary (Nagy) Zamboni of Nanty Glo, PA. Upon graduation from high school, he enlisted in the U.S. Navy. Completing his military service, he moved to Lancaster where he worked at Federal Mogul until his retirement.
Paul is survived by his loving wife, Martha Zamboni. Together 36 years, they were a blended family sharing 2 sons, Paul Stephen Zamboni and James Zamboni (Neke); 2 daughters, Brandi Hjelm, and Crystal Consylman (John); 10 grandchildren; 9 great-grandchildren; 2 sisters, Joanne Empfield of Homer City and Mary Patrick (Francis) of Nanty Glo; as well as many nieces and nephews and a multitude of friends.
Paul's passions included traveling to visit family, going to the beach, visiting places of interest, attending NASCAR races or Penn State Football games. He enjoyed watching television and some of his favorite programs included football games, NASCAR, and Formula 1 racing. He also loved movies and was a fan of political programs. He enjoyed visiting Hot Z's, Black Knight, and Trios where he loved rousing conversations with his many friends.
Paul is preceded in death by his sister, Paula Todd (2021).
A Celebration of life will be held at a future date.
Leave a condolence on this Memorial Page
Condolences to the Family
November 22, 2021
Marti – So sorry to hear about the passing of your husband. My prayers and thoughts are with you and your family at this very difficult time. LuAnn (Indy's mom from Timber Ridge).
November 21, 2021
My condolences to the Zamboni family… I worked at Federal Mogul with him for many years …he was quite a character 😏 alway looking for a laugh …May he RIP.
Charles "Smoke" Smith
Spring Grove,PA
November 21, 2021
Sorry for your Loss Marti.
November 19, 2021
Marti, we are very sorry to hear of Paul's passing. Our thoughts and prayers are with you and your family at this difficult time.
Gwen and JT Clevenger
November 17, 2021
Dear Marty
We were shocked to hear of Paul's passing, Our thoughts and prayers are with you and your family at this most difficult time. He will be sorely missed by all! May he R.I.P.