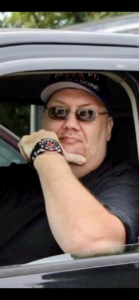 Paul M. Rebello, 53
January 03, 2022
Paul M. "Paulie" Rebello, 53, of Leola, passed away on January 3, 2022. Born in Ridgewood, NY, he was the only son of Paul and Florence (Lippe) Rebello. He attended Grover Cleveland High School, class of 1986, and worked as a truck driver for 30 years.
Paulie shared his life with his loving wife Michelle (Hoelldobler) Rebello, with whom he was married for 32 years, and his two sons, Paul Rebello Jr. and Andrew Rebello, who were his pride and joy.
A big guy with an even bigger personality, Paulie was the life and soul of the party. Not only did he know how to make you laugh and guarantee that you had a good time, but he was also the ultimate deejay, working as a deejay professionally in the early 90s and, in present day, providing the music for every road trip and event he did with his family.
Paulie enjoyed many things; music, motorcycling, and working on computers. He loved the New York Yankees, his dogs, and his family. The time Paulie shared with his family was precious and he was incredibly supportive of his sons. They share many happy memories growing up of their father taking them to work while he was driving truck. Now that they are grown, the boys were able to take him to their work as volunteer firefighters with the Upper Leacock Fire Company. As a social member of the Upper Leacock Fire Company, Paulie participated in many events and helped fundraise for the department.
He will be dearly missed by his wife, Michelle, his sons, Paul Jr. and Andrew, his parents, Paul and Flo Rebello, his sisters; Laura Kelly (John), Susan Rebello, Teresa Rebello, and Lisa Kelly (Paul), many nieces and nephews, aunts and uncles, and cousins, and his furbabies, Molly and Jameson. He is also survived by his sister-in-law Anne Hoelldobler, brother-in-law Frank Hoelldobler (Fran), and his long-time friends Marchello Livolsi and Joe Cancemi.
A Memorial Service will be held at a later date. In lieu of flowers, family requests donations be sent to the Upper Leacock Fire Company at 50 W. Main St., Leola, PA 17540.
Leave a condolence on this Memorial Page
Condolences to the Family
January 11, 2022
Oh Paulie I still can't believe you're gone. It's been 1 week and I haven't stopped crying. I will never forget all of the good times we had and I will forever talk about you to keep your memory alive. You were a great big brother and my heart is breaking so so much but I know your in Heaven and you'll watch over all of us. I love you Paulie and can't wait to get a bear hug from you when I get to Heaven. Rest in peace Paulie. Love, Lisa xoxo
January 10, 2022
My brother Paul my almost twin I love you and I hope you'll be my guardian angel now. You are free of all pain and we are the ones that are all broken. I love you forever and I can't wait to be with you someday and hug you and never let go. Rest easy my brother. Watch over us