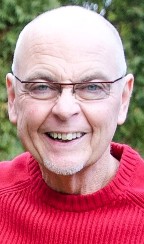 Paul E. Titter, Jr., 60
Paul E. Titter, Jr., 60, of Lancaster, died Wednesday, January 9, 2013, with his family and friends by his side at Johns Hopkins Hospital, after fighting a courageous battle with idiopathic pulmonary fibrosis and enduring a bilateral lung transplant two years ago. He was blessed by the outpouring of family, friends, and the community after his diagnosis and transplant.
Born in Chester, Paul was the son of Paul E. Titter, Sr. of Lima and the late Marian Ward Titter. He was married to Marilyn J. Hoffman Titter for 38 years. Paul graduated from Sun Valley High School in Aston and then from Millersville University. He was a special education teacher with the School District of Lancaster for 35 years.
Paul was a longtime member of Grandview United Methodist Church. He was an avid reader of literature, who enjoyed cooking and baking, gardening and yard work, going to the beach, camping and taking walks. Paul loved being a husband, father and Pop-Pop to his five grandchildren.
In addition to his father Paul, Sr. and loving wife Marilyn, Paul is survived by three children: Matthew P., husband of Megan Lefever Titter, and their son Maximilian Sweet Titter (age 3) of Lancaster; Adam R., husband of Erin L. Titter, and their children Anna K. Titter (age 7), Liam P. Titter (age 3) and Ewan J. Titter (age 1) of York; and Maribeth L., wife of Adam B. Zurn, and their son Benson K. Zurn (age 3) of Conestoga; and three siblings: Gary, husband of Barbara Titter of West Grove, Mark, husband of Dawn Titter of Lexington, SC, and Glen, husband of Heather Titter of Bryn Athyn.
Paul's Celebration of Life Memorial Service will take place 10 AM Saturday, January 26, 2013, at Grandview United Methodist Church, 888 Pleasure Road, Lancaster, PA, with The Rev. Michael I Alleman, The Rev. Andrea Brown and The Rev. Russell Atkinson officiating. The family will greet friends in the fellowship hall immediately following the memorial service. Interment is private. Please omit flowers. Memorial Contributions may be made payable to Johns Hopkins University, Fund for Johns Hopkins Medicine, 5200 Eastern Ave., MFL Center Tower, Suite 356, Baltimore, MD 21224. To send the family online condolences, please visit SnyderFuneralHome.com. Charles F. Snyder Jr. Funeral Home & Crematory 717-560-5100
Leave a condolence on this Memorial Page
I'll never forget Paul's kindness and support my first year of teaching at McCaskey East HS. He was a mentor and a friend in so many ways, both professionally and personally. When we first moved into our home, Paul came over and helped my husband figure out how to set up the pond out back. When my son was born and I was looking to go back to church (after a very long absence), Paul graciously invited me to attend church with him and his family one Sunday morning. I choose to remember him as a good man and a loving Christian. I pray for the repose of his soul in the arms of our loving Father in Heaven. Karen Morrisette
I knew Paul while I was a substitute at JP McCaskey High School. He was a kind and gentle soul. Paul always made time to be helpful and answer any questions that I had. He had a natural way of making people feel accepted and comfortable.
Petrina Jager
Marilyn and family, Paul was always one of the kindest gentle souls I have ever known, and the kindness radiated from his son Adam as well. I had the pleasure of working with both of them at various times. Nothing kept Paul down even though he had an extremely difficult last few years of pain filled life due to his leg and then the disease that eventually took him from us. I will always treasure the time I had to get to know Paul and parts of your family. May your family get you through this very difficult time.
Warm and caring thoughts and hugs wrap around you at this time,
MARY FORSTER
I, like so many before me, worked with Paul at McCaskey High School. He was a compassionate man, considerate co-worker, and all-around gentle soul. One afternoon, as I was shopping at Stauffer's, I went out to my car and it wouldn't start. Of course I was flustered, and getting ready to call a tow truck, when I heard a familiar voice. Paul was right there and calmly said, "Why don't we try jump-starting it?" He did, it worked, and he made my day. What a kind human being! He will be sorely missed.
I send my sincerest condolences to the family.
Peggy Darling
wow Im shocked by this loss, My son and daughter were students of his at Price Elementary, and she called me and said "mom my teacher passed away,,she still considered Paul her teacher after so many years, I had the pleasure of meeting Mr.Titter back then, and also worked with him at Phoenix Academy, a ray of sunshine, always had a smile on his face,, forever bringing plants to work,,he would always say good morning and have a good day, not every one did that, but I can always count on Paul to give me a big smile, and stop just to chat for a few moments w me, a man who never had anything bad to say about anyone, always friendly, willing to help out in any way he could, a big loss for me, I was sad to see him go from Phoenix, but I can say he was very well loved by all he came across, RIP Paul you will never be forgotten,,I will be keeping the family in my thoughts and prayers,,God Bless You all,,
Mr Titter you had my son when he was a student at McCaskey I remember what a very kind and caring teacher you were you will be missed.
Sheila Bortzfied
My deepest sympathies on the passing of Paul. I had the pleasure of meeting him through my mother, Sandy Styer who was an assistant at McCaskey East. Paul then became a tutor for my daughter. His kindness and patience helped my daughter to be successful in math. Everytime I would see him as I became an SDOL employee in 2002, he would always have a smile and ask about my mom and daughter. May God give you strength during this difficult time.
Heather Styer Torres
Dear Marilyn & family, praying for peace for you all this week & the weeks to come.
Colleen Brubaker (LCCTC coworker)
I am saddened by Paul's passing. He had been my colleague for a number of years at McCaskey and at Phoenix. Paul, John Gordon and myself formed quite a "team" in the last years of Phoenix. Paul was generally softspoken with the students, and his demeanor exemplified how we would deal with our "troubled" students. He modeled an effective teacher-student relationship, and John and myself found ourselves picking up on Paul's techniques. Students either eventually discovered the folly of their situations or looked quite foolish to their peers. Not to say that a hammer or two didn't fall!! But, they were few and far between. Paul was a good man; may he rest in peace.
Tom Biechler
Adam and Mrs. Titter,
I remember you from Schaeffer Elem. days and so on…your family was so wonderful and supportive of all we ever did at the school. Mr. Titter was always so kind and funny. I'm sad to hear of your loss, I wanted to drop you and note and say how I admired your family so many years ago and can imagine how strong you all are now.
It's nice to read how your family has grown over the years, I imagine those little ones will help you all get through these difficult days.
Please know you are in my thoughts and I'm wishing you peace and love in the new year.
Samantha (Smith) Seifried
Marilyn,
I am so sorry to hear of your loss. Paul was a wonderful, funny, and sweet guy.
I really enjoyed the times that we got together with the two of you over at Phil and Roz' house. I looked forward to hanging out with him.
Sincerely
Kim McClure
We are thinking of you and your family! Paul was so kind to us and he will be missed! Hi love for his family was evident and his laugh was one to remember! God bless you all
The Thorn Family
We will greatly miss Paul. He was a wonderful friend and we'll never forget him. Our thoughts and prayers are with you.
Love,
The Garfinkel's
Dear Marilyn, I am so sorry that Paul has passed. Paul was an example of being gracious every single day. He taught lessons how people should treat each other by his actions. I appreciated how well he treated staff while a patient on Nelson 4/Meyer 9.And Marilyn, thank you for being so kind and respectful to nursing. A very decent and noble person has entered into heaven.
With Warm Regards,
Jackie Wilson
No words can be said to ease the pain of loosing someone you love. As you feel the emptiness of his passing, reflect on the one set of footprints in the sand and know that the Lord will carry you through this difficult time. Our thoughts and prayers are with all of you.
Mike and Pat Dodson
I worked with Paul at McCaskey. He was always lovely to work with and so positive. We have lost a ray of sunshine with his passing.
Tamara Newton Weaver
My sincerest condolences to your family. I worked with Paul at JP McCaskey and he was one of the most genuine, nicest men I've ever met. Your family and Paul are in my prayers.
Sincerely,
Rebecca Jahnke
It was my privilege to know Paul as teacher and friend for more than 25 years. His compassion in the classroom was without equal. His care extended well beyond those four walls. He mentored so many along the way. His passing creates a void that will never be filled.
Shirley Harshman
As healthcare professionals, we are blessed to have an inside view of patients and their families- how they cope with illness, and how they minister to US. Paul Titter and his wife, Marilyn, were natural ministers. They were a fabulous team! Their special brand of kindness toward each other and the Hopkins staff was unwavering and very much treasured. When describing Mr. Titter, words fail! He was one of the most loving people I've ever known. He freely shared his wisdom on family life and special education; my husband is also a special education teacher, and we understood the unique challenges (and rewards as well!) that the field affords. It was the topic of many late-night conversations on the unit!
I so appreciate having known Mr. Titter – a true delight – he will surely be missed!
Janice Irechukwu, RN, MSN, The Johns Hopkins Hospital
Paul was a good, kind and gentle man and it was my pleasure to know him. His caring has left the earth a better place. May you be blessed.
Joanne
I had the pleasure of teaching with Paul both at McCaskey HIgh School and finally at Phoenix Academy. He was a friend and a colleague. I always admired his dedication to students and his kindness toward everyone. Paul was a very unique individual. I will always remember the way students responded to his help, his constant smile, and his loving nature. He was the consumate teacher. Paul, you are in my thoughts.
Always your friend,
Lyn
Marilyn, I was sad to read of Paul's passing. I enjoyed seeing him at CTC when he visited in the past. My thoughts and prayers are with you and your family during this time.
Eileen Miller, CTC
My Dear Marilyn and Family: I am so sad to hear of Paul's passing. I can still hear his hearty laugh when we last spoke on the phone. You are all in my thoughts during this difficult time.
Kathy Jaczynski
I will always remember his caring and thoughtful nature with myself and others. I remember returning from maternity leave and finding birth announcement with his congrats on it placed in my mailbox. It is acts like this that we all remember.
Jessica Bitner
We were very sad to hear of Paul's passing. He was my (Steve's) unofficial mentor at McCaskey. His soft spoken and masterful understanding of students and teaching "city" kids was truly inspiring. He stood up for our youngest son's Baptism when Beth Ann and I were new members at Grandview. He was one of the kindest souls that we have ever known. We were blessed to have shared time with him. He will be missed by my family and the McCaskey family.
Condolences go to the family, with special thoughts to Marylyn and Megan who worked with Beth Ann at Lancaster CTC.
Steve Ilgenfritz & Beth Ann Haas
Paul was one of the first neighbors I met when I moved into the Homeland neighborhood over 30 years ago. He was a kind, gentle man and a great father and I know that over the years he touched so many lives. I am thankful that I had the pleasure of knowing him.
Anne Pikolas
Marilyn and family,
Frank and I are so very sorry to hear about Paul. His fight against IPF was so courageous and I'm glad he had the extra time with you and your children and grandchildren. He will be missed and we promise to pray for you in the days to come. He is with his Lord and Saviour and his lungs and body are healed. God be with you during these days. Thinking of you.
Frank and Deb Gahres
My thoughts and prayers go out to Paul's family. I went to school with Paul and Marilyn. He was very brave and I know he will be missed. He was always smiling and happy. I know he passed that on to his children and grandchildren.
Barbara Hall (Burlew)
I spent many years working with Paul. He was always bringing me a child he wanted to mainstream. One of my fondest memories is of Paul crawling around on the stage when we presented the opera THE NIGHTINGALE. His kids were supposed to be the trees and Paul made sure those trees were in the right place. I will always smile when I think of that scene. It was a pleasure to teach with Paul.
Deborah Marko
Dear Titter Family:
It is with our deepest sympathy and sadness we wish to extend to your family our prayers, support, and love. Growing up in Aston with your family was a true honor and pleasure. We have never known a more loving family and dear friend to my mother for years. Paul had a heart of gold with warm kindness for all who touched his life. The entire Elser family sends our many prayers filled with hope, peace, and much love. May all the wonderful memories Paul blessed you with continue to live on within your hearts and help you in your grief.
With sympathy and love,
Susan Elser, Virginia Elser, and the Elser Family from Aston.
Dear Marilyn, I am so sorry to have learned of Paul's passing. I will keep you in my prayers and thoughts. I miss seeing you at work and always enjoyed our conversations. Keep in touch.
Sincerely,
Jane Groff
Our thoughts and prayers are with you in the passing of your husband, father, grandfather and a friend to many. I first knew Paul when he was a freshman in my health class at Millersville State and it was most rewarding following his life as an educator, family member and an active member at Grandview.
His life was a blessing to many and with many years of challenging health issues he remained very positive. Yes his light on earth has gone out but his eternal life will continue to shine and the memories will be with us.
Peace,
Dick and Marge Trout
I got to know Paul in the summer of 1967. We were at a music camp together, Mitch Gahres, Susan Hutchinson were there as well. After we got home, I came to a lot of youth group meetings with the gang at Mt Hope Methodist. Always a great time. I came across Pauls obitutary, and am so saddened for your loss, but joyful in the fact that Paul is with his Savior, free of pain and sickness, and one day we will all join him in the grand meeting in the Air.
I came across a group picture from Drayton Manor, that is what got me to search the internet for his name. I'd be happy to send you a copy if you'd like.
George Kaiser
Collingdale, Pa