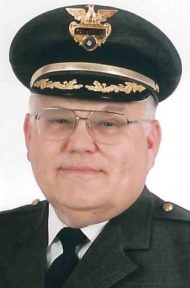 Paul D. Rager, 77
December 26, 2019
Paul D. Rager, 77, of Lancaster, passed away on Thursday, December 26, 2019.
He was the husband of Sally Milley Rager, with whom he shared 53 years of marriage this past October 8th. Born in Lewistown, he was the son of the late Paul R. and Elizabeth Treaster Rager.
A member of the Manheim Township Police Dept for 40 years, Paul rose through the ranks, serving a Chief of the department until his retirement in 2006. His career in law enforcement went beyond his service with Manheim Twp., being instrumental in county-wide policing development committees such as the establishment of the Lancaster County Radio Communications. He served as past president of the PA Chiefs of Police Assn., taught Criminal Justice courses for 25 years at HACC and the PA Police Academy, and taught online police science and administration courses with Wilmington University. He has a Bachelors degree from York College and a Masters degree from Penn State University.
An active member of St. Peters Evangelical Lutheran Church, he served on the cemetery committee, served as the Chair of the funeral luncheon committee, was a member of the 50 Plus Group and Bible Study group. He was an active member of the Manheim Twp. Lions Club.
Paul served in the US Army during the Vietnam War as a Military Policeman, being stationed at the Aberdeen Proving Grounds.
He enjoyed traveling with his wife throughout the United States and Great Britain.
In addition to his wife, Sally, Paul is survived by his children: Matthew P. Rager and Susan R. Osborne, both of Lancaster; his grandson Maxwell A. Osborne, and his siblings, both of Lancaster: Darla married to Sam Keen and Dwight L. married to Penny Rager.
Friends will be received by Paul's family on Friday, January 3, 2020 from 9-10:45AM at St. Peters Evangelical Lutheran Church, 10 Delp Rd., Lancaster, PA 17601, with the Memorial Service to follow at 11AM. Interment will be in St. Peters Lutheran Cemetery. In lieu of flowers, please make contributions in Paul's memory to St. Peters Lutheran Church at the above address.
Leave a condolence on this Memorial Page
Condolences to the Family
January 02, 2020
Sally, Susan & Matt, We were so sorry to read of Paul's passing. Know you are in our many thoughts and prayers. We are sure many Boy Scouts will remember the many scouting events, the snoring at sleep overs, campouts in the rain and many other wonderful times. Scott is in Chicago, so will not be able to attend the service with us, but sends his thoughts.
Sharon & Bill Bonner
January 02, 2020
Sally, Our thoughts and prayers are with you and your family as you mourn your lost. We always enjoyed our time with both of you at all the meetings and conferences over the years. Paul was a good man and will be missed.
Dick and Linda Hammon
January 02, 2020
Sally — Paul was an outstanding Chief of Police, but an even better educator. He touched the lives of thousands of police officers, and many peers sought his wise guidance. He will be missed but not forgotten. May the peace of our Lord comfort your family.
Chief Craig A. Ebersole (ret) East Cocalico Township Police Department


January 01, 2020
My deepest condolences in the loss of Paul, you are my thoughts and prayers. Paul was such a great mentor to me throughout my career as a Police Chief and as I served in Central Chiefs and PA Chiefs.
Jim Childs
January 01, 2020
We are sorry for your loss. It was a joy to have known Paul. He was always able to include any and all people, so that everyone was welcomed and included. He was outgoing in God, love of family and friends. He will truly be missed.
Ralph and Markie Miller.
December 31, 2019
Sally, so sorry for your loss. Sending love to you and your family.
Kathy Smith
December 31, 2019
Sally, My deepest sympathies to you and your family. I enjoyed Paul's vibrant intellect and loving heart. A wonderful example of a life well lived.
Neil Snyder
December 30, 2019
Sally and Family, sorry for your loss. Many great times together. Prayers.
Steve Shaver
December 30, 2019
I had the pleasure of working with Chief Rager from 1992 to 2001. So sorry for your loss.
Kathleen Hazzard
December 30, 2019
Dwight & family:
I was sad to hear of Paul's passing. I was honored to have known him. I can't imagine how you and yours must be feeling. Please know I am thinking of you all.
Renee (ENCK) Bougher. Retired/ ELTPD
Pittsburgh, PA
December 29, 2019
🌹I met Chief Rager when i had him as an instructor for our yearly mandatory police updates. He was not only professional, he was kind and caring and i enjoyed having him as one of my instructors. I was not only shocked but also saddened to learn of his passing. May memories of good times spent together as husband, father and grandfather and as a family bring you comfort. My thoughts and prayers are with all of you at this sad time.🌹

Officer Dianne M.E. Murray (ret.). Millsboro, DE
December 29, 2019
I'm very sorry for your loss. I had the pleasure of being a leader at Webelos camp at the same time as Paul and enjoyed spending the week and talking with him.
Jeff Moyer
Visitation

Friday, January 03, 2020
9:00 AM - 10:45 AM
St. Peters Evangelical Lutheran Church
10 Delp Rd.
Lancaster, PA

Map and Directions

Services

Friday, January 03, 2020
11:00 AM
St. Peters Evangelical Lutheran Church
10 Delp Rd.
Lancaster, PA

Map and Directions