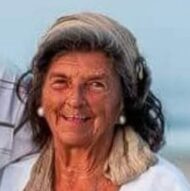 Patsy Ann (Lewis) Bernhardt, 86
June 16, 2022
Patsy Ann (Lewis) Bernhardt, 86, of Lancaster, passed away at Hospice and Community Care in Mt. Joy on Thursday, June 16, 2022. She was the loving wife of the late Carl Leo Bernhardt, who passed in December of 2021.
Born and raised in Lancaster, Patsy was the daughter of the late Raymond and Amy Marie (Longenecker) Lewis. She attended East Lampeter High School. She was heavily involved at Sacred Heart Parish, where she oversaw the Parish Bazaar for many years and was named Woman of the Year. She worked 3rd shift at RCA/Burle Industries for 40+ years until her retirement. Patsy was an avid Jimmy Buffett fan and her favorite song of his was "A Pirate Looks at 40". She enjoyed gardening, loved all flowers, and trips to the beach. Most of all she loved spending time with her family.
Patsy is survived by her daughter, Cynthia Marie Bernhardt Porta and her companion Curt Hilton; her sons Patrick Bernhardt and his wife Julia Russell Bernhardt, and Christopher Bernhardt and his wife Minda Denlinger Bernhardt; her grandchildren Zachary and Megan; her sister Peggy Brackbill and her husband Paul and their children Steve and Sherri; sister-in-law Harriet Eschelman and her children Andy and Jenny Lewis; and her brother-in-law Regis Bernhardt and his wife Betsey and their children Greg and Julie. In addition to her husband and parents, was preceded in death by her brother Dallas Lewis.
A Visitation will be held at Charles F. Snyder Funeral Home, 3110 Lititz Pike, Lititz, PA, 175543 on Wednesday, June 29, 2022 from 6:00-8:00 PM. A Mass of Christian Burial will be held at Sacred Heart of Jesus Catholic Church, 558 W Walnut Street, Lancaster, PA 17603 on Thursday, June 30 at 11:00 AM. Friends will be received at the church one hour prior at 10:00 AM. Committal will follow at St. Joseph New Catholic Cemetery. In lieu of flowers, donations can be made to Water Street Rescue Mission at www.wsm.org or 210 S Prince Street, Lancaster, PA 17603 or to Hospice & Community Care at www.hospiceandcommunitycare.org or 685 Good Drive, Lancaster, PA 17604.
Leave a condolence on this Memorial Page
Condolences to the Family
July 01, 2022
Dear Cindy and Curt, Patrick and Julie, Christopher and Minda, Megan and Zach:
God bless all of you for being there for your Mom and Dad when they needed you most. Your care was constant, and always above and beyond the call of duty. They could never have had a moment of doubt that they were dearly loved. I'll never forget all the holidays and other occasions that I spent at Bernhardt family gatherings throughout the years of my growing up in Lancaster. And even after moving away, it was great to be in touch and always be welcomed back for visits and lunches out. Your Mom and Dad were unique. Pat was one of the sunniest people I have ever known, always welcoming and caring to all. And Carl had his own way of showing he cared by his attentiveness and his ability to make a joke and 'break the ice' with laughter. Of course, they are truly missed, but for all of us who knew them, our lives have been enriched by their love and laughter.
June 30, 2022
So very sorry to hear about the loss of your wonderful mother! Have many nice memories of both your parents! They were nice to me,as you were too!
June 28, 2022
Pat, Cindy and Curt, (My Lift-All friends)
So sorry to hear about your loss. My deepest sympathy to your family. Our thoughts and prayers are with you and your family during this time. Cherish the good times and special memories.
Ray and Bev Geib

June 26, 2022
Cindy, Patrick & Christopher,
You all have my deepest sympathy upon the passing of your Dear Mother from this life.
I have many wonderful memories of family gatherings and your parents were always at the center of the fun and laughter.
May you hold your precious memories in your heart and mind and know how proud they were of each of you.
John Boyer Jr.

June 26, 2022
Dear Cindy and family,
I am so sorry for your loss. I remember your mom so well. What a wonderful person she was. Yes, she is with your dad now, and I'm sure they are both at peace, looking down on you and your family. I'll remember her in my prayers and light a candle in her honor next Sunday.
June 24, 2022
You were the best mom ever. I miss you so much but I know that you are safe with dad and all of our loved ones and friends that have passed are there to welcome you home never to suffer again. I hope that I kept my promise to dad to take care of you after he left us like I promised I would. You (and dad) are forever in my heart. Hopefully, I'll see you later, With love, your daughter Cindy
Visitation

Wednesday, June 29, 2022
6:00 PM - 8:00 PM
Charles F. Snyder Funeral Home & Crematory
3110 Lititz Pike
Lititz, PA 17543

Map and Directions

Services

Thursday, June 30, 2022
11:00 AM - 12:00 PM
Sacred Heart of Jesus Catholic Church
558 W Walnut Street
Lancaster, PA 17603

Map and Directions